Well that's a poke in the eye with a pointed stick
---
I haven't posted to my blog for a couple of months, mainly because we haven't been able to progress until we got the Structural Engineers report.
This was promised in 2 weeks and ended up taking 10.
I now suspect that this was because they didn't want to tell us the news.
Our build is a barn conversion so we've had to jump through lots of hoops. ,making lots of money for other people.
But, particularly for the SE, first it was the report where they said to planning that the barn was convertible.
Then the 1st phase ground contamination report, no issues there.
Planning approved with condition of phase 2 contamination report.
So, back to the SE to do this, no problems with that.
Then we started preparing the site, documented in previous blogs, we did this thinking that it would benefit us with the SE report to get the building regulations drawn.
How wrong we were.
One of the limitations of the barn conversion was that one side of the building can only be 2.2m high.  We worked around this by designing rooms so it wasn't needed for walking.
Yesterday, I received the report, only to be horrified to see that this low side of the building, 2.2m remember, needs underpinning foundations of 'at least' 2.4m.  How can a single storey build possibly need foundations deeper that the height of the building.
The opposite side is 3.15m high to the roof, here the SE say we only need 1m deep foundations, figure that out.
The soil is not clay, not sand, there are a few 3" elm trees that are being knocked down so no large roots.
But, it gets worse,  they say that this must be done 1m at a time, doing 1st meter, then 3rd meter, then 5th meter, then 2nd meter etc.etc.
This particular wall is 25m long.
They have no issues with the existing internal walls.
I've never been so glad to be stupidly busy at work to take my mind of this fiasco.
So, what do we do.
The thoughts I have are:
1. Can we knock down the back wall leaving the rest and build only 1m deep like the wall on the opposite side,  but I would still need to get planning.
 
2. Do we write off all the work we've done and all the money we've spent (lots) and try and get planning to start from scratch with a kit house.  It would have to be self build though due to the extremely limited funds available.
3.  The long wall splits into utility, 2 x bathrooms, 3 x bedrooms and a pantry.  Do we knock down the wall for each room and then rebuild it bit by bit and with what foundations.
4.  Do we start on the high side of the conversion and work backwards ignoring the problem for now.
The sides vary from 1m front to 2m foundations at the back.
The most disappointment I feel is that the SE passed the building as fit to convert, including digging holes to look at the existing foundations with no mention of anything like this.
I don't know if it makes any difference, but the original SE was probably about my age, in his 50's, whereas the recent one (same firm) was barely out of nappies and didn't want to talk to us when he was here to discuss anything.
What I have done is:
a. Requested a meeting with the SE and his manager to ask why so deep and about a new wall.
If we can knock down the wall and put in 1m foundations then that is manageable as with the digger we can knock the existing one down and dig the trenches before getting a groundworks crew to do the rest.
b. Started compiling an email to send to the planners, but with the current situation I don't think I will hear anything.  Also, I'm a bit wary, if we say what is required can they pull our planning and still not allow us a new build.
c. Started looking at some kit companies who provide self build kits to get some ideas of costs.
The one thing that we cannot do is dig down 600mm x 2.4m a meter at a time.  Maybe a groundworks company could, but at what cost for what, in reality, is a tatty barn which, if we could have got planning we would gladly have knocked down and crushed.
I spoke to the planners after we got planning to ask about this route and we told that we had no chance.
Here's a little reminder of the layout.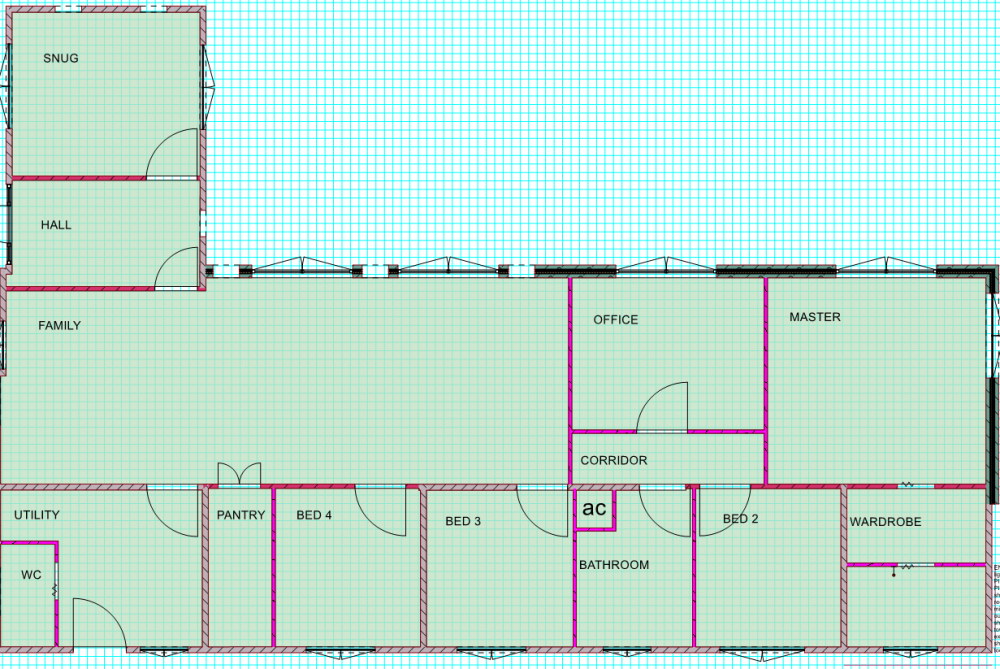 The wall is the bottom one up to where the ensuite wall is and the top of the WC on the left.
I now feel so demoralised, building is stressful for many reasons, but I didn't expect it to be quite so impossible.
Time for whine I think ?
Enjoy the heading picture of the kittens, to cheer me up.