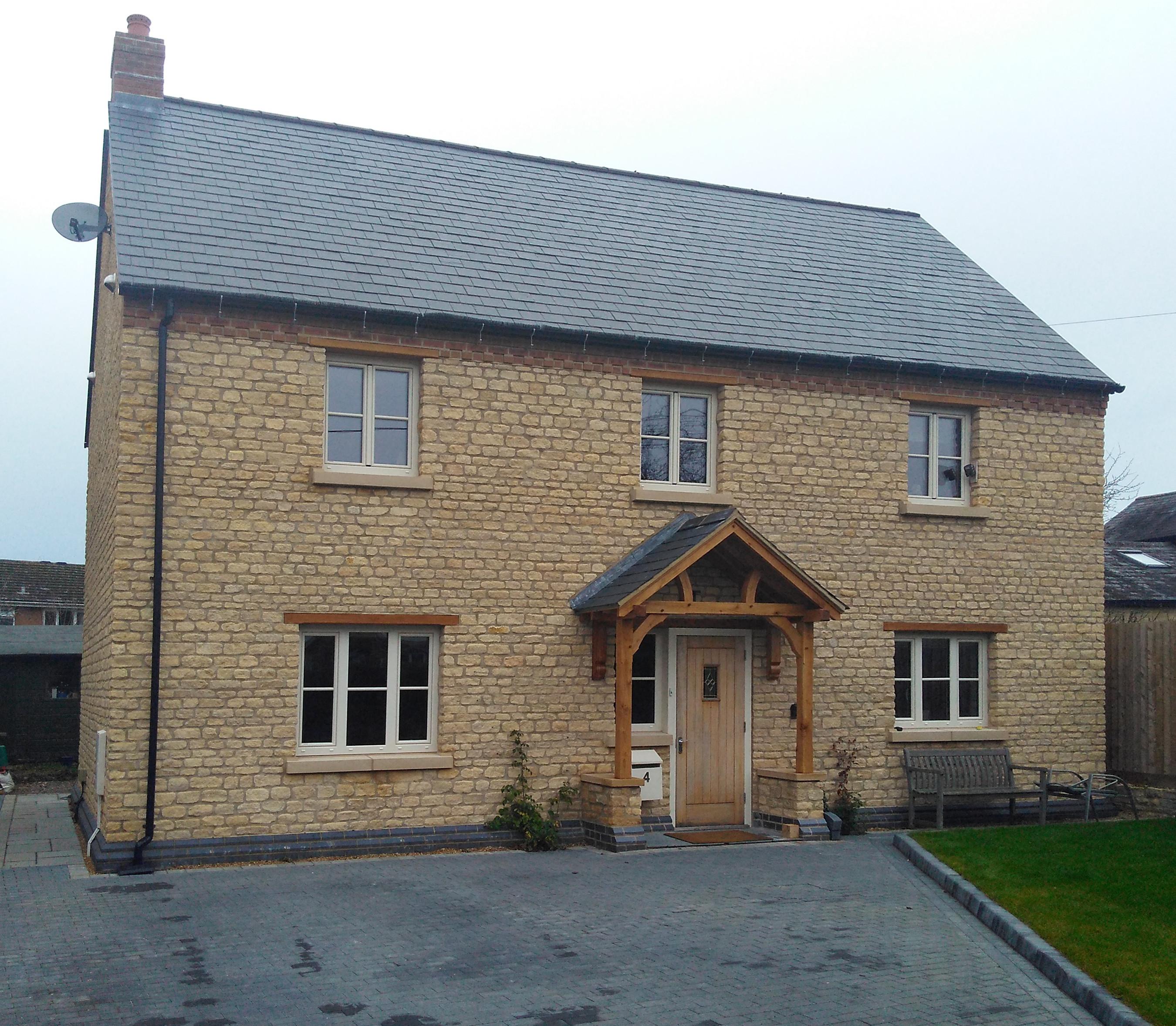 Content Count

2,589

Joined

Last visited

Days Won

14
Community Reputation
563
Excellent
I really do wonder why it is still popular to include a garage within the fabric of the house. If you price out the cost per m², then this is bloody expensive off-road parking -- especially as most people end up using it as an inefficiently laid out glory whole because of the hassle of getting a modern-sized car into a standard garage opening. This is especially in your case where the turning circle for access doesn't even comply with highways guidelines. My advice is to lose the garage and use the space for something more functional. Modern cars don't really need garaging in the UK; using decent powered gates can provide secure and a lot more cost-effective off-street parking. As @Weebles suggests: really consider losing the split levels. These are a real PITA for construction and will add to costs. Also a big downer in terms of mobility access. Yes, your site has a gradient, but any competent architect should be able to do the cut and fill calcs so that you can level the site at least covering the foundation area and parking. (Extend this level area in front of the kitchen. Even if you don't want to park here regularly, having this as overspill when friends and family are using BR 2 and 3 is really useful.) This amount of moving soil and levelling within the site is cheap -- and a lot cheaper in terms of overall build costs. It only starts to become expensive if you have to move a lot of soil and subsoil off site. I see that you have a "wood store". Why? If you are planning a wood-stove then where are you going to fit it? Your plans don't seem to facilitate one, or is that what is shown in the living room? Wood stoves are very fashionable but IMO totally impractical for a new build conforming to decent build standards. The minimum practical output of a wood-stove on tickover is about 3 kW. This will rapidly overheat a room the size of your sitting room even if you are attempting to build to minimum compliance to current BRegs. You or your architect need to do the heat calcs and consider the implications. Also search this forum, as there are many topics discussing the pros and mostly cons of using a wood-stove.

Just to endorse what Jeremy is saying, IMO the key difference in my build was that the build was airtight by design rather that by construction fix-up. Examples here are: On each floor the joists were hung off the TF panels, decked out and the next floor on panels sat on this decking. There was a air tightness membrane wrap from the inside lower panel, out and over the joist ends and back inside and up the upper panel. This sealed all joist ends for air tightness, so no taping up around joist ends. All other interfaces were properly taped and sealed by the MBC airtightness crew. None of my trades were allowed to penetrate the filled panels. Where penetrations were require Jan and I had a standard procedure for fittting an airtight access pipe: drill through inside to out with a 1m × 15mm drill; use this hole to core out the 25mm (say) entry and exit holes; feed through the 25mm abs pipe and seal properly at both ends; one of us then insulated and sealed the inner pipe bore when the electrician (or whoever) was done. Our biggest residual leak by far, IMO was down to incorrect sealing in fenestration, which is fairly easy to identify and fix. One issue that we did avoid -- thanks to reading Jeremy's early posts on this -- was to place our inlet and outlet some 5m apart high on the same gable wall so we don't seem to get the gust pumping effect for some installation experience, as any wind-gusting impacts the inlet and outlet equally.

I sent the test report to my B Insp and he was really happy with it. The requirement is 10 and I think 14× better or thereabouts is a reasonable margin. Don't you?

Good. You understood what I was trying to explain. Jan read it and said that I was clear as mud. 🤣

Put a small horizontal rafters bridging across between the pitched rafters leaving at least 100mm between the top and the ridge beam. You can now insert 50mm Celotex flush with the base of the rafter leaving a 50mm up-and-over airgap under the breather membrane. And add another 75mm celotex bonded plasterboard or equiv across the rafters. Note that you really need to dry line the room with 50 or 75 mm Celotex bonded plasterboard as well to get acceptable thermal performance. Nowhere near passive, but at least not bloody freezing in winter.

Pete, we got 0.6 ACH on our first test as well. Even so, after going around the windows we found and fixed quite a few leaks on some of our Internorm seals later so we are probably quite a bit less. A double check is well worth while, IMO.

Raft vs piles, etc. You really need your SE to advise you on this. As @JanetE said we used and MBC passive slab and they / Hilliard Tanner required that we did a Geophys survey which involved coring down in the 4 corners of the slab and taking regular core samples at a range of depths. The result of this was a clean bill of health for a passive slab. The type and depth of sub-base depends critically on this survey and in some case it will lead to the conclusion that this type of slab is just not suitable for the site -- e.g. if there is any differentials across the site. As to doing the slab, UFH, etc. in one go I would endorse this approach to anyone. Yes, you have to do careful prep and take create care over getting your levels right, but this was still a case of the slab crew turning up on day 1 and leaving on day 8 with the slab all finished and power-floated ready for tiling and the UFH loops all installed. Job done.

My suggestion is that if you are going the architect + PM route , then engage the engage both of them before you contract the TF+foundation contractor. The architect should take the lead in the TF engagement but you now have two other control agents and everyone needs to be on the same page.

You need to simplify your subcontractor scopes and interfaces. Like many others who posted: We went to a custom TF company who contracted to do the slab and timberframe. We had one main contractor (not prime-contractor) who did all of the ground-works, erected the outer stone skin and did the slate roof. We selected the specialist window and door supplier Our main contractor recommended his preferred tradesmen so we knew that we could have some confidence in their work because he is a perfectionist. We followed his recommendation re the electrician, tiler, plasterer and scaffolder, but decided to do the plumbing, carpentry and decoration and other internals ourselves. I didn't use an architect or PM, but I have good visualisation skills, some project management experience, am highly IT literate and having retired early had the time and effort available to take on a lot of the work and quality assurance ourselves. If you like the submitted design then an architect is probably optional for you, IMO, However, if you feel that you don't have the time and skills to do the overall management, then yes I would suggest that a PM is essential and the PM's abilities will be a key success factor. So I would suggest that you consider the broad characteristics of the house that you want: on the spectrum minimum Breg compliance to passive house, etc. and select your PM with care: he or she should have experience in the type of house that you want (e.g. if you want a low energy house then the PM should have experience of building low energy houses). I strongly suggest that you ask for customer testimonials; visit the builds and talk to those customers. A good PM will make all of the difference. Be willing to have an informed discussion with the PM about construction techniques, subcontractor selection, etc. and be guided by the PM, but not enthralled. IMO, you have to stay ahead of the curve and be an informed client yourself. My last comment is always trust but verify, and be willing to act quickly if an issue occurs. Don't leave it just to the PM but be willing to work in a partnership. For example, if you are using a TF + floating raft build, then I strongly suggest that you take time off work and be onsite during the slab prep and pour, and TF erection. Don't be afraid to do constructive but independent quality checks yourself. This forum is a resource to allow to have an idea of what, where and when. A small example: one member here had a PM who did an overall good job and chose the subs. the PM gave the ground-floor tiling job to his nephew who made a total hash of it. When the member came to have a look at progress, he found the floors uneven, trip edges everywhere and the tile spacing terrible. A whole floor and many £Ks of tiles just unacceptable; all to be taken up, dumped and the floor reground and relevelled to start again. Finding one room unacceptable and having to undo this is bad enough, but the entire ground-floor? Trust but verify, and do it early in the case of an unknown tradesman.

Jane, You've engaged at a good point in your cycle. There is almost a numbing amount to learn. As you say "we", I assume that you and your partner are doing this together. The more that you can work together and share the load the better. I think the fact that Jan and I worked as a partnership was one key to our success. If the finances work for you and you aren't trying to crash timescales, then one of the things that we found really hard to get in the early days is just how long everything is going to take -- at least a year longer than your most pessimistic expectation. Just getting your first application approved is a long journey, and then you might need to amendments, then clear the preconditions to get ready to break ground. At the same time you've got to decide your approach: Do you want an architect, or do as some of us have done and to the overall design yourself and used an architectural technician for all of the documentation sets? The former is probably less risky and it seems that you've already chosen this path, but even if you go the architect route then you should spend some time first getting your brief and specification in place, so that the place is truly yours. Do you want to hire a project manager or do you have the time and skills to do this yourself? What broad specification do you have in mind? Tour the area and look for recent new build example that might give you ideas. Learn to use the local planing authority (LPA) online system and look up the planning history on these builds. Lurk here and research the topics that you think that you need to understand. Review some of the major topic threads and blogs and decide which posters are providing the sort of info that you need. Ask focused Qs when you need to; the more that you show that you've reasonably researched a topic, then the more focused the answers will be. Many members will be happy to let you visit their properties and talk face-to-face about their approach, issues, etc. So just reach out. And good luck!

Just a brief codicil written just over a year after we moved into the house - gosh, how accurate this modelling turned out to be as built. Our house is a 300mm twinwall TF on passive slab with a local natural stone skin, and it essentially performs as per this simple design calc.

Perhaps the most important thing here is to indelibly mark the centre line of the studs on the inner slab before you cover it with insulation board etc. You can strike verticals from these makers simply, and this saves a lot of "hunt the stud" games later. You may need to refresh these makes occasionally if the fade from foot traffic, etc. but worth doing IMO. Also make sure that you or your electrician leaves at least 50mm gap to the nearest stub if dropping any vertical cabling runs during first fix -- this just moves them out of the fixing danger zone.

I made up three, all of which used the same routing guide and bit: a three slot jig which I used for routing door hinges and the door liners. Door hinges are traditionally cut asymmetrically, but I decided to centre my middle hinge and offset the top and bottom hinges by the same amount -- because of this the same three slot jig could be used for left and right hung doors and left and right liners. I only had to remember to offset the top of the jig in the frame by the door head gap when cutting the frame hinge cut-outs, and I just used a 3mm spacer for this (or occasionally a 4mm if the liner head wasn't quite true). You do need to get the spacing and dimension in making the jig accurate to better than ½mm. A dado jig for cutting the heads A mortice jig for rebating the lock plates and keeps. Just google youtube router jig door hinge etc. for example how-to videos. As well as the router set, you will need a set of decent chisels and a sharpening system, and you will also find a Trend Corner Chisel pretty much essential.

This isn't a DIY job IMO. It was a shitty 3-man job with the blowing kit, etc. So you have to include this in the pricing. The MBC crews like most small crews seemed to have too lax an attitude to HSE for my comfort, but this was one job where everyone got fully kitted out.

Oh, interesting. Why so when the U-values are comparable? Was it decrement delay and better sound insulation? Did you have a direct comparator to draw the comparison I wonder? I did do a +/- comparison at the time, and which I've since chucked, but in the end it was for more intangible reasons really: One factor was (at the time) MBC had a lot more experience of twinwall construction for this U-value spec, and so our slab and TF were well in their comfort zone = less risk. The profile with its pumped cellulosic filler is intrinsically more air tight, less risk of voids and accidental bridging and better Ψ values. The OSB3-racked pumped-cellulose construction profile is just more solid and has better racking strength, IMO; we have a warm loft giving us a three storey house, so this was quite important for me. The high decrement delay factor is also a good bonus, IMO. This is so high that we can effectively ignore the sidereal heat cycle in our worst case heating calcs.