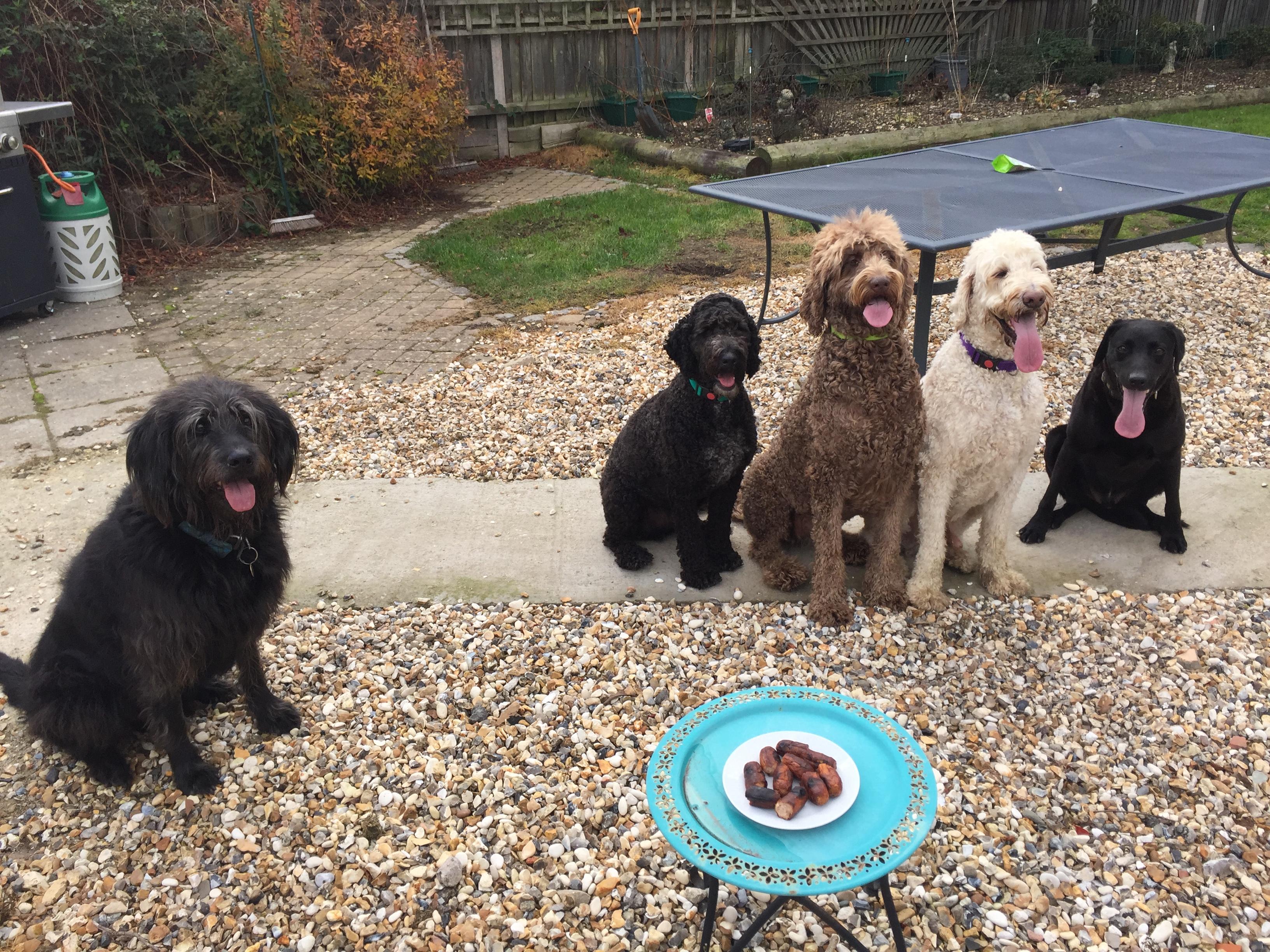 Content Count

339

Joined

Last visited

Days Won

2
Community Reputation
153
Excellent
Recent Profile Visitors
The recent visitors block is disabled and is not being shown to other users.
Oh dead oh dear. so..... Peter is a little accident prone...... He was on a Local authority tree felling course. This was before we were married, so very very young. In the way of the world as it was then, lunch was down the pub and he had a drink (never a big drinker, it always went to his head). That afternoon, the chainsaw slipped and went straight down onto the top of his knee - luckily it wasn't particularly deep. He arrived at A&E and was promptly seen by my sister who was was on duty as a nurse - she sewed him up and phoned our parents to come and collect him. The Local authority banned drinking before work and at lunch for those operating machinery soon after. Several years later we were doing a large extension on our house. I was out collecting the windows and Peter was up a ladder, with an angle grinder, cutting into the brickwork for the new joist hangers. He blames it on being left handed but the grinder hit something hard in the wall and kicked back, swinging round on the handle. The grinder hit him in the chest on what would have been his bra line for his moobs (they didn't exist then but certainly do now!) . I arrived home to find a very shaken looking brickie who had taken Peter to hospital in his pristine Jag. He was a little surprised at my "oh well, never mind" attitude. It is one I have learnt to develop over the years to stop panic setting in. Huge scar but just needed stitching again. Many years after that we had an allotment. It was a hot day, he was cutting the grass with his petrol mower. The mower needed re-filling but he'd forgotten he had a little fire going to burn some raspberry canes. Fumes, fire, a spark from the canes and WHOOSH. His arm is engulfed in flames. The only water available was from a well with an old fashioned hand pump. He used that to put his arm out. Put everything away and put the fire out, drove back home and asked me to take him to A&E. They wrapped the arm in cling film (who knew that was the best first aid treatment) and sent us to the the nearest specialist burns hospital (Kensington and Chelsea) on a Saturday afternoon! Luckily there was no home game that day as the hospital hires out some of the car park to Chelsea fans! We had a family BBQ planned for that evening, it still went ahead. So not only extremely accident prone, he has the luck of the devil as well, and of course no sense, no feeling!!!!!! He regularly asks for a nail gun for Christmas with an excited little glint in his eyes. It's not happening. Our daughter is just as accident prone! I live in fear. Do I win?

On our last build our kids were year 12 and the older one just left school. We could only fit a 28' caravan on the site so we rented a house for 10 months that they stayed in and we lived in the caravan with the cats - the cheapest houses to rent were in the middle of the town so I couldn't move the cats there (there were 5 of them). We just couldn't all fit it in the caravan. It meant £10k wasted but we couldn't have lived any other way. We moved into a water tight shell of a house. No heating, one working toilet and shower and no kitchen for 2 years. It's hard work and stressful but worth it.

The IBCs are quite a distance from the house so if we bury the them, we can run the pipe from the gutter, underground and still have a slight drop - no pump needed to fill them. If the IBCs are above ground, we would need to collect the water at the house in a suitable looking water butt and then pump to the IBCs on a regular basis as the water butt won't be big enough to hold enough water for our needs. To actually use the water, we would of course then have to use a pump as it's below ground level.

We finally got our wills done last month after 38 years of marriage. Our son and his wife have split up (they just about made their first anniversary!) and we don't want her to get any of our money should we both get run over by a bus at the same time. It forced us to leave our son's half of the estate to his son (in trust as he's only 3) to make sure she can't claim rights over it. As soon as they are divorced, we can revert back to him getting his half as normal. Kids! Puppies and kittens next time round for me!

We have just had to empty our septic tank - the drain down to the ditch has blocked so the tank was overflowing. Very frustrating to have to pay to empty rainwater that filled up the tank.

That is a good point Jeremy. After the rain we've just had they would all be full to the brim and of course the water table is as high as it can get. I suppose we should really have taken notice that we come down Marsh Lane to get to our plot - it is named for a reason 😊 So do you think we could just dig a hole, firm up the bottom with a layer of gravel, and pop the IBCs in and cover with decking? I know now that we need to protect the sides from crushing from soil. Any suggestions without resorting to concrete?

Hi Welcome to the forum and so sorry to hear about your loss. Self building is very rewarding but it is stressful, all-consuming and not for the faint hearted. Even if you are not physically building it yourself, you cannot over-estimate how much of your time it will take. Land is always the the biggest hurdle for self builders - you will normally need to be able to buy the land outright as getting a mortgage on just land is not easy. It is why self builders are typically older (generalising of course) as we have built up savings over the years - even if we have to sell our house to live in a caravan, releasing capital whilst we build. Not sure what type of log cabin you are intending to build but you need to be sure that once it is built, it is mortgageable so that you can sell it on. The house we are currently living in, was built and lived in about 5 plots away from us. We believe it was a built on site rather than a pre-fabricated building that arrived and was put together. When they completed their permanent build, the previous owners of our plot, bought the house and they transported it in two halves across the various plots in between (it is too wide to fit down the lane). It is perfectly liveable and when they first decided to sell, it went on the market at a value assuming it was mortgageable. After several prospective purchasers pulled out when they could not secure a mortgage, it was placed back on the market for over £160k less. As we were cash buyers, we could buy it, but we're only interested because there was also planning permission for a replacement dwelling. Good luck and I truly hope you can make this work for you - you deserve some luck after everything you have been through.

To early really for me but willing to risk £1500 if there are two others wanting to club together.

The you tube videos I've been watching all seem to wrap their IBCs in black thick polythene to stop the algae. When we were going to put them a floor level, we were going to box them in so that they were in the dark. That doesn't solve the gravity issue to fill them though which burying them would do.

I've read every thread that has IBC in it from the search facility. We want the collect rainwater for watering the garden only - nothing for house use at all which is lucky as that appears to be the consensus in the various threads anyway. Our ground is partly made up with the soil type as quite sandy. However, the water table in the winter is very high so burying things will require the use of concrete to keep it buried and stop it popping out of the ground. During the summer months, the water table drops significantly and the plants require a lot of water to keep them going (the sandy soil) - hence the need for collecting a lot of water. We want the water stored in two different areas for ease of use - we have the kitchen garden with a horse shelter next to it - we are intending to put 4 IBCs in there. The front paddock is where our garden area will be and we want 4 IBCs in there. I have purchased the 8 IBCs and are onto the next stage of planning. We were intending to put the IBCs above ground but after reading all the threads it seems to be more successful to bury them - both to keep them algae free and to make use of the gravity that being lower allows. I can see that @Bitpipe has a lovely "boudoir" (to coin a phrase from @AnonymousBosch) for his IBCs and @PeterW has buried his IBCs in concrete. If we make a lovely boudoir, it will fill with water around the IBCs and we will then need to find a way to pump the water out - the ability to get to the connectors and the IBCs is appealing though. If we encase the IBCs with concrete, there is no access to fix any issues and they can never be swapped out if they spring a leak. Am I worrying unnecessarily and which is the cheapest and / or easiest option? Help please?

Hey! I'm praying for planning permission so I can use that walk on glazing on a house that I have no idea how we are going to pay for yet. 😂😂

Before we had the kids, we went away one weekend for a very basic camping weekend - not a proper campsite, but a field at Caldwell Park where you could race your road bike round the track. First night there we couldn't get over just how dark it was - you literally couldn't see your hand in front of your face. You beat me to it Jeremy 😂 Coming from London it was a revelation to me.

It's been a really tough few months. Problems at work (I got the timetable finished ready for September and now they want another one ready for straight after October half term), my best friend diagnosed with stage 4 bowel cancer and then the delay in planning approval leading to us appealing to the planning inspectorate to try for a non-determination decision. We have both been down in the dumps and on the verge of giving up. Two weeks off work (sick leave for stress, it was so close to a resignation letter you wouldn't believe) and the dark clouds have lifted, helped by an apology from work and a pay rise. Remembering what we did first time round, reminded me that there is a lot we can do now, while we are waiting to start on the main part of the project, that won't go to waste. Last time round, we got the end of the garden completely landscaped - it meant when we moved into the house - the garden still looked lovely. We also used the large wooden gazebo (built in sink and BBQ) to eat every night as there was more room in there for us and the kids than in the caravan. The question was, what can we do this time round that isn't wasting money, can't be included in the vat reclaim (no landscaping on the planning permission), and will not be ruined during the build. Front drive and Fencing!! So... The fence at the front of our plot needs replacing - the wooden posts are rotten and are only upright because they are leaning against the conifer trees that are there. These conifers are of course going which will make the oak tree stand out a bit more, rightly showing how magnificent it is. We were planning the fencing and how many concrete posts and gravel boards we were going to need when I had a brainwave 💡. How about building the wall out of the Isotex we want to build in (the one without insulation of course)? It means we get practise on using the stuff and actually pouring concrete without trialling it on our house! No idea how expensive it is going to be so I've asked the question to see if it is feasible or not. Other things that I am now googling and sorting out are: Lighting for the driveway Parcel delivery box Doorbell camera CCTV Illuminated house numbers Capping blocks for the wall Fencing for the rest of the garden area. Moving the electric meter to the front of the plot Planning the route of the new fibre optic connection under the front paddock (yes, we will shortly have fibre optic to the house after 4 years of suffering from the slowest broadband you can imagine). The parcel box that we like the look of is the Brizebox. https://www.brizebox.com/product/built-in-extra-large-rear-door-pay-in-full-449-00-excl-frame/ I want to build it into the wall but I also want to render over the bottom half of it - you can have the collection door on the front or the rear of the bottom half, however, I don't think the top half of the box protrudes far enough out to allow this to happen. I've emailed the question today to see what they say. Gallery picture 31 of 69 is the closest to what I want to achieve (without having plants in front of where the poor parcel man has to stand to put the parcel in the drawer!!). I want to move the electric meter box to the front wall so that it can be read without coming onto the property. Peter wants to leave it where it is. We are in discussions at the moment about the best way forward. It is currently housed in a brick pillar with a little bit of slate on top - I think that when the house is built, it is going to get hit by cars driving down past the house to the end of the plot as it will narrow the driveway unnecesarily. The pink circle is where this pillar is and where I thought the electric supply to the house ran - it actaully goes to the existing car port which is next to the purple square where the Garage (AKA sewing room) will eventually go and should miss all the excavations during the build. Now off to google covert cameras to go on the front drive somewhere!!

The other possibility I can see for the really "proud" areas is a bit of heavy duty sanding down. The strength is in the concrete not in the woodcrete so bits of sanding in strategic places could possible reduce the extent of battening out. Glad to see that Russel agrees that replacing the roofie bit is a good idea. Maybe one day I will become a "hands dirty" self builder 😊

Can you not extend the roofie bit out to cope with the additional width of the battening / cladding? Edited to say - is that what the second picture is suggesting?