Three pours down..none to go - thank goodness
Entry posted by Simon R ·
963 views
We've just done our final concrete pour, in fact two pours in one week. From ground floor to gables in two weeks with Easter in the middle is quick, a little too quick to enjoy. We can now get a real sense of how the house will look. Next week we are ready to start work on the roof.
Before building the first floor, a temporary floor was laid around the room perimeters using 12mm OSB. This was done to provide a working area to build the blocks from and allow bracing to be put in place without damaging the final floor. 12mm board seemed awfully thin to walk on!  .
With our builders now familiar with the wall plans the blocks went up very quickly indeed. In practice it takes longer to do the bracing and shuttering than to do the building. Not having to cut blocks on site is a major advantage, not just from an accuracy point of view but it also makes the site much cleaner. Some ICF sites look as though it's been snowing with polystyrene.
As mentioned in out last blog entry we had the option to do a single pour combining the first floor and gables. We're really glad it was done in two stages, attempting it in one pour would almost certainly caused major bracing issues and risked the block work due to the higher pressures resulting from the depth of concrete. Never thought I would be happy to shell out £1000 on a pump.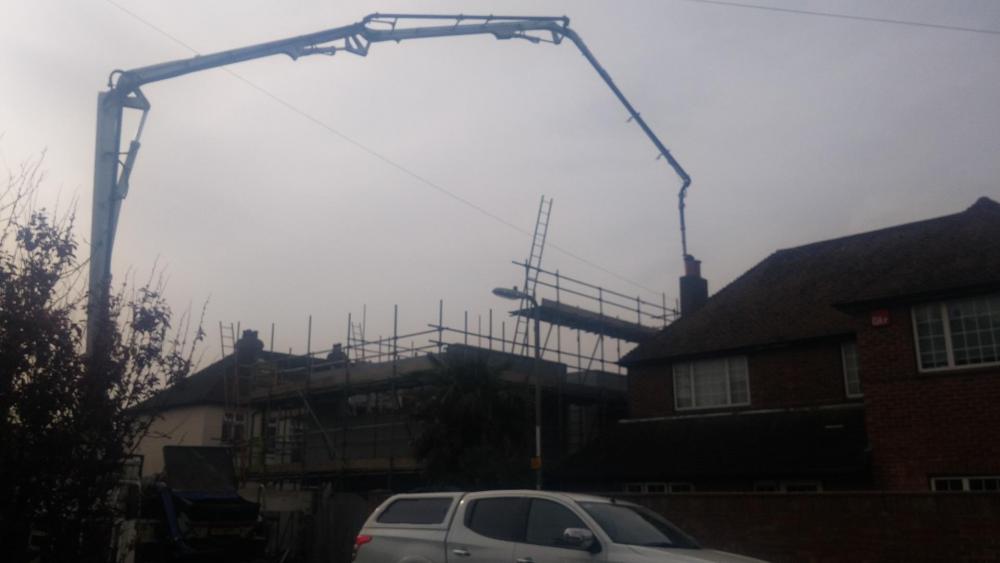 Having no experience of other build methods it's not easy to evaluate the pro's and con's of each system. For us, the need to use concrete pumps has to be the worst aspect of ICF. It just seems like you're never quite ready and there's another dozen details to attend to before it starts. With multiple companies involved for boom pumps and concrete delivery, it's both expensive and difficult to get people to turn up when you asked for them. Our last pour was scheduled for 11am and the concrete lory finally arrived a 3:30pm...To add to the entertainment the pump has to be vented after use. This involves a set of guys you probably won't see again and want to be elsewhere dumping large volumes of concrete on your site. After three pours we have somewhere in the region of three tons of set concrete to break up and pay to dispose of. Some of the last lot got dumped on next doors newly block paved drive. Lots and lots of cleaning up. It's not too much of a surprise that the builders don't include this in there list of responsibilities. Definitely the Achilles heel of the ICF build method.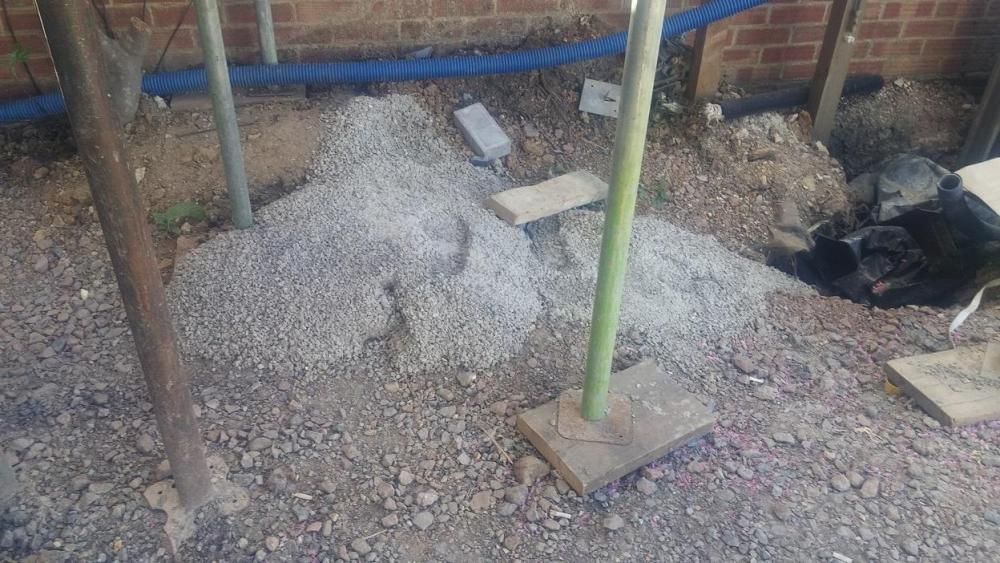 Enough  moaning, it's been a long couple of weeks with many disturbed nights worrying irrationally about being a lego brick short at the end of the build. We now have a house, no roof, but hey we have to do something next week.
8