Entry posted by Simon R ·
865 views
The firework instruction phrase "light the blue touch paper and retire to a safe distance" comes to mind.  It's been a real baptism of fire, however our builder says it's the worst time and it should settle down now.  All in all it's been a productive week and almost all work has moved us forward.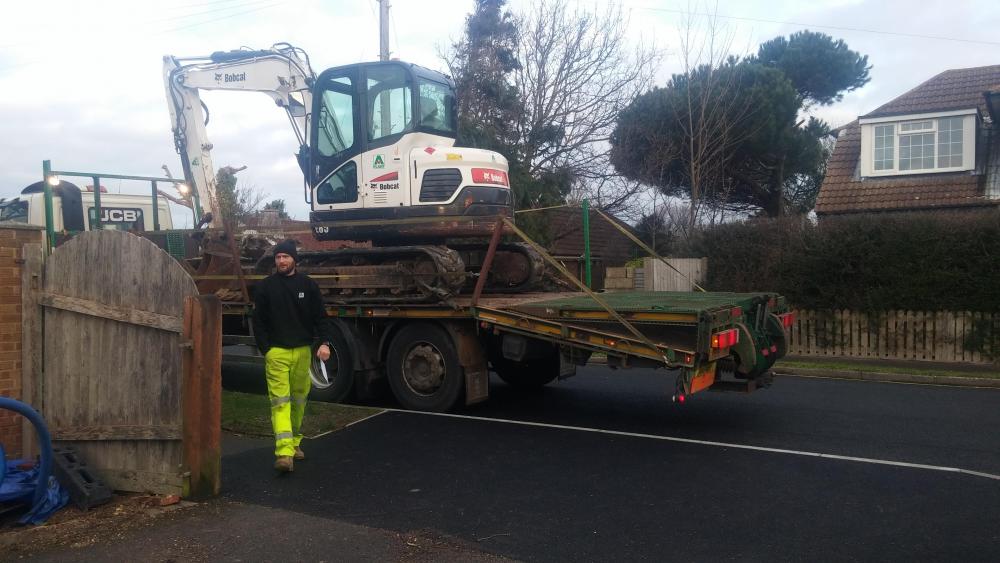 The digger arrived to dig out the raft area at 8am as requested and work got under way. We had muck lorries scheduled for Tuesday and it quickly became apparent that we did not have enough space on site to build a significant spoil heap. After a bit of phoning around found a local company who could supply vehicles. Our builder had asked us to take care of paying for the muck lorries which was fine by us, getting the lorry company to accept that it should be a zero rated VAT service was more difficult. Contacted HMRC and had a discussion and they were adamant that it should be zero rated and that if VAT was charged I could not reclaim it as it would have been at the wrong rate... Managed to resolve the problem in the end. Now we had lorries arriving and clearing the soil we were able to make real progress.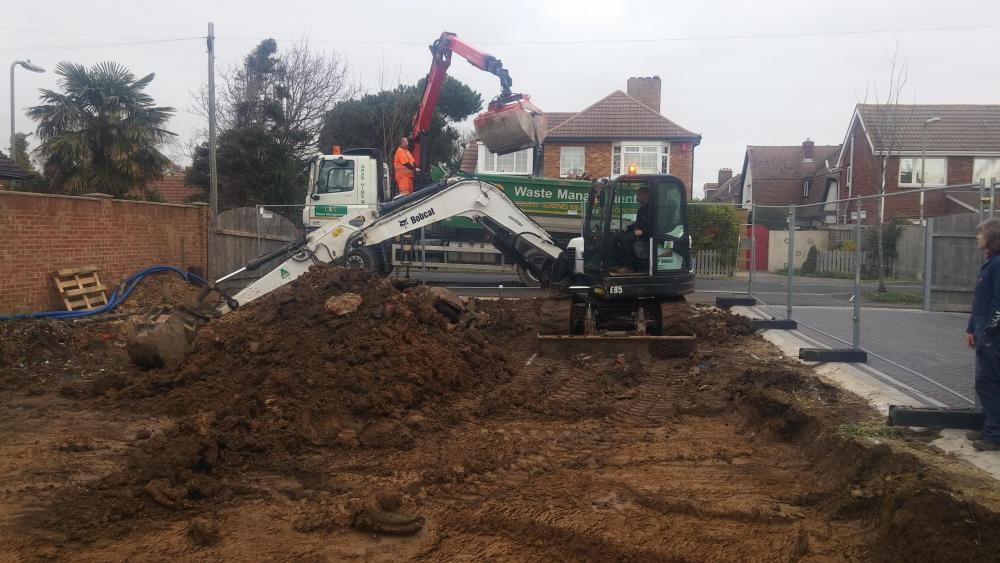 Tuesday the rainwater harvesting tank arrived, we knew it was big and boy was it big! The tank needed to get dug in just 2.5M deep and 4M long, a very big hole. Fortunately the ground conditions were good and a nice clean hole was achieved without the need to grade the sides.
By Wednesday we were ready for site setting out. An interesting  activity and an example of technology being used because it's there rather than essential. Making sure the house position is millimetre perfect seems a bit over the top when string and triangulation would get it positioned within 10mm. Where it really does help is  positioning services and getting drainage levels set. A second visit on Thursday had all the levels set and perimeters marked, by the time the guy left the site I had changed my opinion and consider it money well spent.
More and more lorries to take muck away, the tally now sits at twelve loads and we are mostly done thank goodness as at £240 a 12 ton load for the clay it was making a bit of a whole in the budget, a quick calculation of the volumes validated the figures, so it really should not have been a surprise. In hindsight I'm surprised our builder didn't ask me to organise in more lories in the first place. If I do this again I'll order the lorries in advance rather than madly phoning round for spare capacity so that work can continue.
The foul water pump arrived on Wednesday, having the levels all sorted from the site setting out I was able to cut the input to the tank, so it's all ready to get dropped into a hole once it's been dug and a concrete base is in place. The next task was to get all the drainage runs under the raft in place. With the raft due Monday and the builder having to go to another job on Friday to supervise another ICF concrete pour we were running out of time. Hopefully resolved the problem by getting a crew in on Saturday to get the drainage done.  Stone for the raft substrate should star arriving first thing Monday, so fingers crossed we should have the raft ready for concrete which is booked for Thursday...we shall see.
5