Just a few more slates to go. No, really this time I mean it!
---
I haven't posted much of late because everything is happening around me in slow motion. Or at least that's how it appears. I am told (by another self builder) that this is fairly normal for this stage. Progress has been limited by shortages of materials (including a supplier going under - wasn't much fun for anyone concerned) and labour shortages - i.e. us both having to do our day jobs! Corona virus is still making self builds difficult. Add to that my recent discovery that at 42 years old, I'm not actually able to do the physical work of two 21 year olds. This was demonstrated by me picking up a very wet pack of roofing battens, putting them on the Range Rover roof rack and then staggering to bed for the rest of the weekend, not attending site after work all week and sitting bolt upright at my desk, causing concern amongst my colleagues still on site that I had started taking the whole work thing seriously.
So on to the progress, and maybe a few pictures so you can tell me what I've done wrong!

The windows were all ordered in the middle of October. No sign yet, but I am advised of significant delays, so I am hopeful of some of them in very early January. The difficult arch windows will arrive much later because the window maker seemingly forgot how circles work and wanted to make some very expensive hemisphere templates.  We offered to send them a nail, a very carefully measured length of string and a pencil. This didn't go down well but it made the point, and the expensive template was suddenly not required.
Building control have visited the site while we were in tier 1. Nothing much wrong with the house structure or roof. Just a few simple observations to make sure I don't forget to do some things that are on the list but easy to forget.  The battening plan for the cladding was discussed and approved and I now know how cable holes through the structure need to be done - something I've had very mixed advice on from local sources. 
The cladding and battening is (hopefully) all arranged and we should be ready to start this part of the work as soon as the last ridge tile is screwed down.
So on to a few photos of the roof.
First fibreglass valley in place. The BCO was keen we didn't use lead because we have a plan to implement a rainwater capture system at some point in proceedings (especially if we need to demonstrate low water usage - SWMBO gets very disagreeable without her swimming pool sized bath)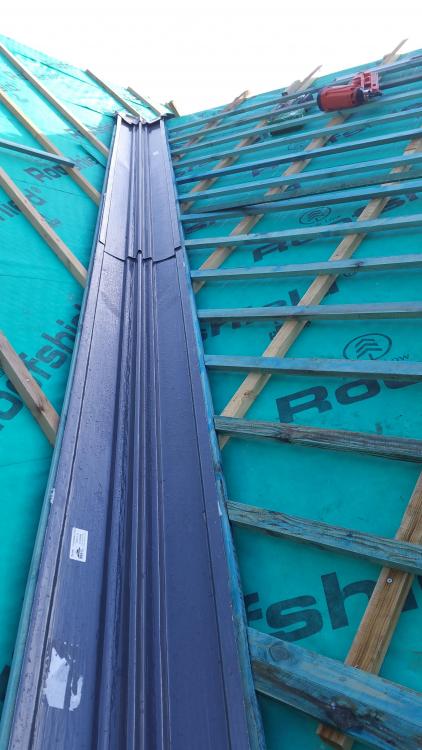 The capping detail of the valley. No idea how to get this to sit nicely - it's just the wrong shape. Hopefully slates will cover it and I won't have to ever look at it.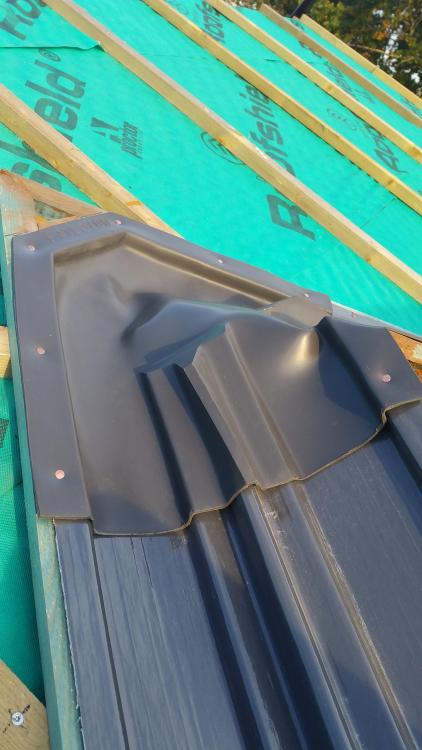 Not a bad view while I sort out how this dry ridge system is supposed to work. Slates on the left of me, solar trays on the right, and me stuck in the middle with my nail gun and saw... Doesn't quite work as a song.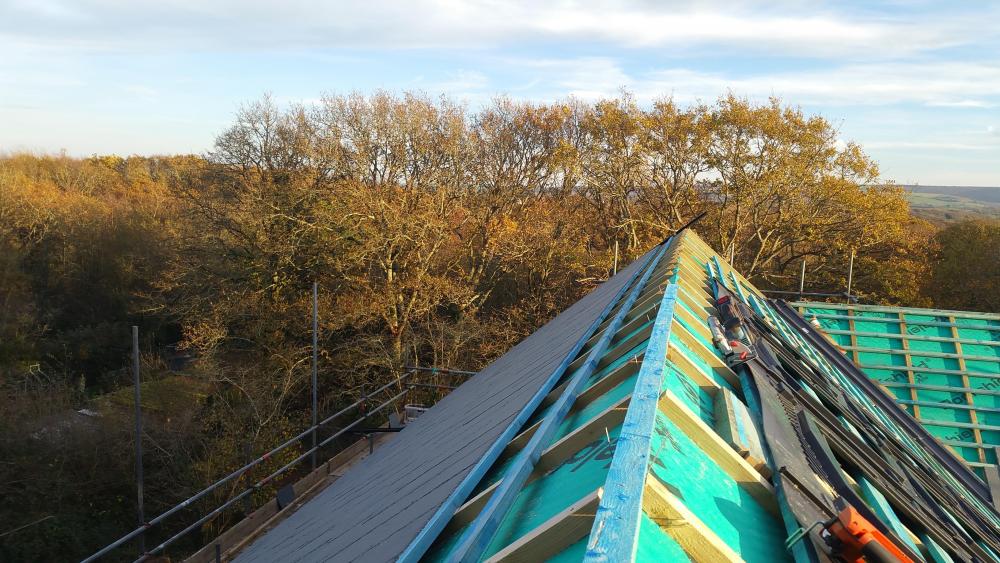 While I mention solar trays, all 20 are up and bolted down. They do look a bit bigger than I intended, but I've got a single phase 6kW export allowance so I'm damned well going to use it.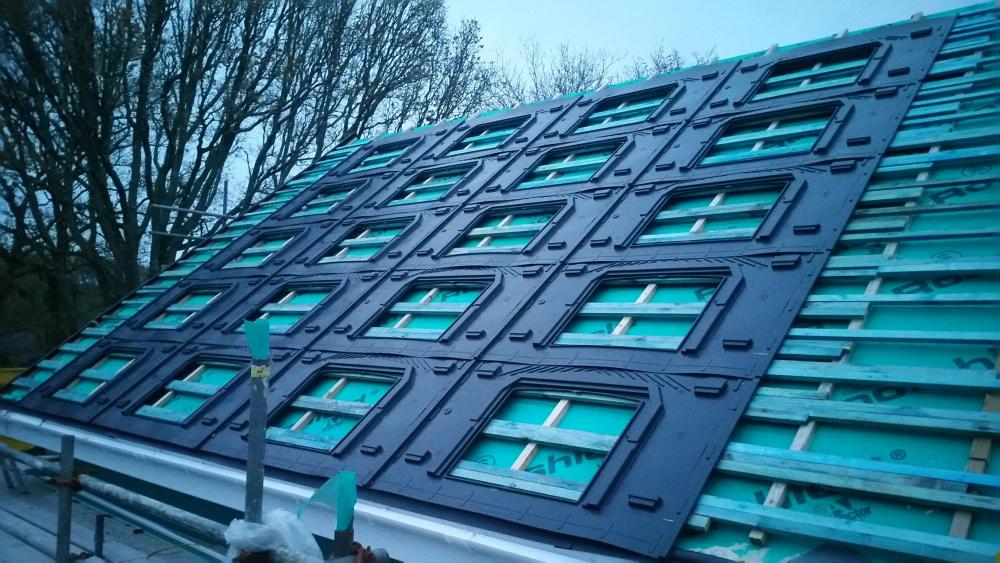 First slates on the south roof. It was a bit odd only putting up one slate-and-a-half and one slate on each row. But that's the way it needed to be to get the best out of the solar panels. Otherwise the bedroom roof put too much shadow on the lower right hand panels in the winter.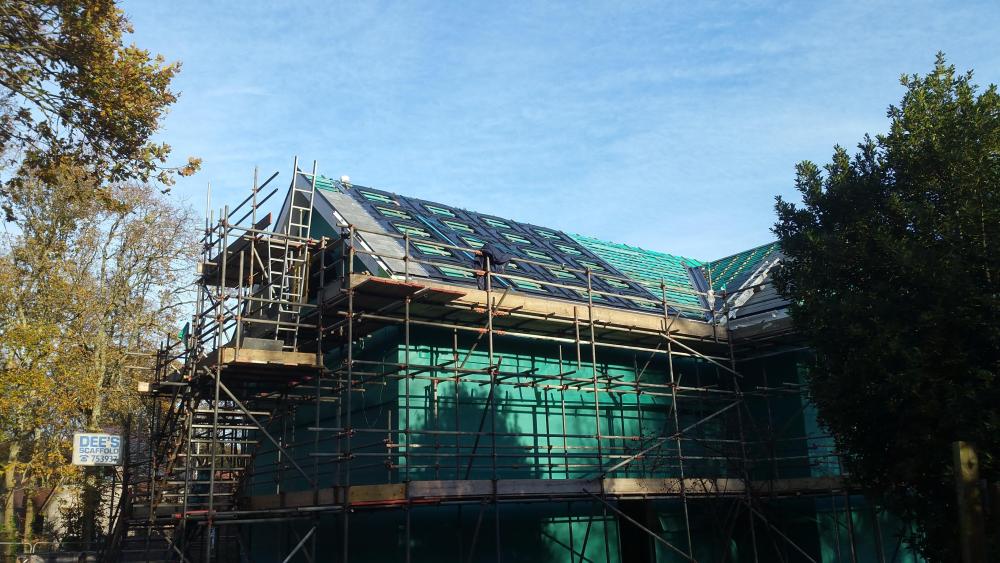 The bedroom roof finished but for a couple of slates in the corner and seating the gable end ridge tile in place. Still working out how the dry ridge system interacts with the dry verge at the gable ends. There are a few annoying slates where my grading could have been better but overall I don't think it's too bad a job for someone who was afraid of heights until this year and has never done any roofing before.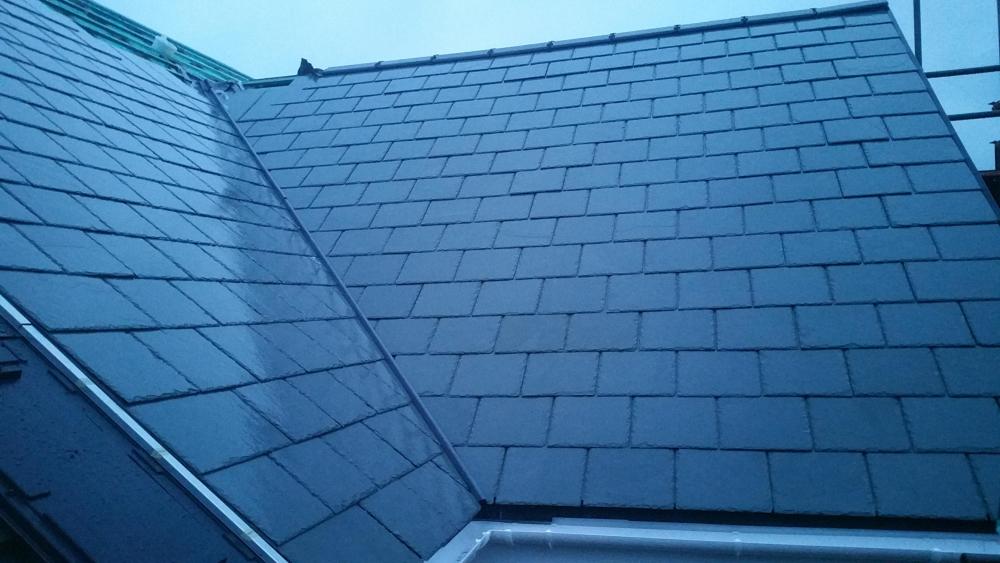 Sitting astride the bedroom roof. Only one small section of slates to go now. I think I need to wash my gloves though - too much slate dust over everything.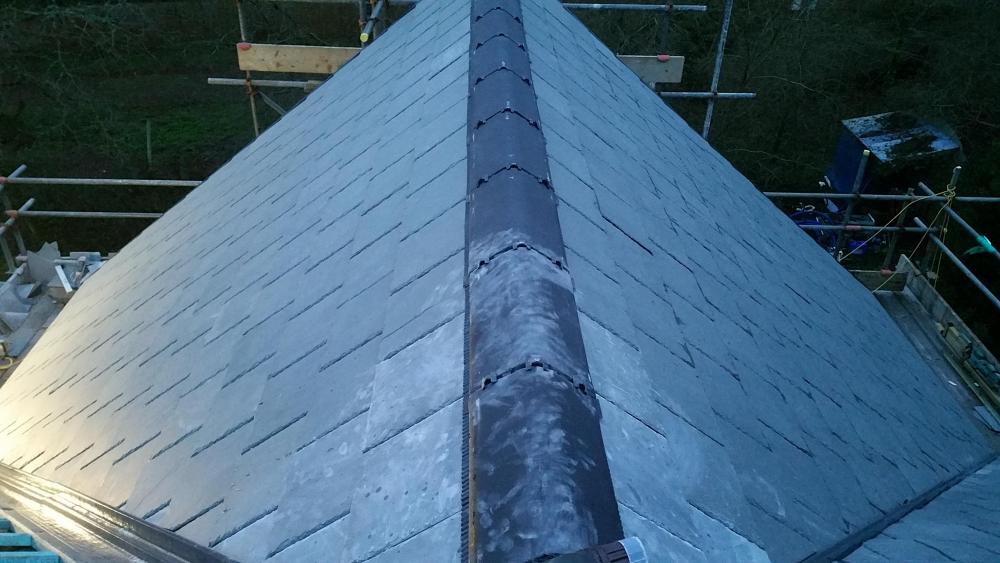 Another 100 or so slates and some solar panels to go, then I can finish the soffits and look at cladding. I need a holiday when the scaffolding comes down.  I am told that digging drainage ditches counts as a holiday. Not convinced myself, but at least it's on the ground.
9

1