I give my New Year resolution of updating this blog a bit more frequently until the first really cold snap in February. Simply because I need content, and I can only get this by being on site in the cold when I could of course be sat in a comfortable warm office writing Matlab simulations, sorting through endless sets of test data (I enjoy it. Each to their own...) and drinking coffee.
So the big progress for this entry is actually the paperwork. The structural warranty people have sent me an update and they have finished looking at the design documents I submitted (SE stuff for foundations, SIPS structure, drainage etc) and have accepted it is all adequate for the job. This is quite a relief because I was proceeding at risk by this not being complete before I started significant building work. There was little else I could do thanks to Covid slowing everything down and I always believed the risk to be very small, but even so it is good to not have it there in the background any more. There's still some paperwork to go, but it is for parts of the build that are yet to happen. Maybe I will feel inclined to do it when it's cold at the weekend - I wasn't keen on roofing when the slates were frozen together.
Now for something visual. I've begun to get the fire breaks around the windows installed as agreed with the BCO. I needed to be at work this week, so passed the job to Jeff and he's done a very accurate job. It is beginning to look a bit more house like now - sometimes small things make a big difference. It now shows the windows to be vast. Much bigger than the plans and elevation drawings would suggest. Might have been able to save some money here, but I've lived in a house with windows that are too small for much too long. It will average out as correct over my lifetime if I'm lucky!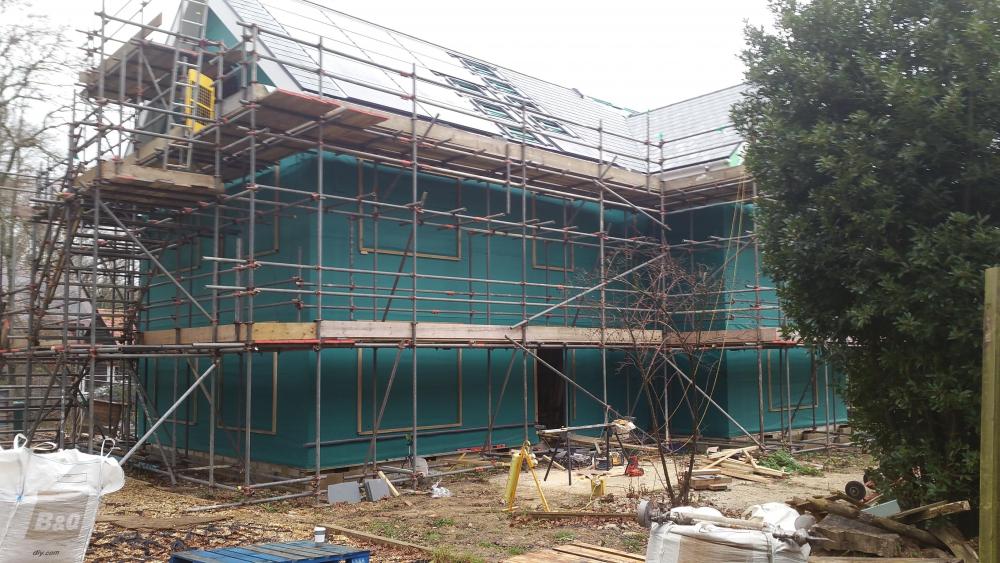 I spent Saturday getting the last few solar panels on the roof. I haven't yet bolted the bottom four panels down permanantly because the DC cables are not yet finished. It got cold and dark in a most unreasonable way so I couldn't see to drill the holes for the cables by the time I had done a few other jobs on site that were demanding attention. The house certainly looks the part for a "low energy" building now.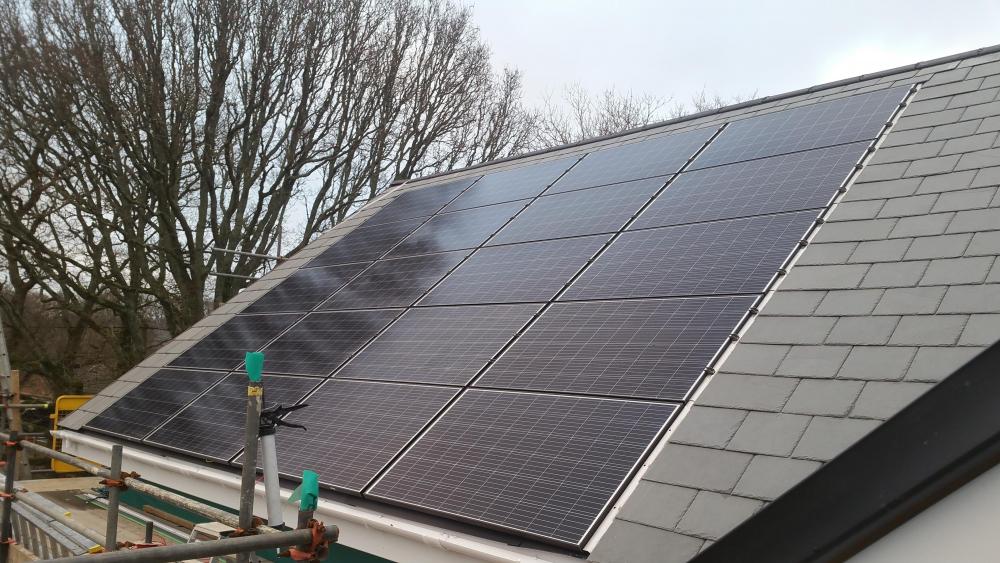 Looks like I have lead work on the list tomorrow. The window frame tops each need a lead cover fixed back to the SIPs.
4