Have Slates. Prefer not to travel.
---
A lot has happened on site in the last month. But nothing really seems to look different yet.
We start with the soffit and fascia. A 15.1 metre run, in 4 pieces. Why the house grew that extra 100mm I don't know. I blame the boss and the architect! It can't possibly be anything to do with me!
What a pain this was to get straight - the process was to cut the splines down to the right size, both at the edge and bottom (the 'alien' was good for this) and then insert some reinforcement timbers to allow the fascia to be nailed at 600mm centres top and bottom. I used a few shims to get it to come out right, but far fewer than I feared.
The gable ends were a bit of fun. It took 3 of us to manoeuvre the snake-like soffit flat board and capping fascia in to place. Only six full lengths and four parts to do... Won't take long, honestly.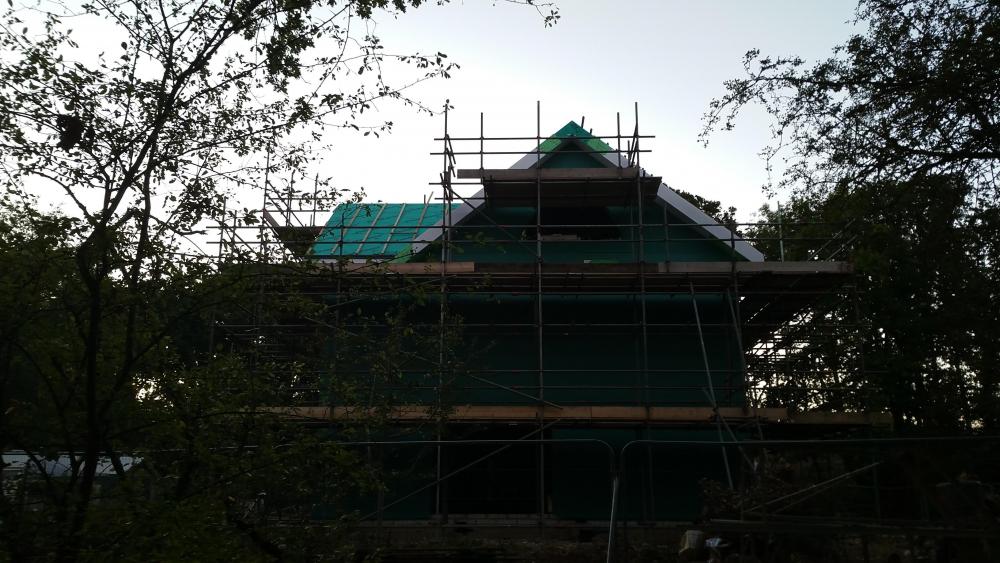 Next we installed the felt support trays and over fascia vents for the first time. It turns out that my planning isn't infallible and I hadn't allowed for the correct thickness of slates at the bottom of the roof. Oh well, lesson learned.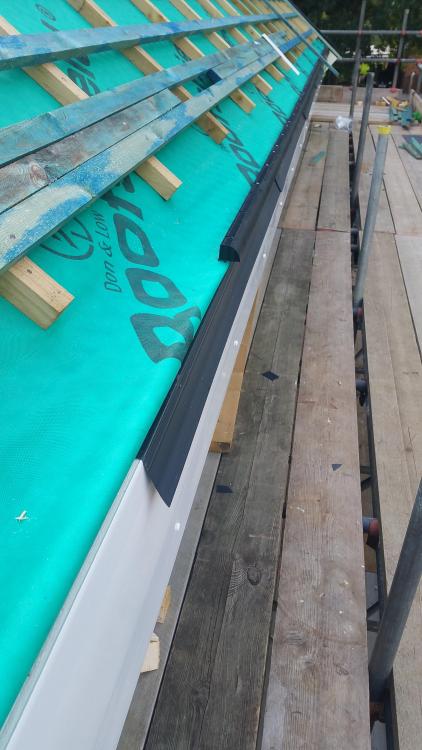 Testing a sample slate on the roof with the shim in place to demonstrate the loose eaves slate issue was actually fixed.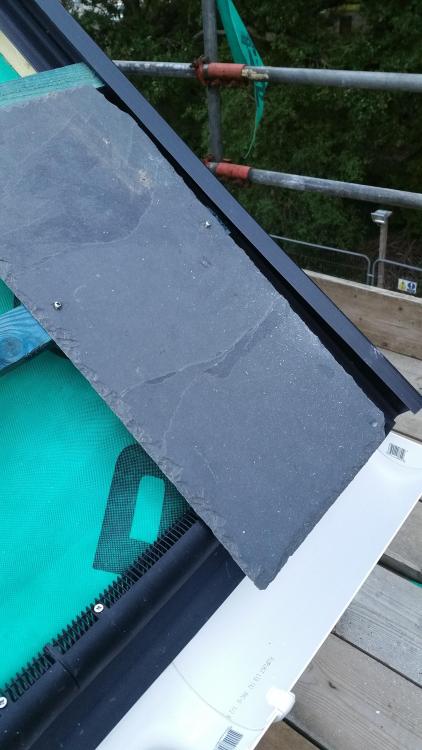 Still waiting for slates. So let's look at fibreglass valley pieces... I have a few batten offcuts in place to stand on and hold on to in various useful places so I can reach to put up the supporting battens for the valley. I'm now hoping the other side lines up with this one!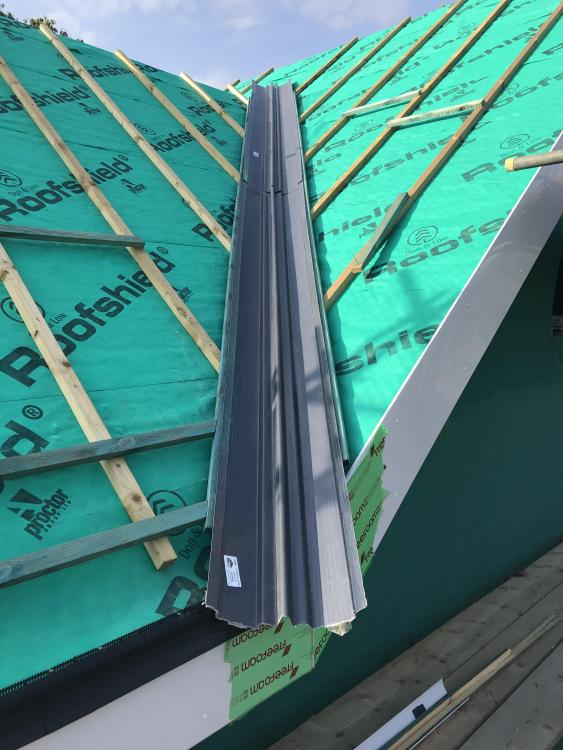 The first pallet of slates! A bit of a problem with delivery and quantities, so I had to collect them with my long suffering trailer. The wheels didn't fall off, but it was a close run thing.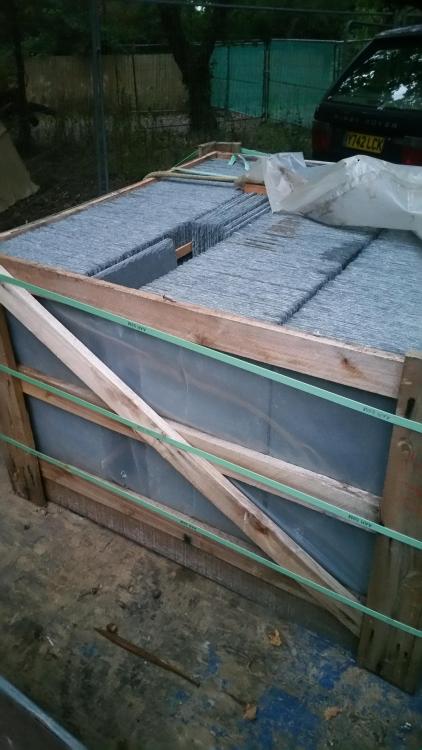 The slaves (or do I mean family?) hard at work grading slates. The table was a maths lesson on the Gaussian distribution later that day. Thankfully medium is most common.
I really need to work on getting the junk pile sorted out too. I have no idea why I have an old toilet and radar antenna on site.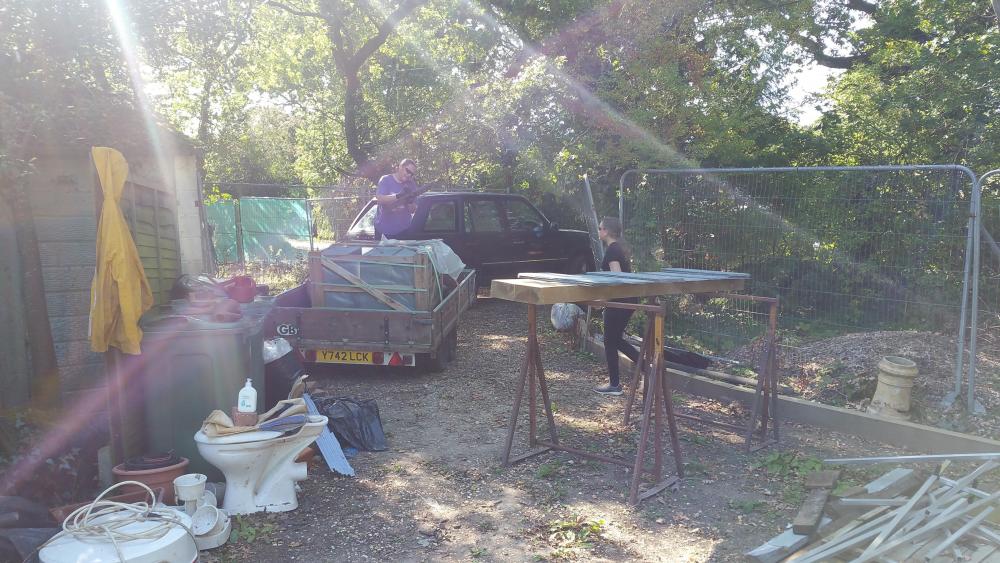 Meanwhile I made a jig for cutting the eaves slates, using the thin slates. Tests have shown the grinder breaks fewer slates than trying to cut them by traditional methods. It looks like I need more practice, but not at current slate prices!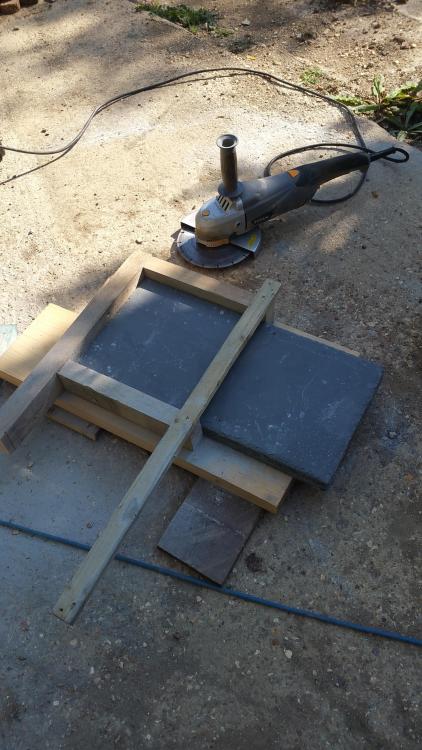 The first few slates on the roof. It's going to take a fair while...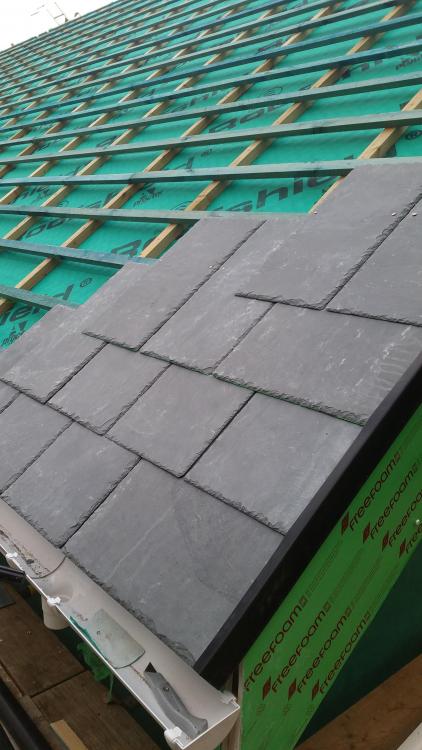 Just over 10% done with this side now. Going to need more slates and more people to finish in anything like sensible time!
I don't think it's looking too bad so far... Only 1850 more slates to go on the house.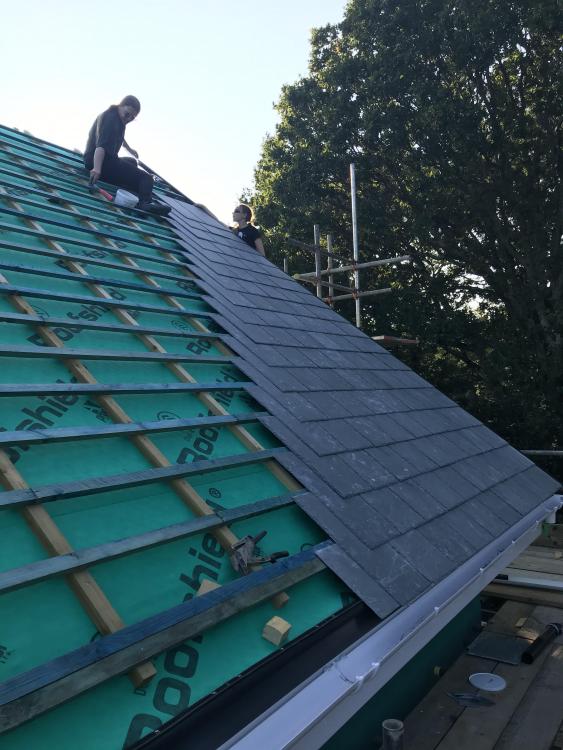 6

1