So far this week, things are going okay, but in their usual messy sort of way, and with a few time slippages thrown in that are keeping me on my toes.
Let's start with the main show of this week which is the arrival and installation of all my glazing.  Woohoo!  All arrived intact and, as far as I can see for the moment, undamaged.  Everything turned up on a lorry from Poole yesterday morning, so a relatively local delivery as I'm only at the other end of the county rather than the country.  My glazing firm, Norrsken are based in Poole and that's where it was all loaded up from before trundling northwards.
It seems that it's standard practice for the customer to have to supply a telehandler to get the windows off the lorry and then assist in getting them up to any heights on the building.  I think I knew this way back when I agreed everything with the windows but it faded into distant memory but I was able to get organised in time for it.  The only comment I would add here is that it's not cheap getting one of these bits of kit out along with a driver, so if you're on a tight budget you may need to factor in this cost and add it to your bill.  I had my guy there for 2 days and it cost me a total of £600.  As there was so much else going on today, there was plenty of other shifting around for him to do, so I minimized down time as far as possible.  For those, like myself, who have no prior experience in the world of construction, a telehandler is basically an extendible forklift.  Imagine the forks, as usual, but then on a massive extendable hydraulic arm; apparently these bits of kit cost about £80k, so they aren't your cheap and cheerful forklift type thing that you see running around industrial estates and warehouses up and down the country.  The driver also needs to be very skilled at the slow and steady approach and a damn fine judge of distance and clearance.  You'll see why shortly.  My guy, Andy, was all of these and he did a fine job of getting everything into place, guided by the installation team.
After the storms of last weekend, we are having lovely weather again in north Dorset and things have dried out nicely since the deluge.  My windows arrived yesterday on a truck with a type of articulated trailer that was much more manoeuvrable than many of the delivery trucks that have been on site to date.
In the photo below, you can see the big lift and slide doors for the living room as well as one of the apex pieces for the gable in the bedrooms upstairs.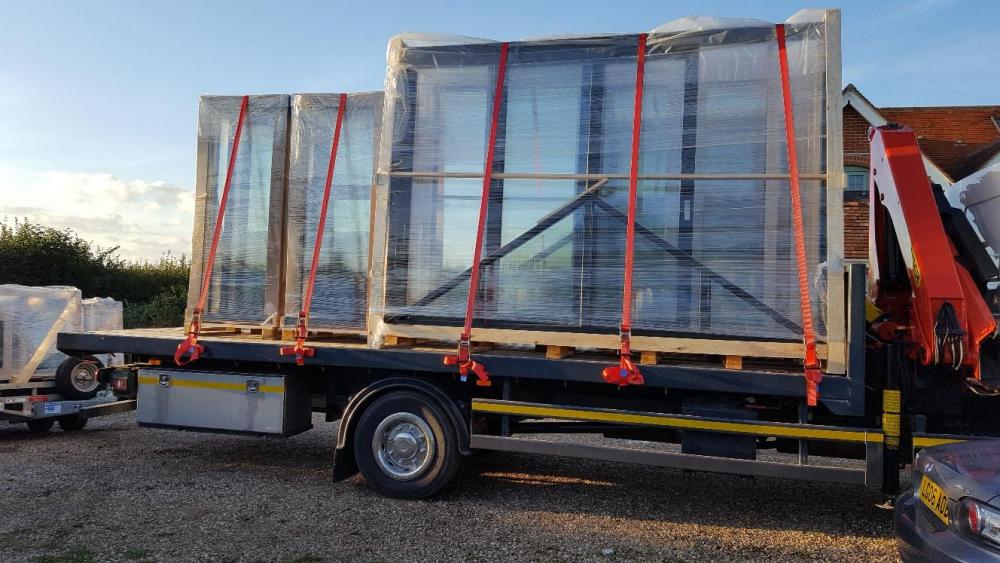 Here's the rest of the load.  Nicely packaged up, all secured with bracing timber and heavy duty cling film.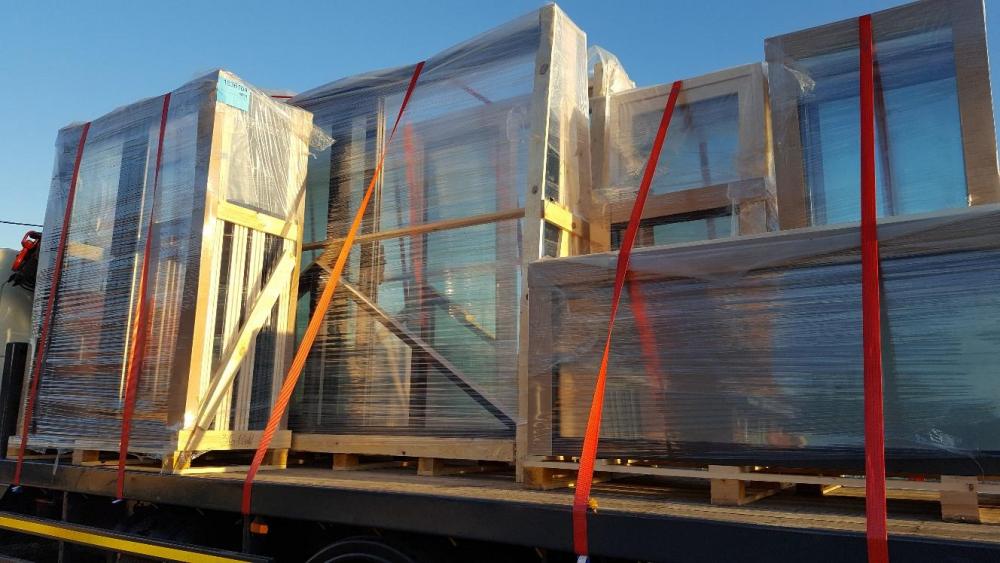 Here's Andy, my telehandler driver, swinging into action first thing.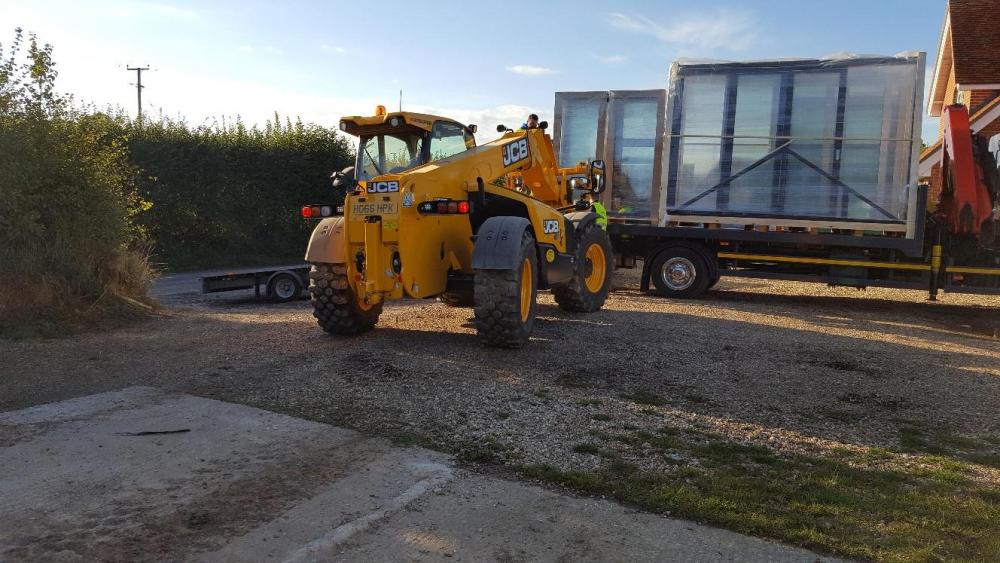 This is the telehandler lifting all the slates up to the top scaffolding lift.  Earlier, the apex pieces had been lifted to the same level so the window installation team could put them into position from above.  It went really quiet when that was happening. 
The installation team have paid very close attention to everything, included how the windows were left overnight before the main work started today.  Instead of just propping the windows up against a wall, as I might have done, everything was stood upright and braced into that position until they are put into their final placements.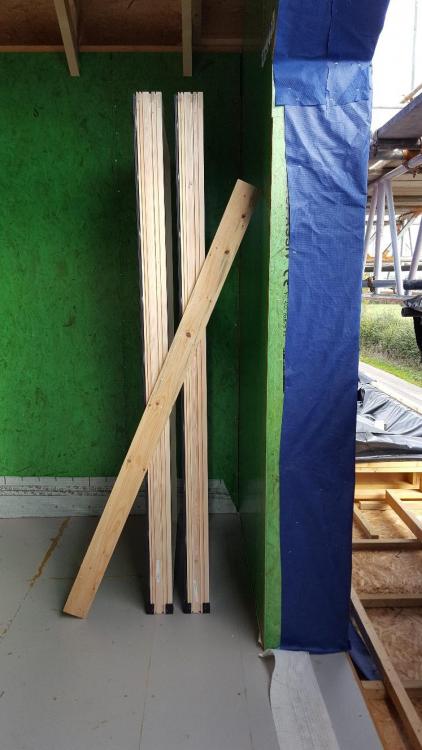 Now, bear in mind that this for the upstairs.  By some way, the largest of my windows are the lift and slide doors for the living room area, each of them coming in at around 300kg.  The 3 installation guys, headed up by Val, quite literally man-handled these out of their packaging and then onto a (seemingly) tiny set of wheels, then into the building and ready to go into the recesses that were formed in the slab by MBC when the foundation team were on site.  Incredible work, skillfully done, and one heck of a job.
Here's the big window on what looks like a roller skate for windows.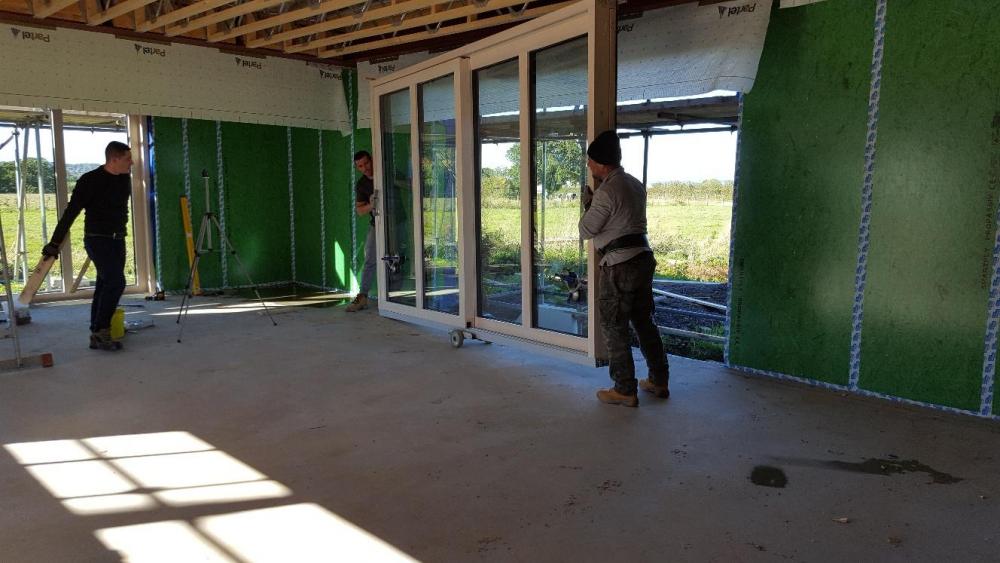 In the above photo, you can see a tripod set up to the left of the window.  This is for a laser that puts a laser level line across the windows to make sure that everything is, well, level.
The installation team have now got both of the big lift and slide windows in and they seem to have gone in nicely.  They've got a couple of the upstairs windows in, but before doing the rest, the flat roof guys need to run some of their membrane up under the thresholds so that a seal can be formed once done.  They will get onto this tomorrow and work ahead of the window guys to prep the thresholds.
Ah, my roof.  What a tricky affair that is turning out to be.  It's all getting done, and will be done, but it truly is roofing by iteration with little nibbles of each thing needing to be done before another team can do their bit.  I know that construction people often don't come with the best of reputations for working in a co-operative or helpful fashion but, if that's really the case, then I have the exceptions to that rule working for me.  There were 3 teams working on the roof today - the flat roof guys (County Flat Roofing Ltd), the pitch roof guys (Dylan Faber Roofing Ltd) and my solar PV guys (Environment Logic Ltd) and everyone needed a bit of work doing by the others before they could do their thing.  They all worked together incredibly well, happy to do collective head scratching and work out exactly what everyone needed to do and in what order to get the job done.  It was a masterclass in problem solving and co-operation. 
So where does the delay to my gratification come into all this?  Well, I admit that this is entirely my own fault.  I had no idea it would be so tricky to get hold of roof windows without vents.  In my ignorance, I assumed that it would just be a case of dropping by to my local roof window supplier, pointing to the ones I wanted and getting them delivered.   Not so.  It turns out that unvented roof windows are so tricky to get in the size that I need that they simply don't exist as a stock item and so they have to be made to order.  Current lead time is 3 - 4 weeks.  Rats.  Still, never mind.  My pitched roofing guys reckoned that the solar panel tray system would be okay to go up anyway as they knew how much clearance they would need for the flashing around the trays and then around the roof windows, but, of course, it has turned out to be more complex than that and the roof windows do need to be in so that the tiling that will support the trays will be in, and so on.  I could have given myself a hard time over this but as the morning went on, it turned out that I didn't need to give myself too hard a kicking as the PV guys have been sent the wrong size trays.  Quite clearly, my full roof covering just wasn't meant to be today.  However, the flat roof guys are still beavering away and they are with me until and including Friday, so they should get the decks and parapet linings finished this week, or most of it.  I've been most keen to get the area over the stairwell finished off as it's like a sieve when any rain comes in, so it will be a relief to have that done.
I've opted to have the pitched roof tiles secured by tile hooks as this is more secure in areas that are exposed to high winds.  I've often seen this method used in France and admired the look of it, so I'm quite happy to have this.  The next photo is part of the eaves course and you can just see the end of the tile hooks at the centre bottom of each slate.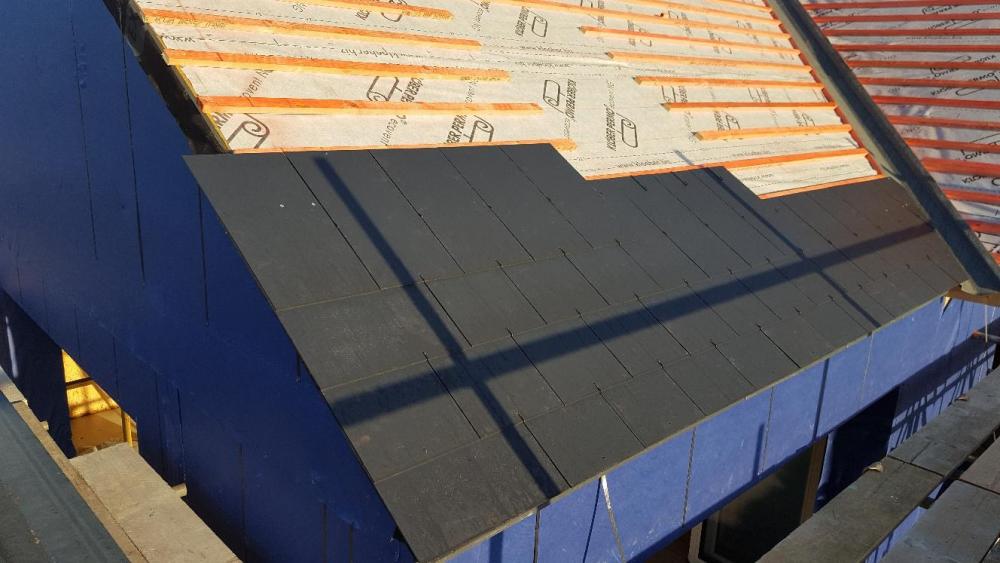 As well as the pitched roof, Dylan Faber and his guys are going to do the vertical tiling on the upstairs for me.  This makes sense given that it's the same material.  The only difference is that on the balconies in particular, they will use copper rivets to attach the tiles.  This is because whilst the tile hooks are very secure, they are vicious pointy little things that are easy to scratch yourself on, so these give a more forgiving finish should anyone come into contact with them. 
With the delay to the roof windows and everything else that's going up there, I won't be ready for the air tight prep work and the test itself on the original date.  MBC had been scheduled to return on 8th October to do this, but they're now due back in the first week of November, so that will be 5th November. 
I commented on a previous entry that MBC left site very quickly after their last stint and, in my opinion, they left a little too quickly without the opportunity to check that everything was in order for the follow on trades.  There wasn't a great deal that needed doing, but I thought it was poor practice not to make sure that the building was up together for what came after.  This was evident with what was a relatively minor issue but caused some difficulty.  You can't miss the fact that my house is blue on the outside.  This is a breathable membrane that envelopes all the board and is meant to come all the way in over the window reveals as well.  It needs to be there for the window installation, too, but the installation manager came out for a site visit early last week and picked up that a few of the windows, including the long stairwell window, were missing the membrane running into the reveal.  I contacted MBC to get this resolved as soon as the window guy left and was assured that someone would be out in time to rectify it and indeed they did, but not until after 8am yesterday morning once the windows were already on site and after numerous chasing emails.  It's a job that I looked into doing myself, but the minimum quantity of membrane that I could buy was 50m and it seemed overkill for it.  In the end, I've no idea how far the MBC guy had to travel to get to me, but I doubt it was local and a potentially stressful situation could have been avoided entirely by taking a little extra time to check things over before going off to the next job.
What next?  Well, as mentioned, the flat roof guys are continuing this for the rest of this week.  Here's the section above the stairwell:
It's actually a lot further on than this now but you can see the construction of the flat roof area.
A few plumbing/heating things get kicked off tomorrow.  We can't start first fix until the air test is done, just be sure that it's not MBC who have put a hole in the structure before it's done, but there's still quite a bit that can be done before then, such as putting underfloor heating manifolds in place and getting foul water runs in the right place.  NThere may even be a bit of MVHR ducting action.  Calm yourselves, everyone.
Off site, I've been chasing up my stone cladding.  Hitting my head on the lead time for the roof windows was a salutary lesson and so I'm checking out how long it will take to get my stone cladding delivered in case I need to do it now.
Last, but not least, it seems that the build is continuing to provoke interest from military aircraft.  I mentioned that there has been a lot of interest from a passing Navy Lynx helicopter during the summer.  Well, today they really took the piss and have upped the stakes.  We were buzzed by a Hercules transport airplane.  I mean really buzzed.  The damn thing barely cleared the powerlines and was incredibly low and close to the house, I'm amazed that there were no burst ear drums or centre partings from the thunderous low pass.  For goodness sake, if they're that interested they could just drop by.  No, on second thoughts, let me re-phrase that as I wouldn't trust the buggers to not come in by parachute or under slung load the way things are going.  Haven't they heard of cars and, you know, just asking for a look around?
Still to come this week: the rest of the window installation; flat roofing and lining parapets; a visit from the DNO.  Stay tuned for the next thrilling episode.  With or without Hercules aircraft.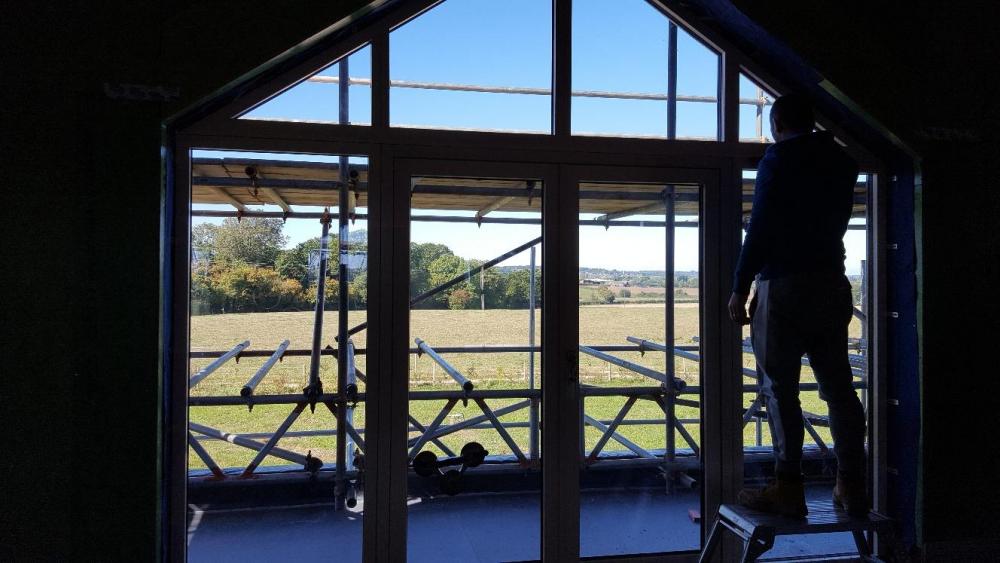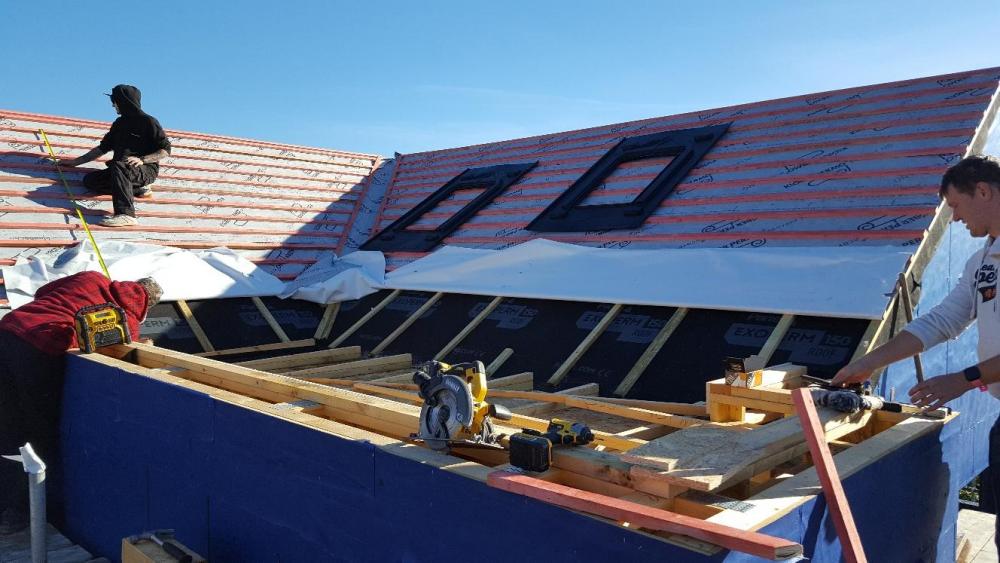 5