Getting ready for the big start!
---
it's been a bit quiet on our blog so I thought I should update it. While we've been waiting for the groundworks to start we've been busy getting the site ready. This has included getting the new entrance to the plot created, getting the sub-base for the driveway in place and then topping it off with a layer of 6F5 as a hardstanding for the construction vehicles (after the build I can then remove the top layer to reveal the, hopefully, still in good condition sub-base to put the final layer on top of. well that's the plan at least!) and putting up the site toilet. Obviously the last job was the most important.
Our new entrance to the plot is over a culvert and as it's connecting to an adopted road it had to be done by an insured contractor and so I had to fork out the cash to get it done. but they did a very good job and we're very happy with it.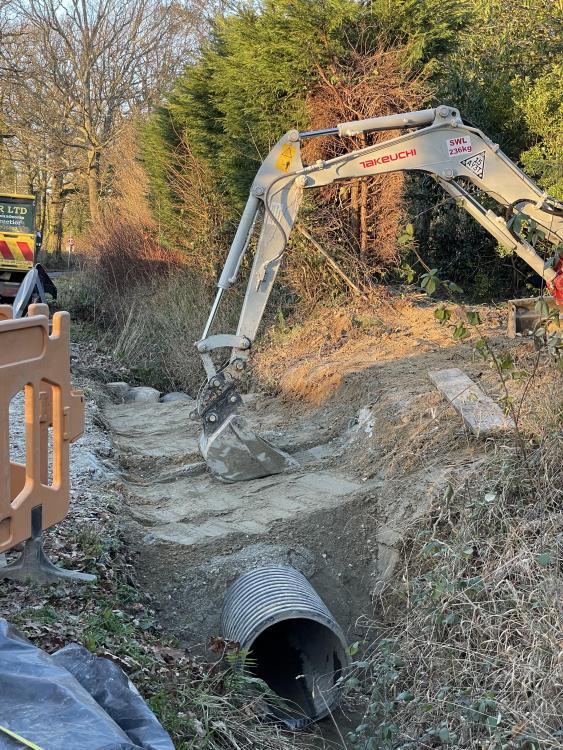 the culvert in situ with enough concrete on top to take the lorries and cranes for the build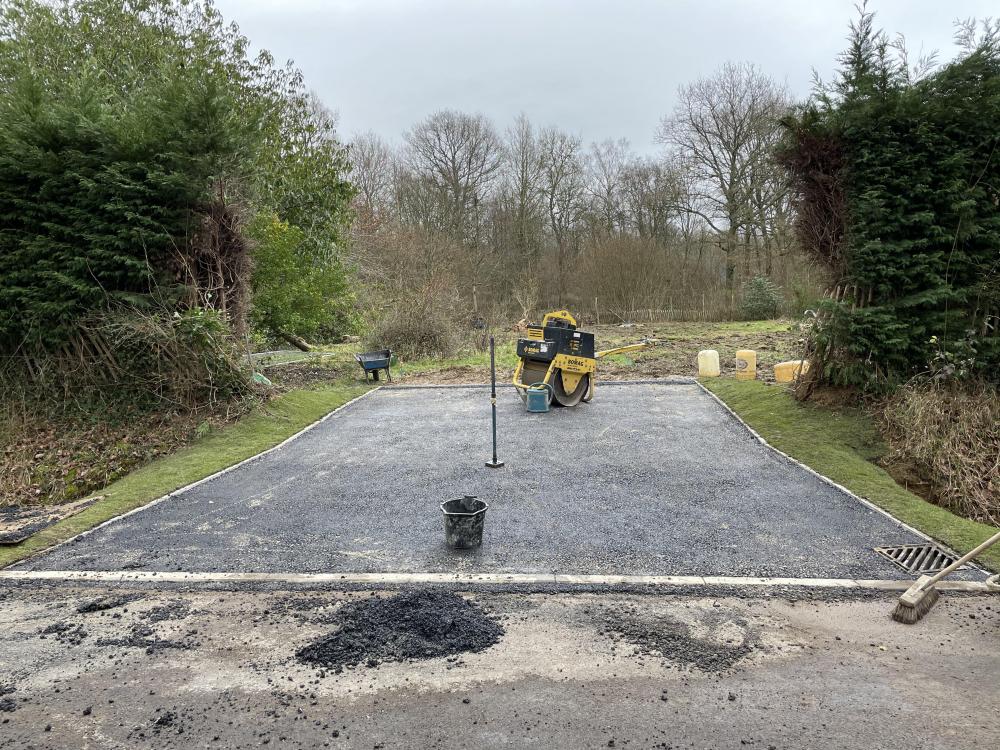 a nice base layer of tarmac finished, which will see us through the build when they will come back and put a nicely finished top layer on.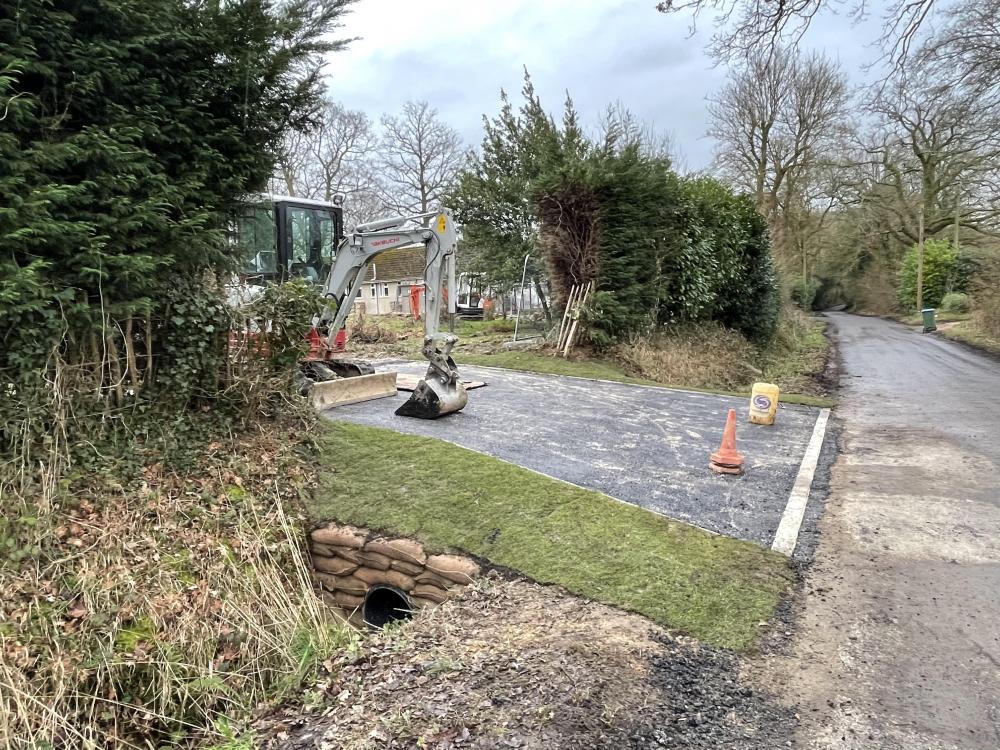 nice sand-bagging. ?
once, they'd finished the entrance we moved on to the driveway and hardstanding but, first, an observation....it's funny how things don't look as big on paper as they do in real life. that's exactly the conclusion I came to after I looked at the plans and thought "that driveway isn't that big I'll just dig it out myself and save myself a fair chunk of cash" and then went on to dig it out. it was only after I'd finished the 120m2 area did I realise how big the driveway is going to be (I swear it doesn't look that big on paper!). oh well, it's done now, at least we'll have plenty of parking. maybe I can rent it out and do a 'Park and Ride' in to the local town to recoup some of the costs. ?
a big hole dug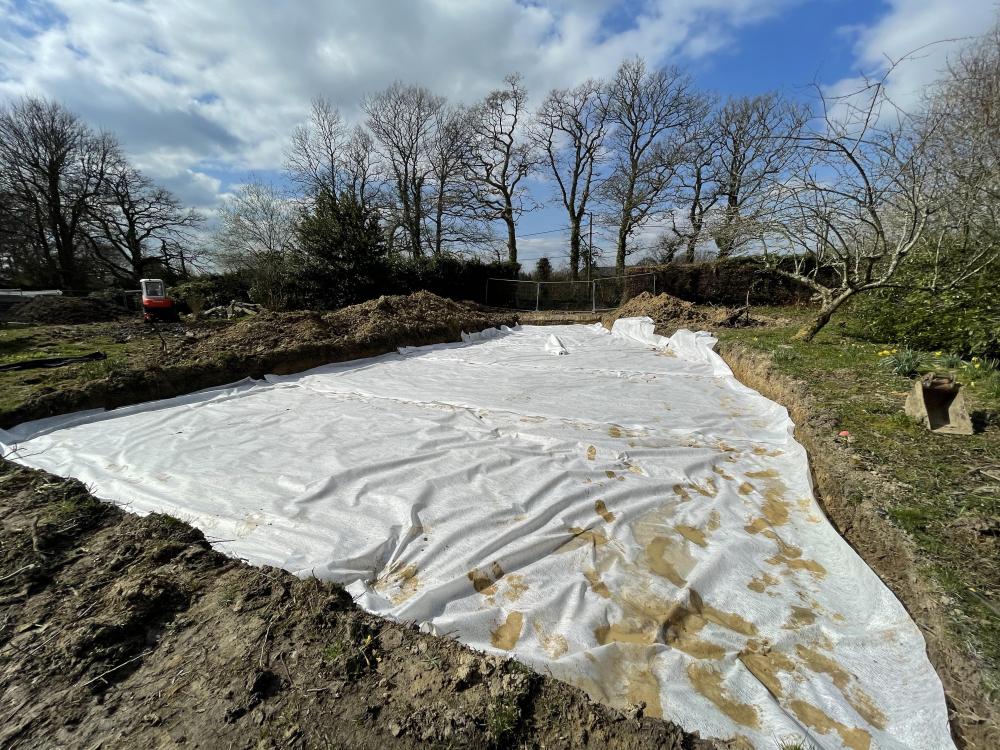 and covered in Terram (or an equivalent to be exact)
100 tonnes of beautiful primary Type-3 granite aggregate all compacted by that beast of a roller. Don't really care what everyone else thinks but I think I did a darn good job for my first driveway sub-base.
Sadly it all got covered by another layer of Terram and then a load of 6F5 got dumped on top and it now looks like a building site hardstanding area (which is what it is!). here's a photo of the lovely lady of the house helping out on the roller.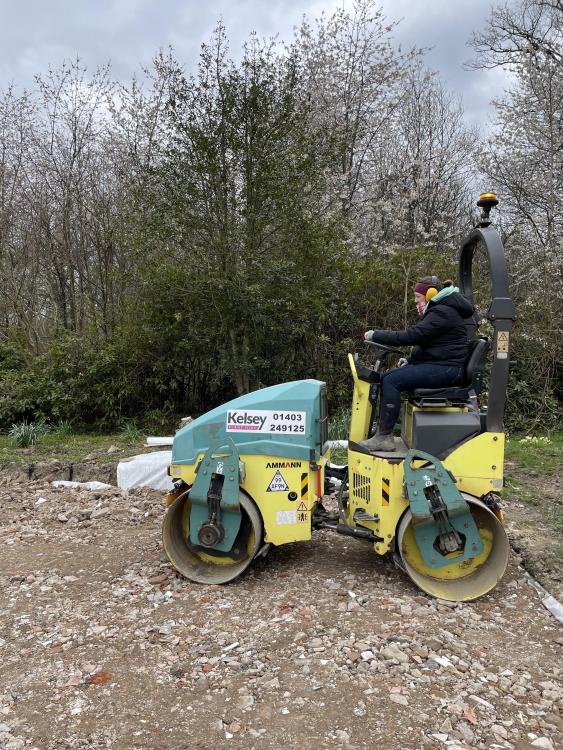 it was a bit cold out that day.
And finally we get to the most important job, the building of the site toilet. Friends of ours got it from a local freebie site and used it for their self-build, we then dismantled it, transported it to our site, erected it, put a new roof on it and plumbed in the toilet and sink to our existing STP. we think it's a very luxurious WC for site use. it's even got a couple of windows so you can watch the work progress while you're doing your business.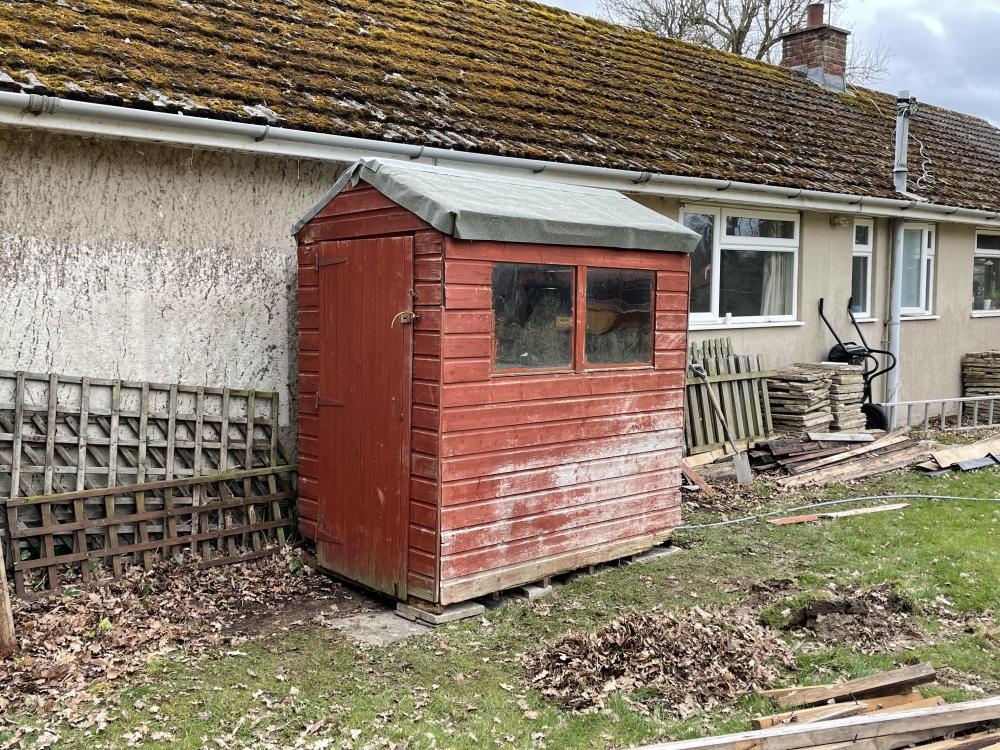 and that's it for this blog post.
we are extremely excited as tomorrow is the day we've been waiting for and the groundworks starts in earnest. They'll be on site to set up and start digging out the big hole for the basement as the basement contractors are due to start on the 3rd May so we should start to see some real progress now! finally!!
thanks for reading. ? 
11