Building the Timber Frame
Entry posted by jonM ·
928 views
Having got all of the groundwork out of the way, it was time to build the timber frame. We were carrying out a stick build, ie: we purchased the i-beams and glulams and the carpenters cut and assembled everything onsite like a huge jigsaw puzzle. We had looked into using a timber frame manufacturer, but we had a good team of carpenters who had experience of stick building a frame, so it didn't seem to make any sense changing a proven formula. 
Initial jobs were to get the scaffold up and sole plate down. First i-beams were installed on 3rd Dec and by the end of the day, the main i-beams for both gables were up.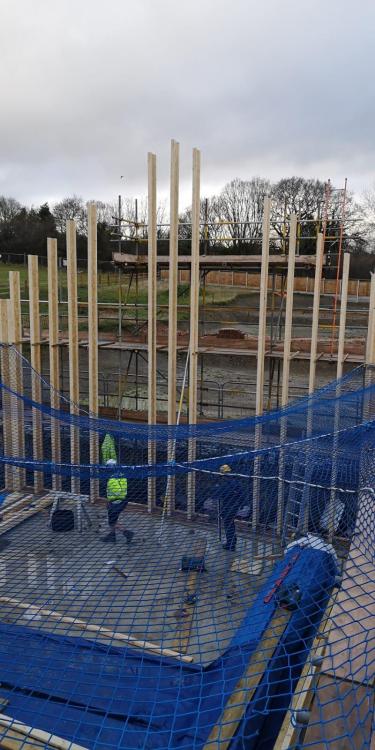 The work is not helped by the weather which is cold and wet. You need to be pretty resilient to be work outdoors in this weather, nevertheless good progress is made and by 6th Dec the walls are up and parallam beams and ledgers have been fitted. 
Big day on Dec 10th as we finally manage to get the electricity switched on. No more generators which should make everyone's life a little easier on site. We now have water and electricity on site and only need to connect to the mains drains at some stage in the future. 
First floor joists together with the MVHR ducting that needs to pass through these joists is next to be installed and state of play on Dec 12th is as pictured below.
The first floor is glued to the joists on December 14th. The view from the top of the scaffold isn't bad either.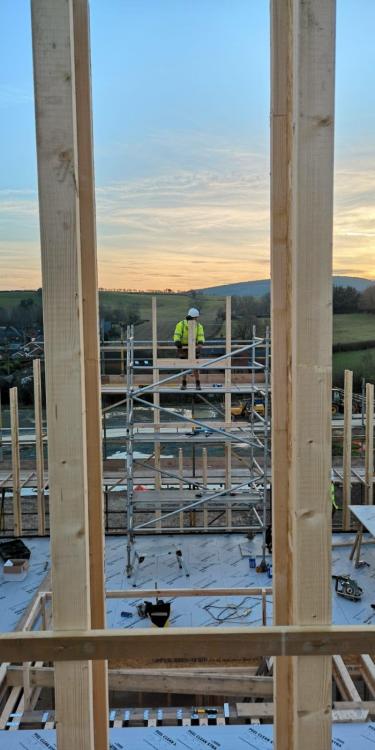 There is no way the big heavy glulam ridge beam is going to be manually handled up to the top of the roof, so on the 17th Dec a crane is hired to help out with this operation. It is the only time during the build that a crane is required. Everything else has been manually shifted into place.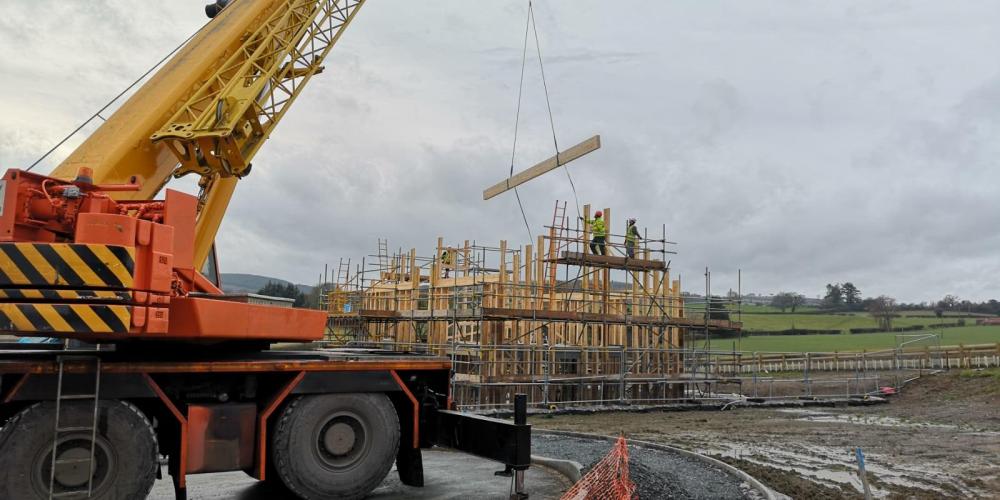 The i-beam roof rafters can now be put into place and on the last day before the teams Christmas break, most of the rafters are in place.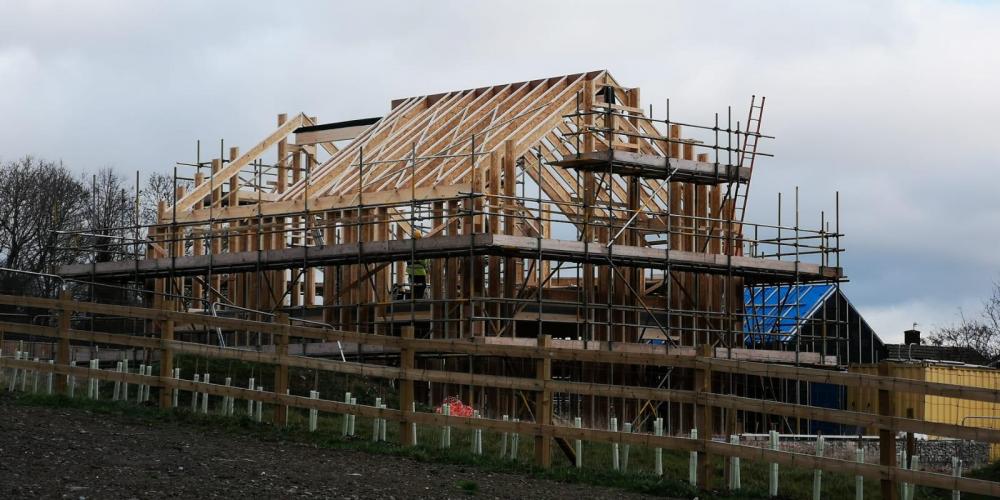 Following a couple of weeks break for Christmas, the rafters are quickly finished off and by January 9th the skeleton of the house is in place.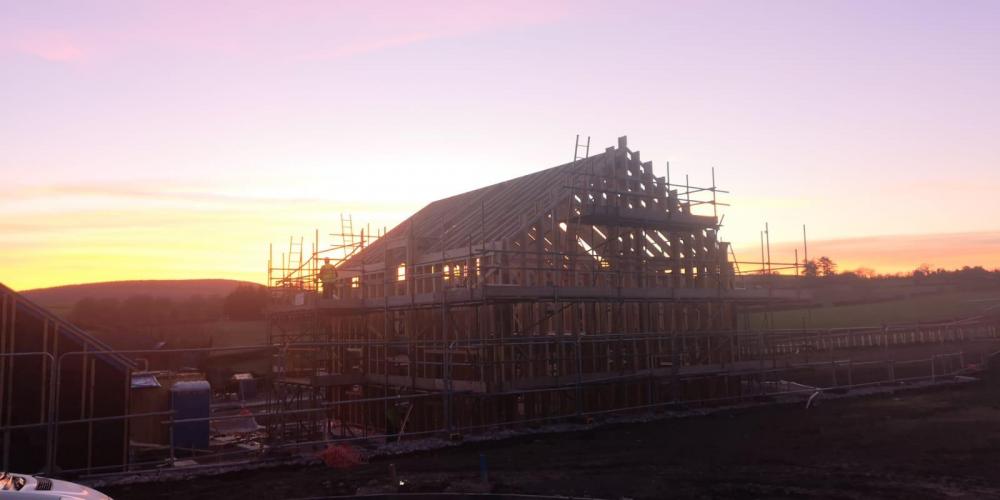 Over the next couple of weeks the house is clad with panelvent on the outside and smartply on the inside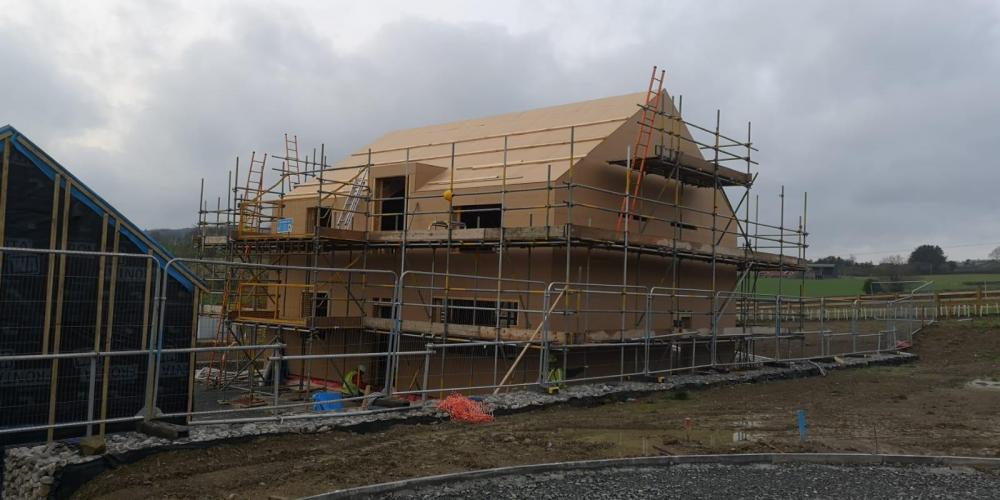 and then wrapped in membrane so that by the 22nd Jan, the house is looking like this.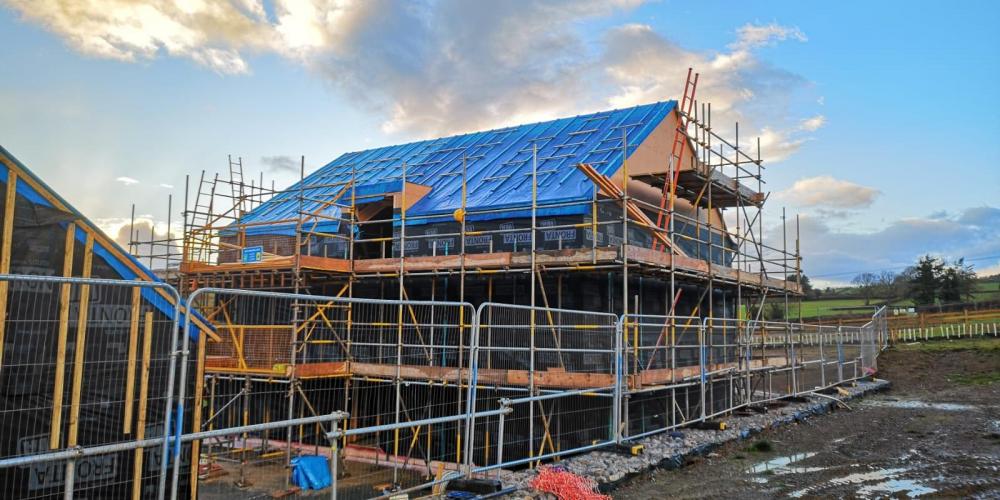 7