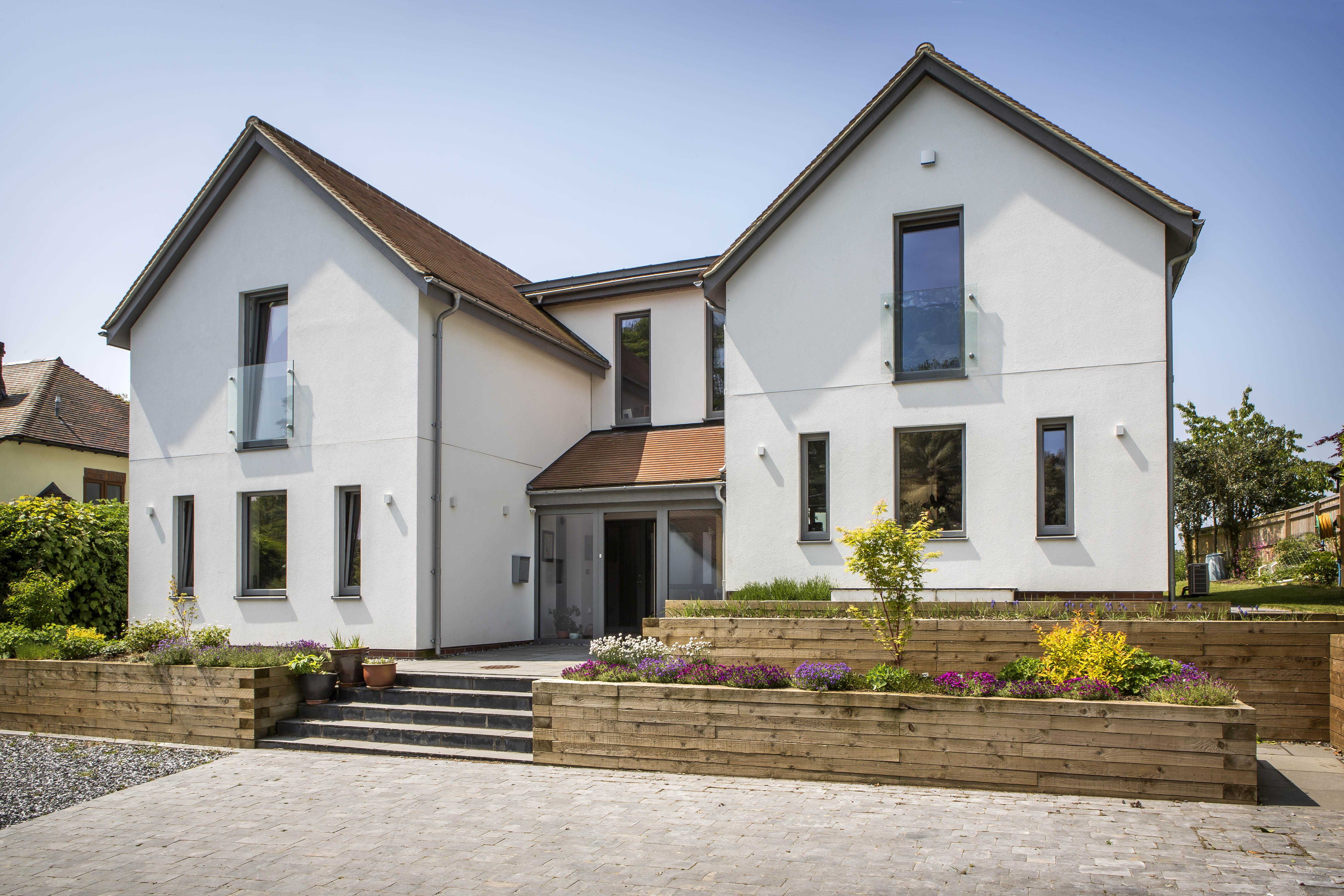 Content Count

781

Joined

Last visited

Days Won

1
Community Reputation
196
Excellent
Personal Information
About Me

Detached 330m2 house on 3 levels with separate garage, MBC timberframe, Integraspec ICF + Kryton waterproof concrete basement, Norrsken 3G glazing. Clay tiles and zinc roofing, STO render on carriers plus some timber cladding.

Designed to Passiv standards and tested to 0.57 ACH @ 50Pa. Heating and DHW using 7kW ASHP. UFH to ground and basement only. Airflow MVHR with in-line electrical heater to first floor. PV 4kWp

Location
You need to ensure condensate can drain. In the winter this will freeze over, on a patio it would be asking for trouble.

Understandable. I claimed a couple of extra items in error (receipts had claimable and non-claimable items), they spotted and just adjusted the claim. I got a strongly worded letter about it but that was it.

Mitsubishi offer a 4.5kW CO2 unit capable of 70C. The specs are not well laid out, but looks like COP will be poor at about 2 or 3. https://les.mitsubishielectric.co.uk/products/heating/domestic/outdoor/ecodan-quhz-monobloc-air-source-heat-pump

Yes and yes, though I don't think BC are concerned about extract for cooking. Also be aware that charcoal filters are about removing grease and not so good for cooking smells.

It is a balance - anything you do to reduce direct light coming into the house (film, trees etc) will mean you are making it darker. Brise does not have to stick out by much - you can have window slats, random google search: http://dougintology.blogspot.com/2007/11/solar-decathlon-window-slats.html Sounds really nice...

Or maybe a mesh screen? Might create an interesting effect. We were soaking up winter sun in India at christmas - their architects really understood the effect of screening to aid cooling - shading and ventilation - plus privacy.

Tall trees south of your house? If not then you have shutters or brise-soleil in addition to reflective glass or films. You might get a combination e.g. short-overhang brise and shorter trees.

Cannot answer this question, we have posis in our timberframe at first floor level and beam and block above ICF basement. I dislike the posis we have - bounce and noise when walking over them, some of our spans are reasonably large. If I were to do it again I would consider concrete or b&b, or at the very least make sure the posis are substantially beefier.

I suggest you factor this in at an early stage as a design principle, it will be harder and more expensive to retro-fit. Example the pasiv standard calls for high insulation, minimised thermal bridges, controlled solar gain, well sealed fabric and positive ventilation approach. None of this will happen by accident, if your intention is to aim for something similar get it agreed early as it has impacts all the way through the design. @JSHarris has provided one example - bi-folds.

Welcome and best of luck with this venture. Apart from concerns about over-heating when sunny, you should also consider heat losses in winter. On a cold grey day, or at night, all that glazing will dump heat out, though if slightly sunny the solar gain would be a great boost. You might want to consider how you can use this to your advantage - e.g. having mass in the building envelope that will capture heat in the day and emit it in the evening. Could be something as simple as thick concrete or brick elements. How well insulated are the other elements of the fabric - roof, walls, floor?

We blow heat into the bedroom, suck it out in the bathroom, then the heat exchanger in the MVHR recovers 90% (approx) before chucking out the stale air. Comfort comes from air flow temperature, the small heater gently warms the air so not hot and dry. This only works as our build is very low energy. If it was not then the low air flow would make it difficult to supply sufficient heat into the room. And if you could the air would be pretty warm and I expect comfort would suffer.

It is a small electrical element that is connected in line with the MVHR flow duct. I have a thermostatic clock on the landing to control it. As I did not want this to heat downstairs, only upstairs, I split the outlet from the MVHR into 2 runs and the heater is connected to the upstairs supply. I am using semi rigid piping to the ducts, it also meant I needed 2 manifolds. MVHR > splitter > heater > manifold > ducts https://www.bpcventilation.com/circular-electric-duct-pre-heater

Yes you are right. I read it as getting sunnier.

That makes sense. Looking at it another way, if there was a positive correlation then, over time, it would get sunnier and sunnier until we were all blinded. Sunshine Or is that what global warming is all about?