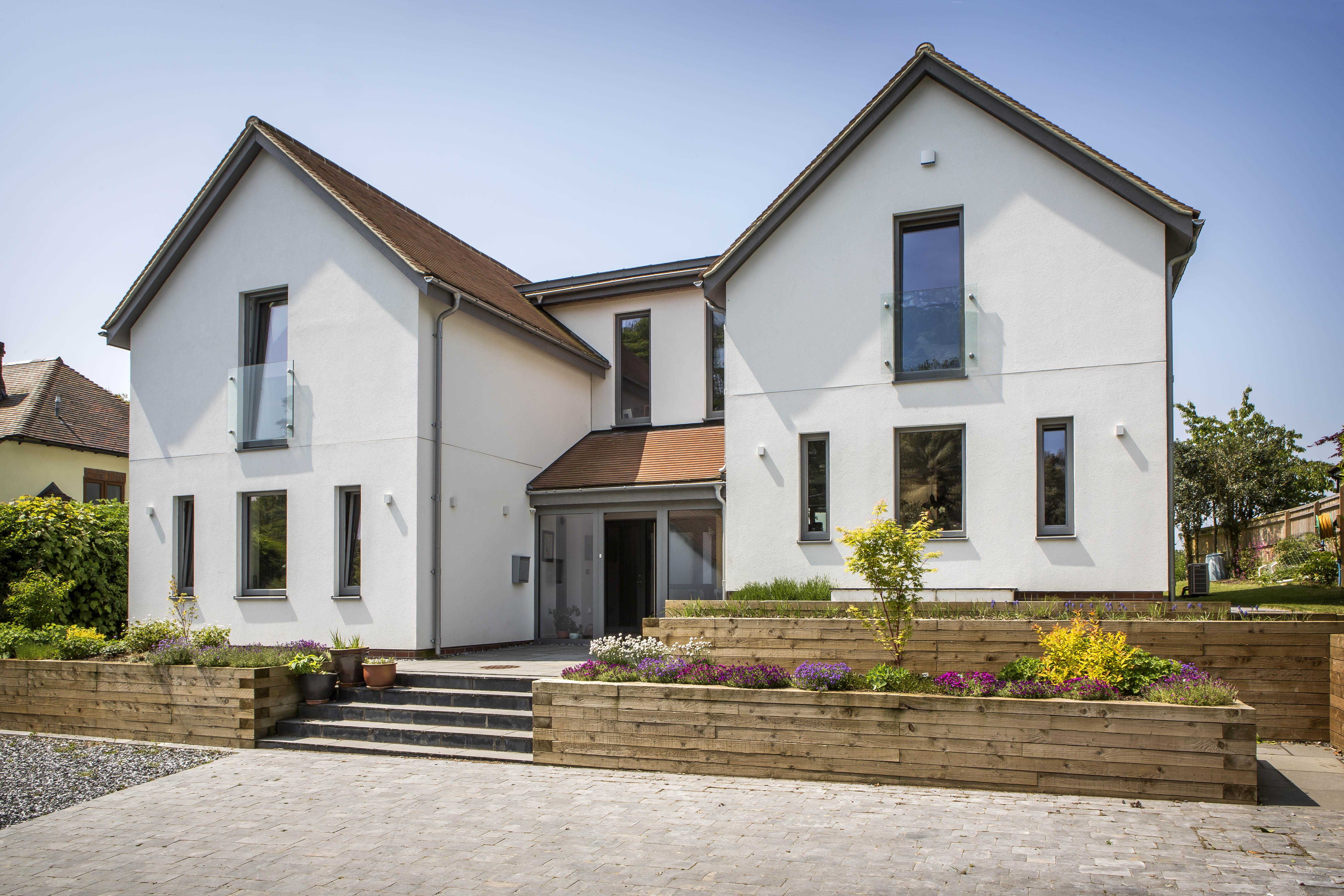 Content Count

743

Joined

Last visited

Days Won

1
Community Reputation
189
Excellent
Personal Information
About Me

Detached 330m2 house on 3 levels with separate garage, MBC timberframe, Integraspec ICF + Kryton waterproof concrete basement, Norrsken 3G glazing. Clay tiles and zinc roofing, STO render on carriers plus some timber cladding.

Designed to Passiv standards and tested to 0.57 ACH @ 50Pa. Heating and DHW using 7kW ASHP. UFH to ground and basement only. Airflow MVHR with in-line electrical heater to first floor. PV 4kWp

Location
I have a split system. The indoor unit is not noisy, essentially it is the noise of a circulation pump. Agree his comment re antifreeze, this is required as your water flow goes outside. And the refrigerant of a split system does require a qualified fitter, but in my case this was cheaper than antifreeze.

Using their manifolds and pipe, 3 years in all is fine. I hve no experience with other brands. I also use a heatmiser stat, but only to control the upstairs direct electric MVHR heater. Works OK, not intuitive and require a lot of button pressing to do anything. What is your context for heating? If ASHP then I suggest you use the same brand controllers as likely you can control aspects like heating / cooling and proportional control through that rather than a more crude on and off type of control using an external stat.

The main contractor is likely to want to mark-up the materials, in which case you will, ultimately, lose out. Of course cash flow may still improve.

I would check on where the margins are going to lie. E.g. if company A is your contracting company and they want 20% margin, they sub to company B who also want 20% then you are paying a big premium.

Oh and one other aspect is what sort of relationship you think you might have with either. You need to be able to trust and be in for the haul, e.g. when the inevitable snags appear will they still be interested or available?

I went the bill&Bob route with my build, except it was a one man band with a bunch of subbies. If I were to do it again this would remain a good option, however I needed (and wanted) to be quite involved to the extent that I brought in other specialist trades outsider my builders network. This seems like a classic 3 cornered triangle of cost, speed, quality. If this is your long term home and you are prepared to be pretty involved I would suggest bill&Bob is going to give you the best outcome. Some considerations from my experience: 1. Specialist Vs generalist. The specialist trades will complete the job faster, better and to better quality. If you can contract these in as needed that might be a useful supplement to the team. E.g. plumbers, plasterer, tiler, timber frame. 2. Whilst builders might be able to get better prices for materials, don't assume they will pass on the benefit to you. A bit of googling and ringing around will usually get you a better price. 3. While you are factoring rent, don't forget cost of any finance. A longer build time will increase the interest period.

Do make sure you see samples of this. I have no personal experience, but have seen many replacement windows in houses and the fake timber can be spotted easily from the street, looks nasty IMO.

1

It looks like you are overflowing at the end of the run - where the downpipe is. Suggests either that the gutter slope is too high so water is rushing down it, or perhaps the hole in the gutter connecting to downpipe is too small or obstructed. You gutter supplier should have some documentation on slope as well as number of downpipes for the area of roof. If the single downpipe is not adequate then you might have to use a larger diameter pipe - slowing / diverting water on roof or deeper gutters will not solve it, only delay it.

Not used, but some of the commercial units are quite slim and are designed to fit in a ceiling void. https://www.bpcventilation.com/heat-recovery/commercial-heat-recovery

That example is 2.65kW not kWh. Google translate calls it "thermal power". Mighty have to think about retro fitting one of those for bedroom supply if these hot days keep happening. Should be a simple take off our buffer tank which is supplied by the ASHP.

So somewhere between 1 and 5kW of cooling available depending on incoming air temperature and flow. Seems usable?

Anyone tried one of these? I doubt they will deliver enough cold air to make a huge impact, but should drop the temperature to something more comfortable. https://www.bpcventilation.com/cold-water-duct-cooler-range

Yes, but not abnormally so for a PH standard build, and you still need to provide heat input else your room temperature will drop. As long as you have allowed for that you should be fine. Ufh in bathrooms will not redistribute the heat to the rest of the house in any meaningful way. 2.7kW X 24hrs is over 60kWh, costing £9 per day of direct electric heating. Yes this is on a cold day and will be less on average during the heating periods, but are you also heating water with electric direct? You have 2 options, direct electric heating or gas boiler / ASHP. Low capital + high running costs vs. high capital + low running costs. If direct electric you can save money by omitting the ufh and fitting electric emitters or heating element in mvhr. You have to do the maths, I'm afraid, and decide based on your priority.

I have a separate electric meter on the incoming supply to the heating system, and the ASHP reports output energy (which seems to be a calculation inside the firmware based on water flow and temperature delta, according to my read of the manual). Some observations: in reality this is not COP, more a energy-out vs energy-in energy-in measures whole system - circulators, thermostats, valves as well as ASHP I noticed that the ASHP consumes about 50W even when everything is off it cannot measure instantaneous COP - only average over a period

We get 4 on average, mixed DHW (to 50C) and space heating (auto-adapts between 23C and 30C using built-in weather compensation).