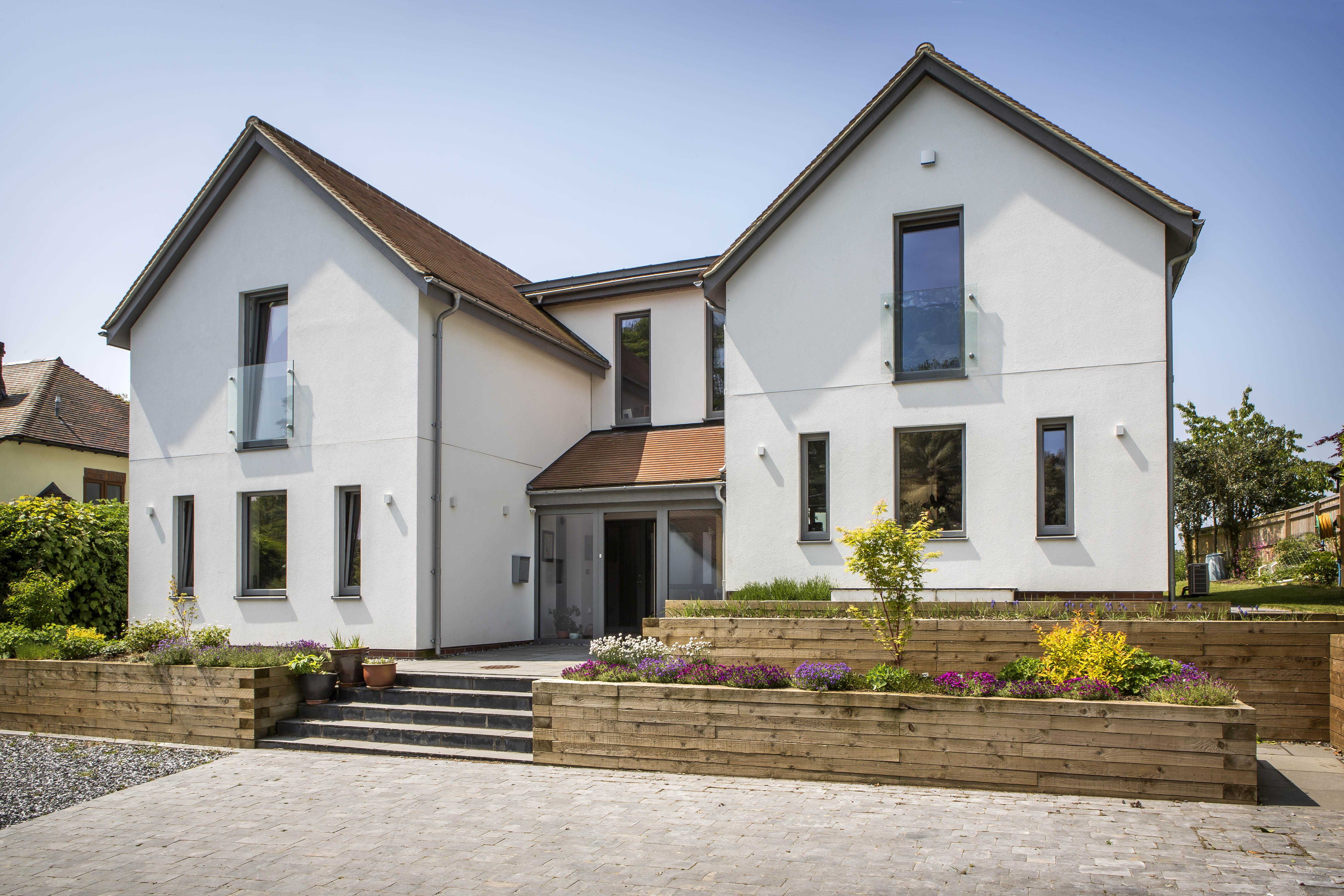 Content Count

821

Joined

Last visited

Days Won

1
Community Reputation
204
Excellent
Personal Information
About Me

Detached 330m2 house on 3 levels with separate garage, MBC timberframe, Integraspec ICF + Kryton waterproof concrete basement, Norrsken 3G glazing. Clay tiles and zinc roofing, STO render on carriers plus some timber cladding.

Designed to Passiv standards and tested to 0.57 ACH @ 50Pa. Heating and DHW using 7kW ASHP. UFH to ground and basement only. Airflow MVHR with in-line electrical heater to first floor. PV 4kWp

Location
LPG cylinder outside would be fine and if used occasionally should last a long time. But airtight house and real fire seem contradictory? Also see no point of Ashp and boiler. Stop sitting on the fence, once the build starts you will need to get your decisions sorted so may as well start early 😁

Direct appliance noise is not the problem if you have a separate plant room. Wall mounted MVHR and circulation pumps will transmit the noise to adjacent rooms, so need care when mounting. E.g. heavy boards plus vibration mountings.

After 3 years ours were looking a bit grimy. Our window cleaner now comes round every 3 months and can just reach them with his longest pole - he uses just de-inoised water and a brush, they look much better now.

Cannot give you a definitive answer, my claim listed some items after BC sign-off and before the 3 months and these were paid without query.

Kryton provided the water tight guarantee. They included inspection during the build. Yes we have a mortgage, they did not ask any questions about basement.

We had the same, expect I appealed this and they allowed it to happen. Our mains cable comes in underground via the basement and the main fusebox and other bits sit inside our utility room.

Best of luck and ask away. We built an ICF basement (Integra-Spec ICF and Kryton waterproofing admixture) with MBC timber-frame double story on top, very happy with the result 3 years in. Good point. For warranty we did have some challenges, our install does not have separate tanking or drain channel and this became a discussion point, but we got the cover we wanted. BC did not raise any questions.

Are PV essential, no. Will they contribute energy, yes, but since the Fit tariff stopped the economics are not great. Each panel can only generate between 250Wp and 350ish. So no point with 2 panels, the cost of the inverter means it cannot make any economic sense. Bear in mind that solar generation is at a peak when you do not need space heating, so there is an imbalance here. You need to be able to consume the power in the warmer months. This can be e.g. solar diverter, either to DHW or to a battery (e.g. powerwall or even your electric car), though of course you may be able to consume some of the power by timing washers and other consumers. And yes the ASHP can benefit, but best in mind the winter peak. A 4kWp solar install can cost roughly £5k, some here have managed cheaper by buying cheap and fitting themselves. A solar diverter is about £100 plus fitting. A fixed battery I am not sure, but seen figures mentioned of £8k +.

We have a pulley maid in our utility (plant) room. Full MVHR. Takes overnight to dry - similar to your 16hrs. The room is a bit warmer than the rest of the house as ASHP, DHW, PV inverter all add to it. Moving air and removing the moisture are big factors - so an extract or dehumidifier+fan should work well.

Having lived with a 7kW ASHP that provides all our water and space heating for 330m2 and 6 people, I would say it is not a worry, just size the cylinder appropriately. As above from spring to autumn our solar PV provides a reasonable proportion of DHW requirement. Mrs ragg987 loves her very hot showers, through trial and error I found a setting of 45C to be the point at which she does not complain about it being cold. Easily achievable by an ASHP. If you intend to soak in the bath for a very long time and hence want top up the water temperature occasionally, I suspect you need the water to be delivered at a higher temp, maybe 50C. Not something I have tried with our system. Also consider lagging your bath to reduce heat losses.

Yes, on our (now not so) new build. Works very well. See my profile for basic info. Just beat on mind ASHP will not get DHW as hot as gas boiler, so slow for that in you cylinder sizing to support your hot steamy habit. Our council planners told us that PV was permitted development so we did not have to show in the planning application. We mentioned it as a note with no detail on fit method. And if you should get a battery car or storage later the PV can support those too for lower bills.

A buffer can provide 2 functions, one is to prevent short cycling when demand is below the heat pump's modulation level, as noted above. The other function is to allow differing flow rates on supply side Vs demand side of the buffer. This will happen if you have a separate circulation pump for a long UFH run. In this scenario it will not be possible to match the 2 flow rates and the buffer takes up the difference. Note it is a compromise, as always. The flow temperature out of the buffer to the UFH will be a few degrees lower than the supply temperature from the heat pump due to a mixing effect in the buffer. This is likely to reduce the CoP slightly.

Nah, different county. Us Bucks folk keep clear of them vermin 😆.

If all you are sharing is static files would a cloud service not fit the bill? e.g. free google storage up to 15Gb or £16 per year for 100Gb. The advantage is that data is available from any device anywhere in the world, also backed up.

If you mean it takes 3hrs for the floor to feel warm after you switch on from cold, I don't think that is abnormal, UFH does not respond like radiators. It takes a while for the water, then the screed floor, to warm up. The water flowing out of your boiler should heat up almost straight away.