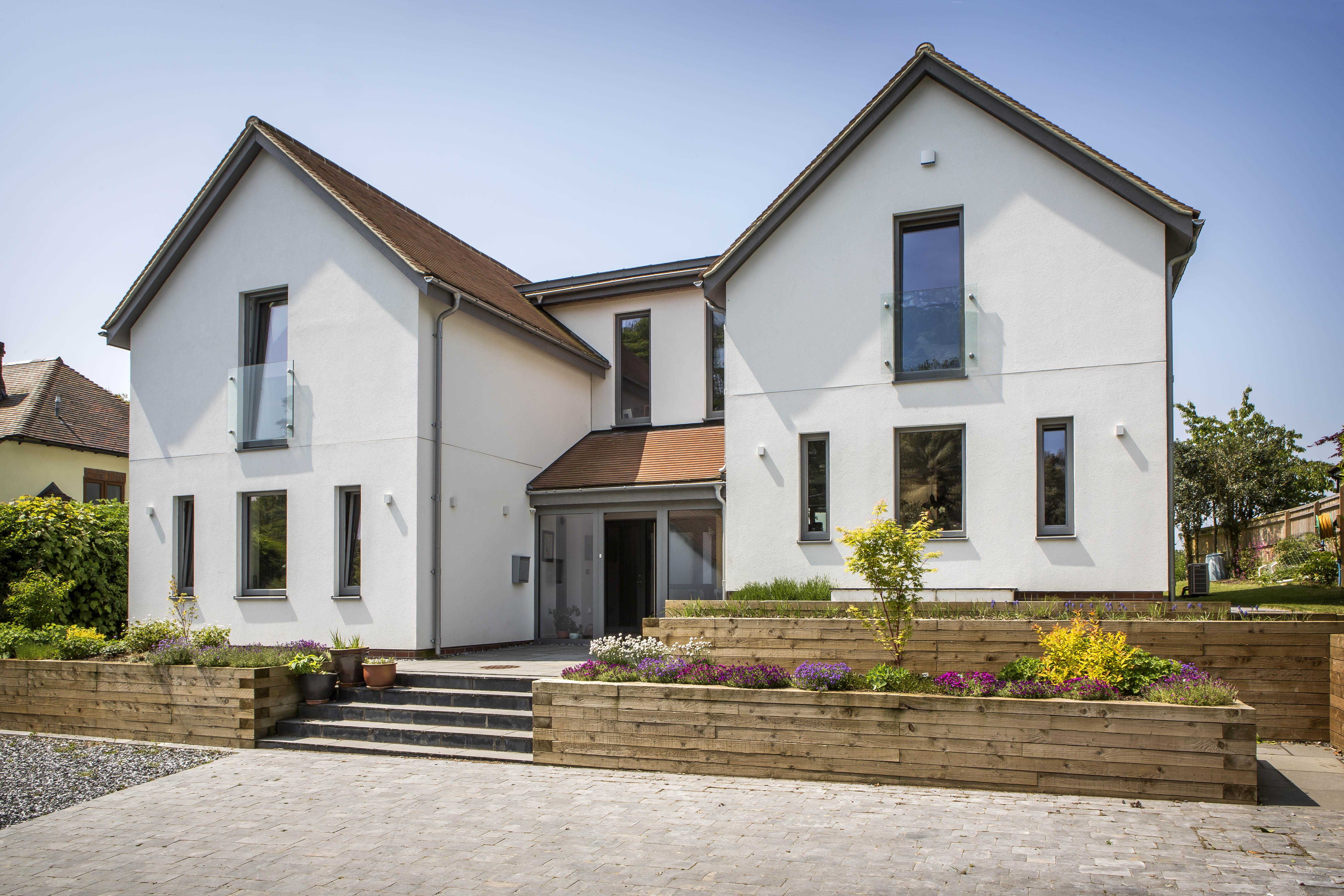 Content Count

852

Joined

Last visited

Days Won

1
Community Reputation
219
Excellent
Personal Information
About Me

Detached 330m2 house on 3 levels with separate garage, MBC timberframe, Integraspec ICF + Kryton waterproof concrete basement, Norrsken 3G glazing. Clay tiles and zinc roofing, STO render on carriers plus some timber cladding.

Designed to Passiv standards and tested to 0.57 ACH @ 50Pa. Heating and DHW using 7kW ASHP. UFH to ground and basement only. Airflow MVHR with in-line electrical heater to first floor. PV 4kWp

Location
Ditto - takes a few hours to be effective as reliant on UFH, so best to run it early and long. Don't forget all people, applicances etc in the house are adding to the heat load.

I went with a small Hitachi ASHP (7kW nominal). It just required a dip switch to be set to enable cooling, the controller then recognised the mode and it can be set / programmed same as heating. I also needed to buy a couple of bits ("cooling kit"), essentially condensation control - insulation for the circulator pump and a drip tray with drain pipe. I was told by Hitachi that they do not advertise the mode, something to do with regulatory approvals. In practical terms it is very helpful at reducing the internal temperature, and it helps that the MVHR goes into heat-exchange mode when outside temp is very high thus keeping the cool air in the house. We had to add shading into the mix as our double aspect lounge has too much solar gain. With all 3 measures we were quite comfortable last summer in those weeks when we nudged 30C.

Really appreciate this. I need to figure out how to tackle behind render carrier boards. A company I spoke to suggest I dust insect powder into the void using a pressure pump. They also said breaking the cycle is key as the flies leave a pheromone that draws them back. I'm going to try this and will report back.

Spring has sprung. And with the warmth and sunshine the flies have exploded. This has occured for the last 3 years now - start in spring, buzz around until autumn and then vanish. They congegrate on our west, east and south-soffit boards and render at the top of our 2-storey house. I get the impression that they may be sheltering behind the render carrier boards and now that the sun is out they want out too! Any ideas how to tackle this, given i would have limited access to behind the render boards? A google search suggest these can get through tiny spaces so sealing may not be effective, and I guess if sealed tight might encourage a damp space? I have a few of the red-top catchers out and they are of extremely limited use - they catch maybe a few hundred and there are thousnads of these things.

You need to balance inflow with outflow. So if you increase outflow in the bathroom you need to input more in adjacent bedroom. Not really ideal as will increase noise and waste heat. If the bathroom door is kept shut, there should be no leakage of smells or humidity as the it will create a one way airflow from under the door. I suggest you locate exhaust at furthest point from the door. And agree that an additional local extractor makes little sense. Regarding fan noise, suggest you install a sound attenuator (like a giant car exhaust pipe) after the mvhr and before your room outlets.

My system has a similar setup. Circulator pump apart from the manifold and no blending valve, and I do not have any thermostatic control at the manifold. The circulator delivers approx 10 to 15 litres per minute, so with a 8 port manifold this is less than 2 litres per port on average. In our case the controller built into the Ashp adapts the flow temperature according to the conditions. It measures external, room and set temperature and applies the appropriate amount of heat. On a very cold day flow temperature increases (max about 32C) and on a mild day decreases down to about 22C. This works very well and keeps cop between 3.5 and 4 on average. So before you make any changes suggest you check if your HP controller has any kind of adaptive control built in. If so I see no reason to change it, it is a perfectly valid setup and was recommended and commissioned by the Ashp's UK agent.

Ensure the dhw tank and pipes are well insulated to reduce over heating the study. You could also box in the manifold. Don't forget this process is iterative, if you reduce the flow in one rad it will increase the flow in the others so you may have to go round the rooms a couple of times to get it right. One other factor would be to check the speed of the circulator pump(s) on the heating circuit. If you have more than one pump then you can fiddle with the speed setting to control flow from one manifold to another. Trv is for a plumber if you are not skilled. Bit like open heart surgery 🤣. Might require draining the rad.

It sounds like a balancing issue. You could try to reduce the flow to upstairs radiators, this should increase relative flow downstairs. To prove this throttle back the upstairs radiators to very low flow, give it a few hours or a day and check the room and radiator temperatures. Once proven case of trial and error to get the right balance. My understanding of radiator balancing is to aim for a constant temperature drop between in and out flows. This would assume the radiators are sized correctly for each room. This does not factor in external events e.g. sunny room or personal preferences. So a degree of adjustment from the ideal would still be required.

Earlier post from me. No experience with other track systems.

Another ICF basement here. Integraspec ICF + Kryton waterproof concrete. We focused on the primary structure for waterproofing, there are no secondary internal or external membranes, pumps etc. This is a BBA (I might have the wrong approval agency, going from memory) approved scheme and our insurance had no issues with it. The ICF provider were involved in the design, build, sign off and issued a warranty.

Reminder that you should zero vat rate the demolition if connected with a new build.

Or 3 bed bungalow with 3 outbuildings cost £5,600 Inc council fee and cartaway. And approx £2,000 for asbestos removal and disposal. Our vat saving for the new build was over £100k.

Hi and welcome. I built a 330m2 with basement and use a single MVHR for the whole house. So unless you have some other constraints you can use a single unit, if you add another one you have the added complication of balancing between the 2 units. BPC ventilation were the place to go to for good prices when we built 4 years ago, they also offered us a free design service. 80m2 south facing glazing gives a risk for over-heating - you may need to consider shading externally. Basement is tricky to heat / cool. It is an underground element so in winter requires less heat than the space above ground and in summer it can get a bit cool. But bear in mind it can easily over-heat down there at any time. E.g. I have a home cinema down there and a few people for a few hours with audio and video equipment raises the temperature quite a bit at any time of the year. When we were building I was advised of this by a company who suggested I fit a stand-alone air-con unit in there. I did not, but maybe should have.

Our unit will switch on heat recovery automatically when external temp is high, I think when it gets above about 25 to 27C. This prevents the hot external air coming into the house.