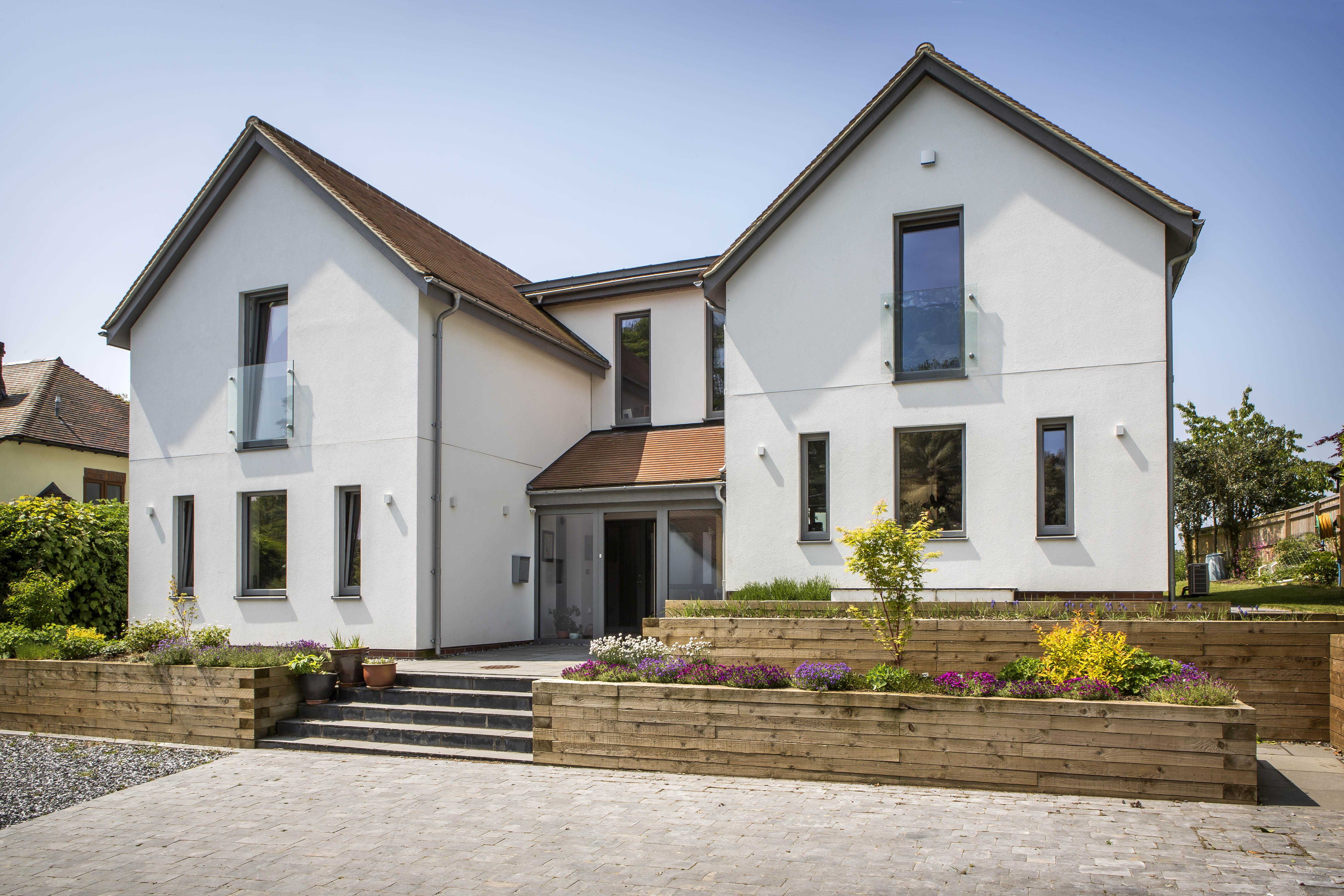 Content Count

710

Joined

Last visited

Days Won

1
Community Reputation
182
Excellent
Personal Information
About Me

Detached 330m2 house on 3 levels with separate garage, MBC timberframe, Integraspec ICF + Kryton waterproof concrete basement, Norrsken 3G glazing. Clay tiles and zinc roofing, STO render on carriers plus some timber cladding.

Designed to Passiv standards and tested to 0.57 ACH @ 50Pa. Heating and DHW using 7kW ASHP. UFH to ground and basement only. Airflow MVHR with in-line electrical heater to first floor. PV 4kWp

Location
Very nice, and just the perfect day to test the effect too. A bit of ageing and it should fit the aesthetic of the stone and slate around it. The fins seem quite wide - does it block out a lot of the light?

Hi and welcome. I'm nit sure what you are asking, so a couple of thoughts from me. Look at planning application in the last 5-10 years online - this will give you a feel for the type of applications, what was accepted and what was rejected. Our council removes some content from the portal after a period (I think approx 1 year) e.g. comments from public. Some of this should be available if you pop into your planning office. Talk to neighbours too and gt a feel for what they may think - some may remember the old application. Again should be available to see at the planning office. Our council seem to have rolled back and put skeleton info of old applications online, but each council is probably different.

I used a Texecom Elite panel and each sensor is, in effect, a different circuit. You can then programme behaviour for each circuit e.g. when to set it, what type it is etc. I even used this capability to wire up my front door bell as a "sensor", so when pressed it chimes through the internal sounders. Not a pretty musical chime but it works well.

#MeToo Standard corner PIR, same as in the house. No false alarms, approx 25 to 30m cable length through underground duct. I would recommend pulling some spare cables - e.g. ethernet and electric (32A) for future proofing.

Ornament. Small space, water splashes outside the bowl, fussy detail at the base. A friend had one the counter was constantly wet and laminate peeling and badly staining.

I fitted one in our old house. It had 3 pre-programmed settings for temp and flow, so I set it cooler and slower and wife very hot and full power. You can also preset the max allowed flow and temperature. Beeps when warm water flows after switch on. Maintains set temperature very well. Loved it until the day it died, just outside the warranty.

I use firefox in preference to other browsers. I like the add-ins capability and it is stable. I don't think firefox is much worse than a comparable modern and feature-rich browser - example 9 tabs on FF uses 770Mb and Chrome 800Mb (Windows 10). On a modern computer you have at least 4Gb, likely higher - as far as I am concerned the more stuff in memory then the faster the computer is likely to be as it avoids reads from the drive. I also notice that firefox will automatically use the memory if more is available. So if the computer is constrained it uses less memory. This may well be a feature of Windows 10 rather than firefox. In above example, when I opened more apps on the laptop FF memory use dropped to 500Mb, despite it being the foreground app. I think this would only be a concern if you have an old computer using 1Gb or less of memory and with a slow hard drive. In that case probably best to avoid a feature-rich and memory hungry OS and browser.

In our previous house we had hard water. The coating on the screen worked and extended time between giving it a good scrub, but the coating did seem to lose its effect after many years (perhaps 5 or 6 years). In our current house we have softened water and the screen does not need scrubbing, now in year 3, but we have given it a good wash a few times.

Hi, and welcome. Good luck with the plot search. Might be worth a search for CDM - there were some discussions about this on here in the past. It seemed clear as mud to me.

Yes but Boris will fix all that for us. Plus 10.

You can appeal it. I believe it stays in place once the plan is started.

I paid £3k for demolition of a110m2 bungalow plus garage and 3 outhouses in 2014. Included cartaway, we kept nothing so they were just able to bulldoze it. Took 1 man 4 days to complete. Asbestos survey and removal were separate.

Clause 16 is essentially a removal of your PD. I believe it is common in new builds, we also have it. You have planning agreed and cannot lose it by making a new application, (provided you are within the validity period of 3 years) so I would suggest no harm in putting in a new application. If you are close to the end of the validity date you can lock it in by starting development (e.g. dig a trench) then put in a new application. If you get the new scheme agreed then move on with that. In England, planning officers are difficult to speak to, but varies by area. They might ask you to put in a pre-planning application, which (IMO) is a waste of time as they can make decisions (judgements) which they do not have to defend as they would with a planning application. But no harm in trying to speak to them, I rang a few times and finally got someone who gave me some input. The difficulty for you is that you do not own the land yet, so if you apply (which you can) the land-owner could refuse to sell to you or raise the price if the value of the new house would be higher then the current plan. So you can either buy it and then apply or get some kind of agreement with the seller in place and apply on that basis. You are going to need specialist advise (solicitor) for the agreement if going the latter route.

Weather underground is the one i use. Inconsistent, flaky and slow. I notice now that the precipitation vales are 0 but the graphs show a number.

Hi, I am in England and not aware of NI requirements Here council is one option for BC, but private companies can also do too. I used Buildzone, adding BC on top of their Warranty was a small difference, I think around £200 (but was a while ago and memory not so good...).