As predicted, progress has been a bit slow. We've been working away on internal joinery/finishing and a bit of outdoor landscaping when the weather allows (in-between baby-management and working). We got our building warrant completion cert. and VAT reclaim back about a month ago which has also helped.
Costs
For reference, our finalised costs were just shy of £1300/sqm including all professional fees/admin, site setup, construction and fitting out costs. I think this is a fair reflection of the amount of work put in by us vs labour bought in. We had some fairly labour intensive jobs, such as trenching the water pipe ~300m through the woodland that, while they took us quite a while, we would have paid a lot of money (and likely had a lot more destruction) if we'd paid someone else to do it. We did spend quite a bit on labour for the groundworks/founds, framing, plasterboarding, electrics and plumbing, insulation and some finishing joinery. The bulk of the spend was prior to the significant materials price rises. Knocking all the labour costs out and it becomes possible to see where you get closer to £1000/sqm. It's been tricky enough juggling work, looking after small children and trying to finish building and so while reducing the costs might be feasible I hate to think what situation we might be in now if we had tried to do everything ourselves (add in the materials price rises recently and I'm also more relaxed about not drawing it out).
The house
We've now spent a good chunk of our first winter in the house. Our main heating is a woodburner, with a few direct electric radiators as a backup. We light the stove for a few hours in the evening most days when it's cold (say 0 and below) and every other day for an hour or so if it's milder (~5 degrees ish outside). We've used a small wood store's worth of timber. Despite a relatively poor airtightness test result compared to some others on here the house seems to hold heat well and is fairly comfortable.
Finishing off
We're now mostly in the realms of landscaping. We're not a massive fan of patio slabs, but wanted somewhere to sit outside. In the end we got hold of a load of broken bits of caithness sandstone, bought by the pallet from stonesource in Inverness. Quite heavy and time-consuming to work with but very solid and the variation in the stone gives a nice finish.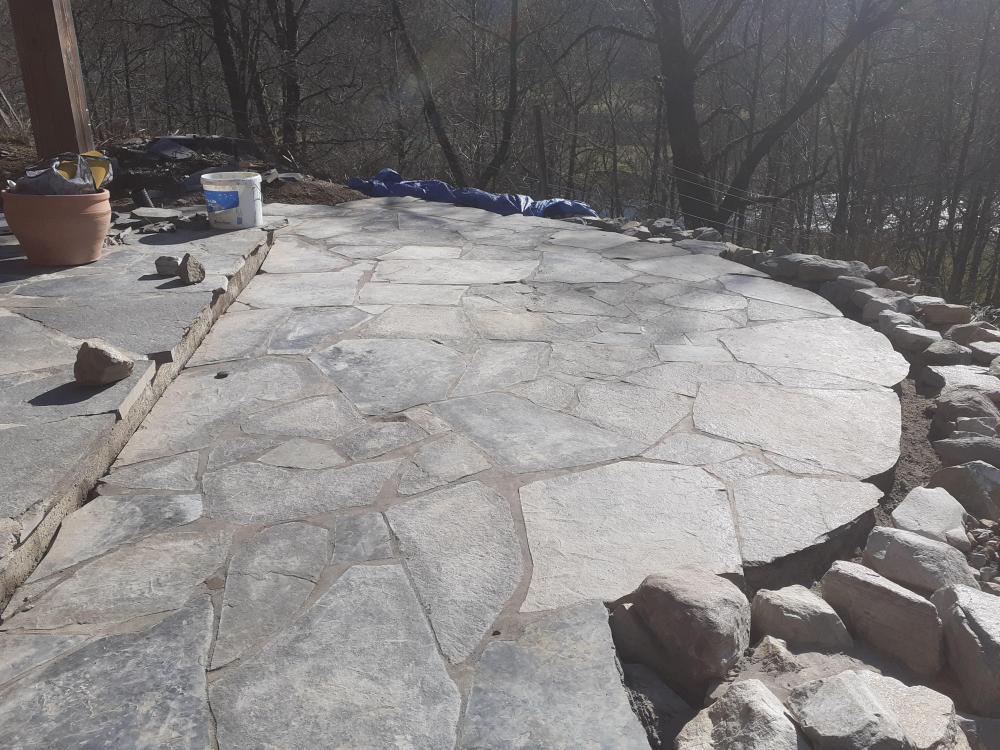 6