Well lets say it has evolved and been shaped by the titanic forces of nature and the planning process. Its not quite what we initially wanted and has been compromised and compromised over its various iterations and has sadly lost some of our 'must have' features. But it is kinda cute, and we do really like it!
The site is about 1/3
rd
of an acre slopping up from the road and has a shared driveway to our neighbours at the rear. In the middle of the plot is a 3 bed 1960's bungalow which has seen better days – habitable but not great (and don't mention the asbestos). The site may look big and easy but it is actually quite constrained – with a shared driveway down one side and a shared sewer running across the plot. Together with the slope and trying to keep the ridge height down to appease the Planners (even though the houses on either side are all 2 or 3 story) it is a tricky site.
We wanted lots of light and a feeling of space and openness – so that cliché of lots of glass and open plan. We also wanted an Endless Pool and garaging for a collection of RX7 sports cars. We also wanted a crisp contemporary exterior and don't like wood cladding much. We also wanted low energy – but not hung up on achieving Passive Haus per-se. Oh and it has to be low maintenance and a lifetime house.
We initially used a designer who was really great and had an amazing ability to use space in a really efficient way. However for the final design shown here we used a real Architect (with a capital A). There are those who would argue its an unnecessary expense but firstly he came up with a very creative design in a very constrained environment. And secondly the quality of his work probably helped with Planning. We get on very well and he is doing a fab (but not cheap) job.
As we are downsizing we would actually like a smaller garden than 1/3
rd
acre, so that and the economics, has led us to two houses on the site. We have had a few different arrangements of this over time but have come to two side by side. They are different sizes and layouts but they distinctly read as a pair. Height dictates a flat roof – much hated by our neighbours – and supported by the Officer.
Our house is bigger and is cut into the slope with the front out of the ground and the back completely in. It has the entrance hall, garaging, plant and an Endless Pool in the partial basement. The 1st floor is mainly open plan dining, kitchen, living areas, with the Sitting Room opening out to the rear garden at the back. Top floor is 4 beds and bathrooms and is topped by a flat roof. The eagle eyed among you may have spotted the Lift - not needed at the moment but designed in and will be fitted if and when we have the cash. It seemed like a good idea with a 3 story house and us not getting any younger!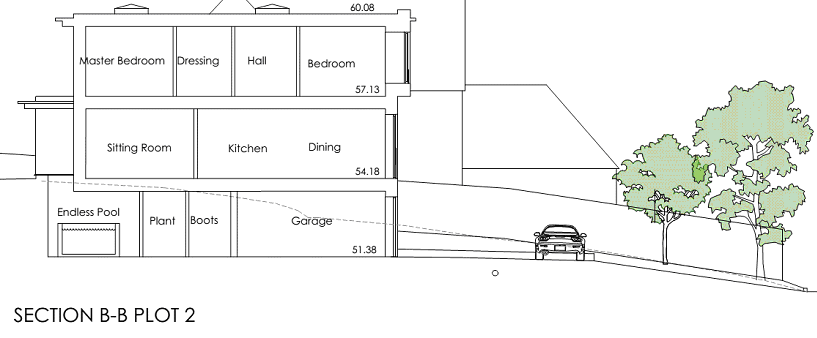 The other house is smaller and split level. Again cut into the slope but only by half a floor. So entrance hall and kitchen dinning hall are level with the front garden and parking area. Up half a floor to the rear living which opens out onto the rear garden. Then up another half floor to the front two bedrooms at the front, and then up half a floor again to the rear master bedroom. All topped by a similar, but split, flat roof. It is just so neat we almost wish it was ours!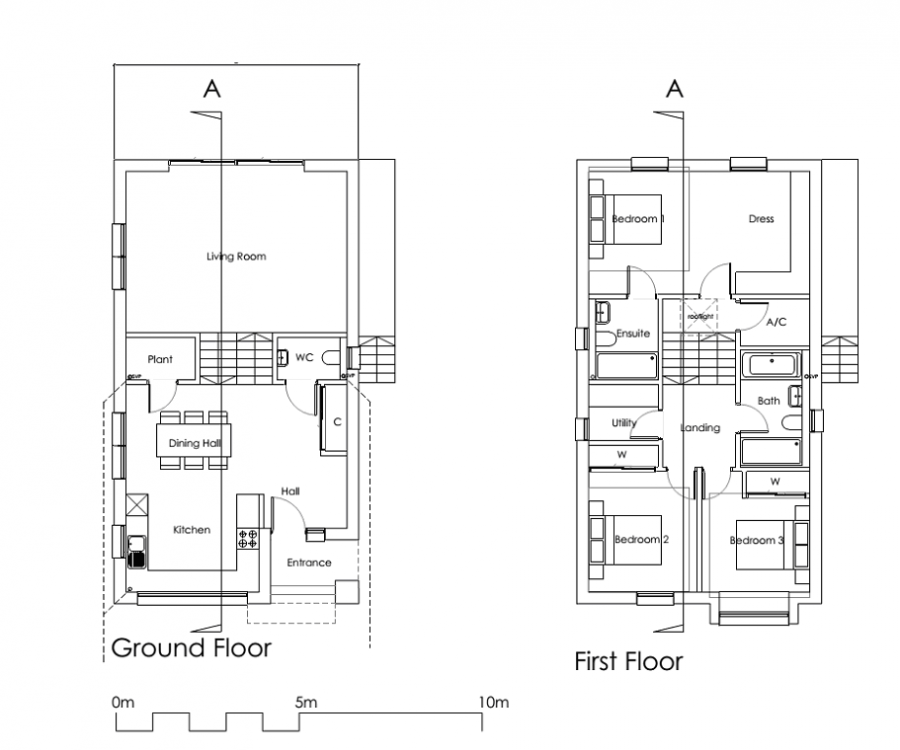 The overall design responds well to the site and makes the most of it, and the Architect has done his best to make the front façade broken and not monolithic, but simple (and cheap) it aint! It will be mainly off-white silicon type render with some Rockpanel grey cladding panels and grey windows and EPDM roofing – so sharp and contemporary but not the classic white sugar cube. You may be reading this and thinking its not what I would have gone for and its not my taste - our neighbours probably thought the same. Our answer is that if you feel strongly then go find your own land and build exactly what you want - just put your money where your mouth is (and keep it shut unless you do). Though in the true spirit of BuildHub constructive criticism is always welcome!
We have spent a lot of time refining the design and hopefully we make the most of the space but as we all know its always a compromise!
So having got this through and arrived at something we really want to build its now time to start - more  to come in future posts.
3