Entry posted by Simon R ·
458 views
Following on from the plastering work we did a quick stock take. Our plan was to be back on our narrow boat for the summer but with the current problems that was out of the question. We didn't have materials to start flooring or fit bathrooms or kitchen and there was little hope of getting them. After a bit of head scratching and phoning around we found we could get fencing material and paint. We also had a few other jobs on the list that we could tackle, commissioning the water harvesting system, second fix electrics.
We decided that the fence should be at the top of the list. Our plot has been behind Heras site fencing for a year now and although we've kept the site tidy it still was not that pleasant an outlook for the neighbours. We're not far from the coast and strong winds are the norm so over engineering the fence makes sense so we don't get a long term maintenance problem. Some while back we erected a green oak fence with the expectation that it would last a good thirty years. That proved a false expectation with the post rotting out after 15 years. We replaced the post with galvanized steel, but it was a lesson hard learnt and a problem we would avoid this time round. Initial thoughts were to use galvanized post and larch stringers, my Larch is expensive! After a bit of searching around Pat found a fencing product by an English company Marano who make aluminium fencing and had a nice contemporary product called Breeze.
It's an aluminium product and didn't cost a fortune, and as it's name suggest is designed for windy locations. The only down side was that it is not the best from a privacy point of view.
On the subject of wind we also had a pane of glass broken. It happened overnight and we think it must have been broken by flying debris as it's on the first floor with no access. Annoying but no big deal we thought. The glass that got broken is in a door supplied by Velfac. Contacted Velfac to ask about re-glazing only to be told it was not an option and the door would need to be replaced. Unlikely we thought and contacted the Velfac specialist fitting company who has fitted our windows, they agreed and said they would come back with an estimate for re-glazing the door. After a week they got back to me and rather apologetically confirmed re-glazing was not an option...so repair was an eye watering £1200. I'll add a thread in the glazing section of the forum with more information so at least others will be forewarned.
Back to fencing, at the front of the property we needed something cheap and cheerful to smarten the site up pending some art work fencing courtesy of one of our daughters who is an artist blacksmith. We decided to go with park fencing really low cost but looks surprisingly contemporary. I guess it's cheap because it normally gets put in by the mile.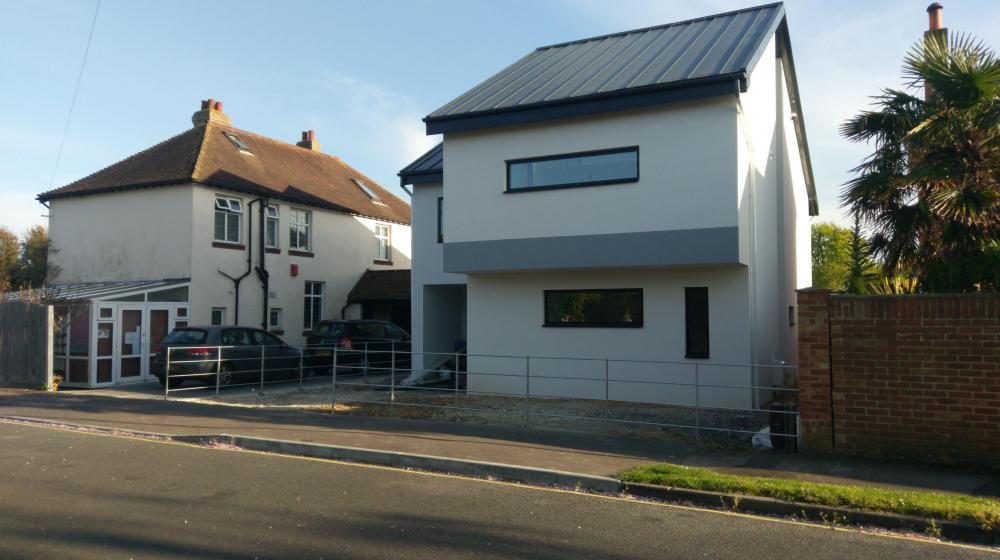 Fencing complete, attention was turned to commissioning the Kinspan water harvesting system. Pretty strait forward, wire in sensors, pump, and connect water pipes. Half a days work, year right! All went really well, followed the initialisation instructions, tank set up OK, gauge reading set, pump pressure test...RCD trips. Meter across pump, sure enough earth and live not separate. The tank is just over a year old and the pump is a Grundfos SB3, quick look on their site confirmed a two year warranty. Contacted Kingspan to ask for new pump only to be told their warranty is one year from delivery, never mind installation. We'll send out and engineer to look at the problem, OK how much is that £350 and how much is a pump £350...OK I'll take care of it myself. The pump it turns out is not the simplest thing to dismantle, the parts PDF line drawing is not the best so It's been put on the back burner. After a bit of searching and some good technical assistance from Anglian pumps, a new Divertron 1200x pump ordered £235. Still painful as it was not on the budget and had not done a single days work.
With the plastering done we also wanted to get a mist coat applied and now we had more time get a finish coat as well. With a lot of area to cover, spraying looked a good option as I already had a HVLP setup. It turned out not to develop enough pressure for the emulsion, time to get an airless sprayer. Being a single use project I decided to see what was on Ebay and found a Wagner 418 sprayer being sold after use on another single project, looked clean and genuine, result I thought. Sprayer arrived and setup with paint to experiment and get to know how to use it. Not easily as it turned out, the spray was tailing badly, this is a solid central strip with a gap either side then a thin line, not what you need. Read the manual, googled it and it looked like it was down to low pressure. The 418 has no pressure adjustment, and the manual said it was down to cleaning out the inlet valve and paint filter. Lots of cleaning, no result, more research, cleaned outlet valve. Tried new nozzle, tried another gun and so on. Several frustrating days later opted to return it and buy a new one. Thank goodness this worked brilliantly and we were soon painting. Allowing for a 50/50 mist coat mixture we should have had plenty of paint. Half a day later, half the rooms done and all the paint gone. Fortunately the local Toolstation had stock. Another half day and it was done. All I can say is airless sprayers are brilliant, but boy do they have a drink problem. For the top coat we are using a really tough mat latex paint that you can scrub. This of course was special order and ordered before we knew about the sprayers drink problem. Needless to say the 45lt disappeared in half a day. It did cover the majority of the house, and we just have two bedrooms left to finish.
The finish is very pleasing.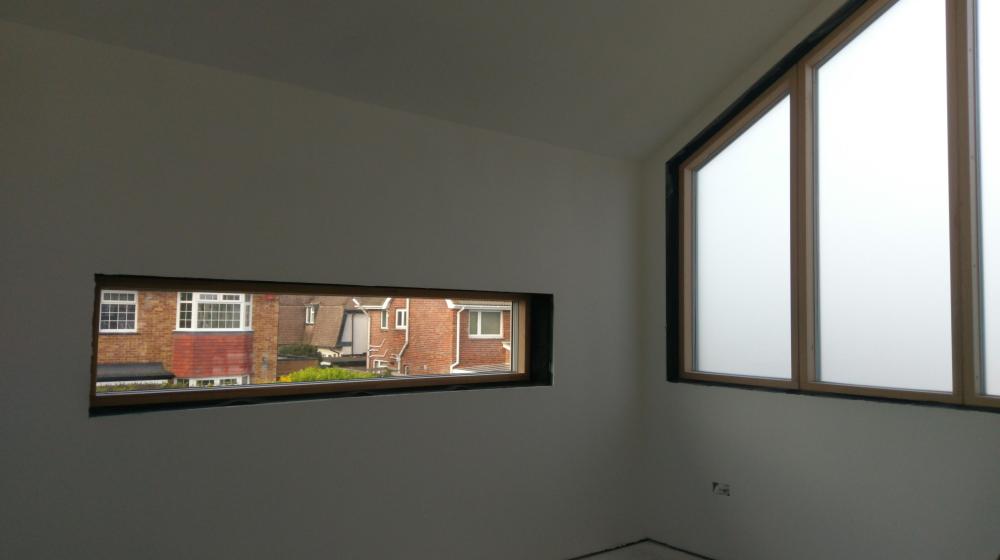 9

1