Accessible Ablutions 6 - Costs and Components
This is the last post in my series, with details of a couple of finishing touches and details of what I bought and what it cost.
Summary
For drive-by readers, the total cost came to just on £2200 including VAT, or about £2500 if the project had replaced everything - I kept the washbasin, vanity unit, storage unit and mirror.
There is also potential to reclaim VAT on the approximate £200 spent on specific accessibility pieces such as the shower seat and grab rails. 
Counting up the wall tiles in the bathroom, I find that no fewer than eleven from about 60 now have holes drilled in them. That is the smallest number of spares I will need to buy now to restore the bathroom to should I need to do so later, of for example an elderly person dies or moves into a care home, and the property needs to be sold on. A thing worth bearing in mind; these are not projects where 2 or 3 spares will be sufficient ... "for a want of 15 tiles the bathroom was gutted".
In practise in this case I have umpteen spares as someone gave me 10sqm of tiles when I only needed about 6sqm.
Extras
I added a shower caddy storage unit. These figures do no include fluffing.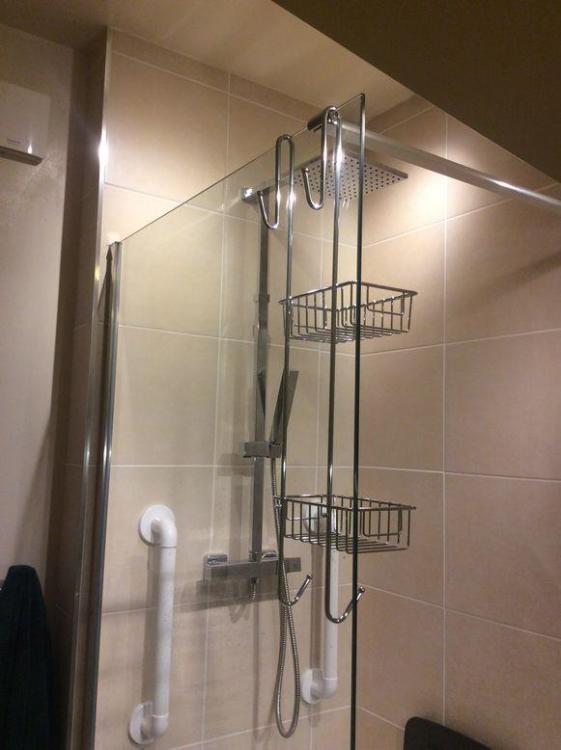 Lists of Costs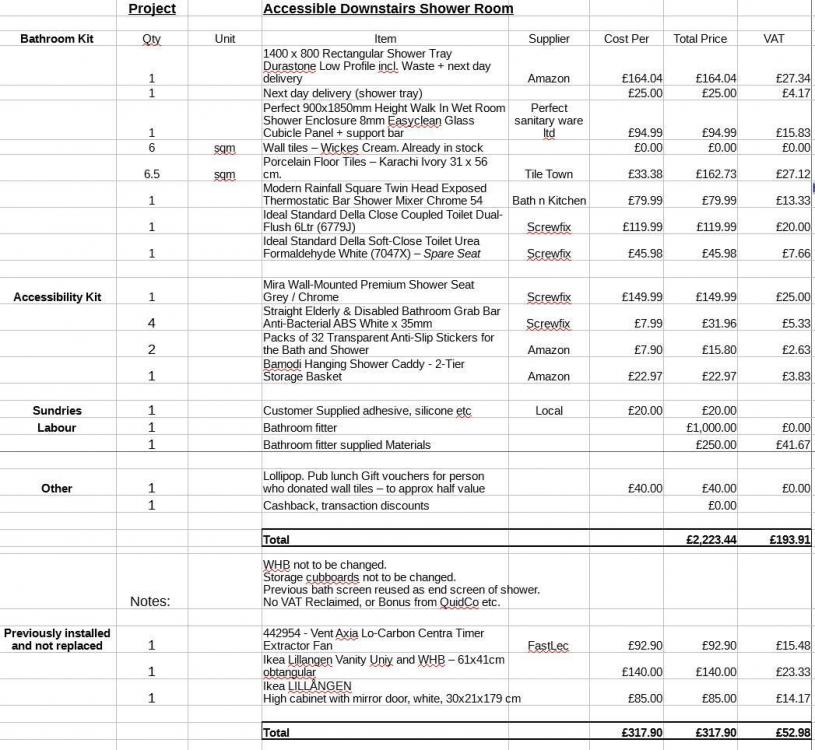 List of Suppliers
Most of the products above should be easy to locate.
Here is a list of clickable deep links that I have available.
Wrap up
That's all folks. Ask any questions below, and I will do my best to answer.
If you are between about Junction 24 and Junction 28 on the M1, check out http://probablythebestpubsintheworld.co.uk/ - a local company with about 5 eating pubs, which are decent quality and very good value. And have good beers - my local one has Abbot and Taylor's Landlord.