So, my house build has fallen through but that releases some money to go about making my current house (2 storey semi detached) more comfortable. I got a Solar PV system installed recently and am waiting on the grant to come back for that. It's a 4.2Kw system with a 6Kw battery. IT cost €8K after the grant and it has an Eddi diverter for hot water from any excess. I'm surprised they fitted 13 panels on my roof which exceeds the max 12m2 planning laws but a woman in Limerick won a court case where she was told to take them down so hopefully planning laws will catch up soon!
Next year I'm looking at improving the comfort of the existing house further. It's heated by Gas currently - recent condensing gas boiler for heating and hot water. The Eddi could be used to heat the water in the summer if I wanted to turn the heating off. You can set a schedule. Just need to find a nice off peak tariff or use the excess/battery and see how I get on. 
So I am hoping to do External Wall Insulation and Windows possibly next year. I also want to tackle MVHR and air tightness. Currently I have a Positive Input Ventilation unit but am finding it too cold now the temperatures have dropped so I've disconnected it.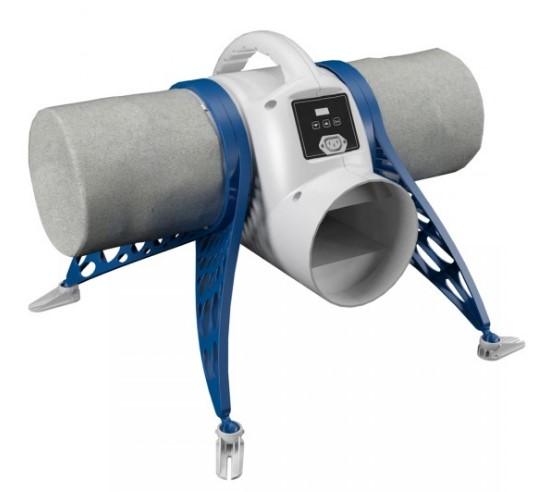 I put F7 filters on it as I live beside a main road. Interested little unit but I'm ready for something bigger and better now! The main problem is retrofitting a MVHR system! The solar PV was interesting as the equipment couldn't be fitted in the attic so they had to run 4 x DC cables down to the kitchen where the inverter and batteries are located. That's given me the experience of how difficult it was! A load of 75mm ducts would be even more fun!! I'll get an installer as I think the regs have changed again and it requires signoff in ROI now but I'll get as hands on as they allow. I want to line up an air tightness test sometime in the future but plan to tackle some air tightness stuff if I get the MVHR installed:
Seal up passive air ducts in each room
Replace cooker hood with recirculation one or one tied into MVHR (Vent Axia do one apparently)
Remove cooker hood vent to outside and seal
Check how to seal upstairs dry lining which is open to the attic without causing condensation risk
Check if I could drill holes around upstairs floor by outside wall to foam between floor joists (vs risk of damaging timber/rotting if it can't breathe)
Replace loft hatch with one that's class 4 air tight, hard to find one that's 72cm x 52.5cm though, nearly all I've seen are much larger. This needs to be insulated too. 
check all 1st floor ceiling penetrations and seal - wiring, pipes etc again check which products won't react and cause issues later
Remove PIV Unit and seal landing opening
After all that I'll be interested to see where the air leaks are...! 
I've looked into doing a 1 day course on external wall insulation installation. I found one here:
https://ewipro.com/system-calculator-trainings-and-cpds/
They have them every Thursday and it costs @ £50. There's a lot of detailing so I'm not sure how serious I'll get on this. Problem areas depending if I go with 100mm or 200mm would be:
External water taps
detailing around plinth below DPC
repositioning Alarm box, CCTV, Security Lights
Covering Soffit ducts into attic - possibly covered with 200mm so needs a different grill that transitions though the EWI
Doing a good job of render out the front, might be good to get a Pro for this!
Gas pipe needs to be moved forward as it can't sit inside or behind new insulation as per regs
Electric meter box needs to be extended forward
So I angle the reveal above window openings to let in more light
Do I pump the cavity walls first - thermal looping can still be a problem with beading I've heard though
I've a gable wall which is cavity block so not pumping possible there as far as I know
Tool to cut window cills
Need a safe platform to install on upper levels, above kitchen roof and to reach top of gable, rent / buy?
Going forward then you can't use a ladder against new render - need other way to access gutters / roof / security lights / cctv for maintenance / repairs!
Regarding Windows I'm set on replacing the ones I have (original - 22 years old) and moving them out to meet the insulation. I rang my preferred window supplier and they will do this for you but I'd need to check their detailing, is it airtight and do they install their own insulation around the window and seal it all off? Can the new window be slightly bigger than the opening  to let in more light and hide some of the frame. I can install them myself and they do provide supply only, but won't take back the old windows if I do! The original windows were replaced in a neighbours house and some had to be cut out as the original installs were poor. I'm not hopeful of being able to sell on many of them if that's the case but I'll look into disposal options. It would be nice to do the EWI and Windows as I go and take my time with it. I can store the lot in a shed (alarmed) or just buy a few at a time if that doesn't work out more expensive. 
Issues to watch for:
Good air tight detailing
Rigid insulation around new opening and window is tape sealed to this
Need to insulate / render inside to cover the gap where the window used to be
Brackets to hold window to wall - straight or angled, size options for 100mm vs 200mm insulation
Triple Glazing on north side, option of double glazing on front of house which is south facing, it is noisy with the road though
3M security film option for rear ground floor windows
Integrated solar powered blinds would be nice! Blinds need two options, one for privacy another for no light at all during summer
New Composite front and rear doors are also on the cards. Will need to see how to detail the new plinth (in line with EWI) and if it can be concrete or compact rigid foam insulation for thermal bridging. I can create a new concrete step outside this. 
Well, that's my wish list. The windows are a bit of a stretch for next year but I hope to do most of the rest. I'm still waiting to engage with a BER technical advisor to get more advice - If I change 25% of the external fabric I've to upgrade to a B2 or better. I'm a C3 currently. Will see what that looks like. Would be easier to build a house with all this already done, wouldn't it?!!!! Still wouldn't want to get bored!