As promised a little update on the Battery Storage. Firstly i'm very glad I bought when I did, as everything battery storage wise has skyrocketed in price since, even the prospect of adding a US2000C seems unlikely for now, though to be honest, going on my usage I don't think it would add a great deal of benefit.
So I'm running the Solis 5th Generation AC Coupled Inverter, which does have a couple of niggles, which at present are reducing its savings potential. Those issues are:
Whenever the battery isn't at 100% SOC, it pulls an amount of power from the grid, somewhere between 60W and 100W
Even when the battery is actively charging, it still pulls the same 60-100W from the grid, regardless if there is enough PV power to charge the battery and cover loads at the same time. Once the battery is 100% SOC and im generating PV more than my load, I import 0W.
Pulsating loads (such as induction hob) the unit can find hard to track, due to their pulsing nature, and the delay in reading the CT clamp and acting upon it.
Now my base load is around 45W, so that means that since i've had the battery, i'm actually consuming more during the nighttime than i did previously, which is a negative. I got in touch with Solis UK Support about this issue, and they say they are aware of it, and are going to be adding 2 offset values which will be user configurable to combat this problem, and they've told me it will be available in around 2 weeks time, so we shall see. So although it will be a static value, i should be able to get much nearer to 0W import from grid whilst ever there is charge in the battery, but its not at 100%, and its not over its maximum demand (around 1.8kW).
To better news, aside from the issues above which should get resolved, the system is essentially running off grid now, and has been since the middle to end of february, pretty much every day without fail, just with the odd bit of import for things like kettle and oven, to cover above the 1.8kW if the Solar isn't generating enough at the time, which is getting an ever smaller occurence.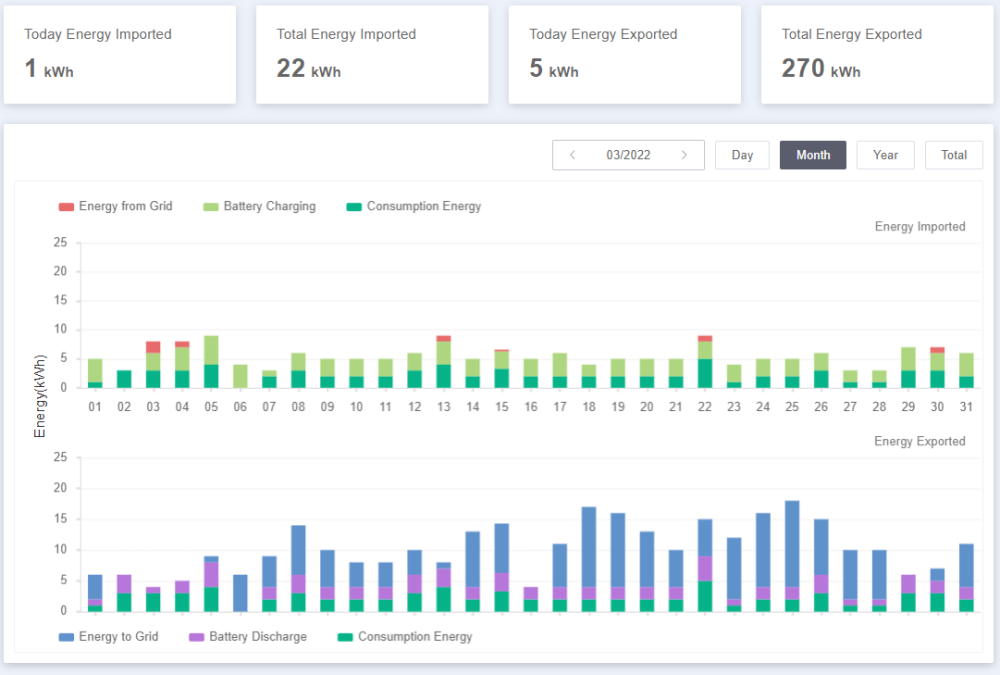 So the graph above is from March, with the Red bits on the top graph being the bits of import. The bit at the top showing 22kWh import, the majority of this was during the early february days after install when solar PV wasn't doing an awful lot. As you can see I'm still exporting ample amounts to the grid also, not that it would make any difference at this stage. Until I get the full years amount, its almost impossible to say how much this will have reduced by.
Today I've done a load of washing and then dried it in the heat pump dryer, and following that I ran the oven on its Pyro clean cycle, and come tea time, i'll be fully charged again and ready for the evening (Thai Curry if you were wondering!).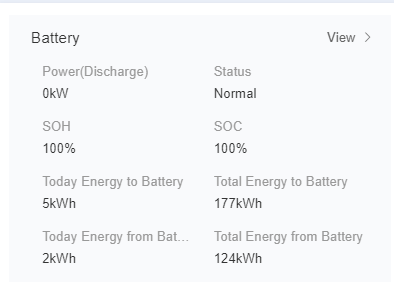 This one I'm keeping an eye on, obviously we know that these inverters will never be 100% efficient, but from those figures i've sent 177kWh to the battery, and only been able to get 124kWh back out again. Some of this will be down to the BMS consuming power to keep the battery healthy. So the inverter is 94.0% efficient at charging (100kWh sent to the battery will yield 94kWh of charge in the battery), and 94.5% efficient at discharging (1kWh being discharged from the battery will yield 945Wh). Please correct me if my maths is off! Entirely possible as I've got the plague at the moment!
For how much its changed my import amounts, another tricky one which will have to wait for the end of this month, or maybe even next. I didn't get the smart meter installed til the end of March last year, but as a comparison:
March 2021 (18th to 31st) - Imported 46.9kWh
March 2022 (1st to 31st) - Imported 48.3kWh
And this will drop further with the firmware upgrade.
Will keep you posted in another couple of months time!
4

2