Week 3 - a big hole almost finished
---
so, here we are at the end of the 3rd week of our build with the groundworkers having dug the basement to depth and put the sub-base down ready for levelling and compacting on Monday with the blinding and insulation to also be completed on the same day.
We got a second digger driver on site this week and things have really got going and on Friday we even had a 3rd person to stand around with the laser level to assist. Here's the time-lapse video of the week.
The basement contractors were due to start on Monday but as the groundworks aren't quite finished they've been pushed back to Tuesday. Despite that we're very happy and even happier since I've been told that the basement construction should only take 5 - 6 weeks, whereas previously I'd been working on around 8 weeks to complete. This is brilliant if they can do it in that time frame and I've already given the timber frame company notice that we might need the TF a couple of weeks earlier than anticipated if they can accommodate that. only time will tell if that's the case.
The week finished off with me laying my first ever slab. It will house the electricity kiosk and also be a place for our wheelie bins to go. it was actually the UKPN surveyor who suggested to me to make the slab for the kiosk a bit bigger to allow the bins to go there. I thought it was a great idea and saves me creating something further down the line.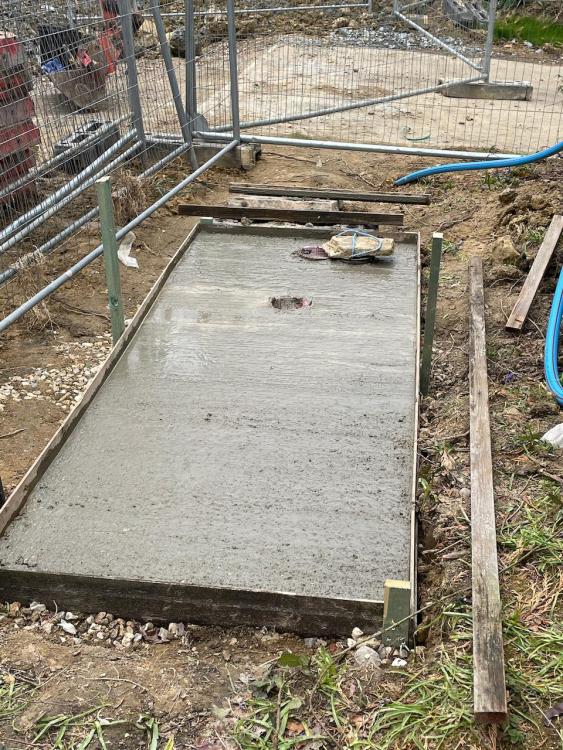 Being a bit of a cheap-skate I use some of the old shiplap cladding from the pool house that got pulled down so it probably wasn't the best wood to use for the formwork and, after I put one piece down I did notice is was a bit warped but figured it's just for bins so just left it there. if it's not obvious it's the piece on the left hand side.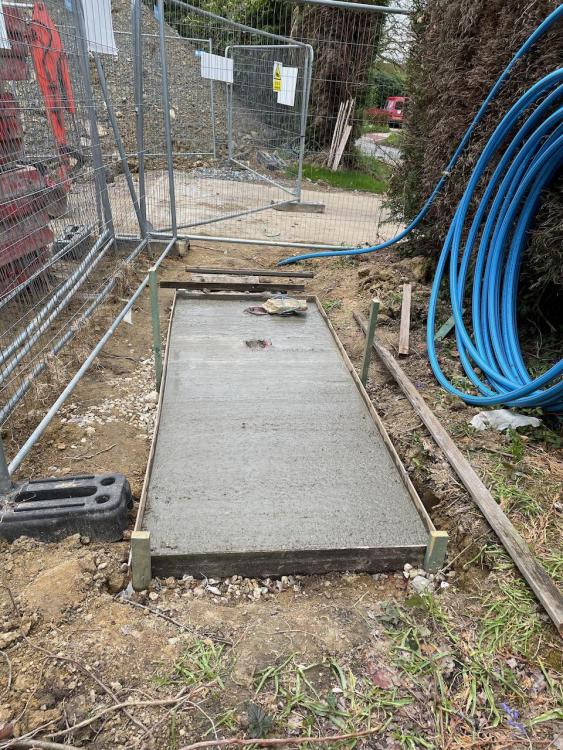 Also, the 150mm ducting for the electricity cables made tamping the concrete down quite tricky around them so it's not perfect but it'll do. And if anyone asks I'll just say it adds character. seems to be a one-stop excuse for shoddy work. 
I promise I will take more care over the actual house!
For mixing the concrete I was going to hire a cement mixer but at the last minute decided to cancel that and save myself £25 and a drive to pickup and drop-off the mixer and ended up mixing it by hand in a wheelbarrow. that was pretty hard work for someone who sits behind a desk all day and I'm feeling pretty stiff and sore right now but I'm sure as the manual labour progresses it'll help get me in shape in the long run. 
I'd like to finish with an observation.....this self-building is a funny old thing as I've never ever looked forward to a Monday morning so much in my entire life! I'm just so excited to get to Monday to see what next week will bring. Hopefully I'll go back to hating Mondays once the build is completed.
that's about it for this week. I can't wait to see what next week brings.
10