Ooh ooh it's getting bigger.
So in my last thrilling instalment I was moaning about how I had just spent 6 days putting in the first row of blocks 
well for the next week I kept on to my mate helping me that I hoped that wasn't how the rest of it was going to go, I mean 6 days for 1 course, how bloody long was it going to take to do 12 courses. 
Well one afternoon we had finished doing a few odd jobs and I thought it was about time to get on with putting up the main walls 
right then god loves a trier 
4 hours later I had this lot up. 
Bloody hell that was easy
so the next few days we spent knocking all the Lego together, still easy, 
then it started to get a bit more complicated, some idiot has designed this house with far two many openings, small pillars of wall between the openings and SEVEN gables
more advice, build something square with just 4 external corners it will save you hours of agro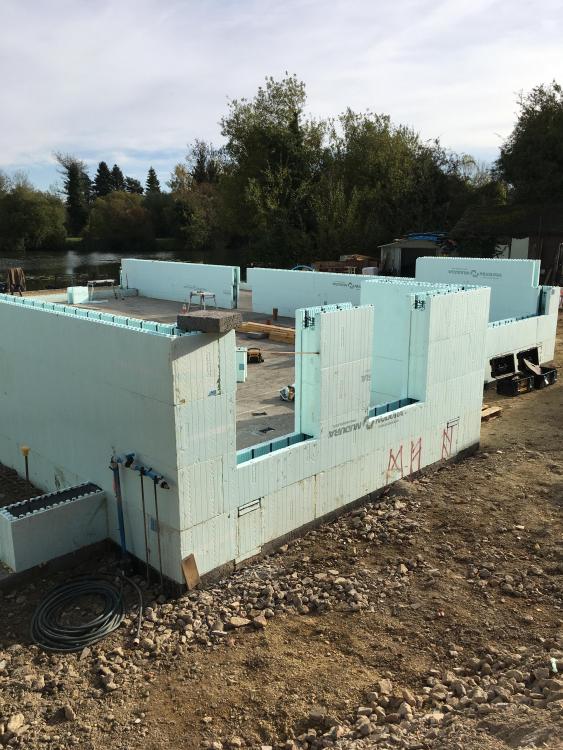 So more windows and openings slowed the progress a bit, 
things you sort of forget about is all these windows and doors require some form of support, so you add a bit of timber to hold all the icf in place, then you wake up at 2 in the morning and think, should I add some more bracing, then you watch a YouTube video of an icf concrete pour
so you add a bit more timber, then you talk to a lad down the road who has done half a dozen icf builds
he pops around one afternoon and adds his thoughts into the mix, you guessed it. 
More wood added, it was starting to look more like a timberframe house than icf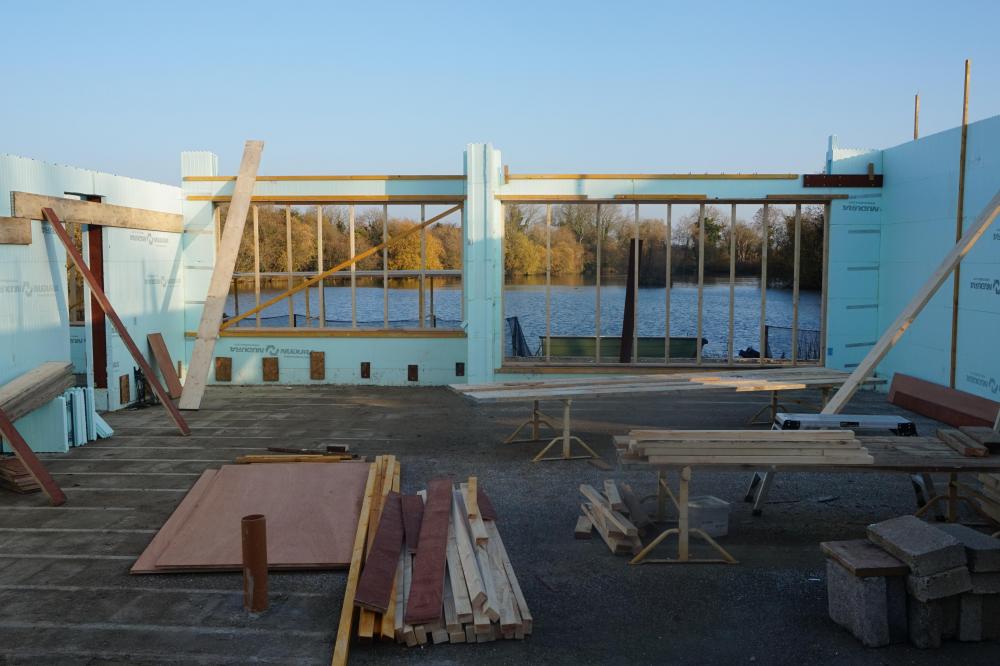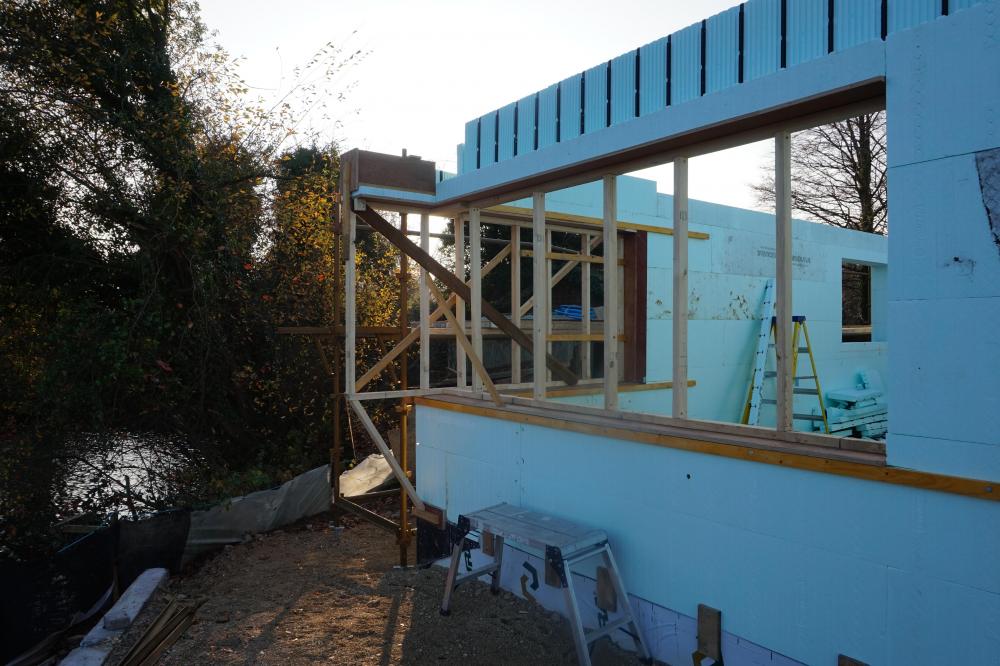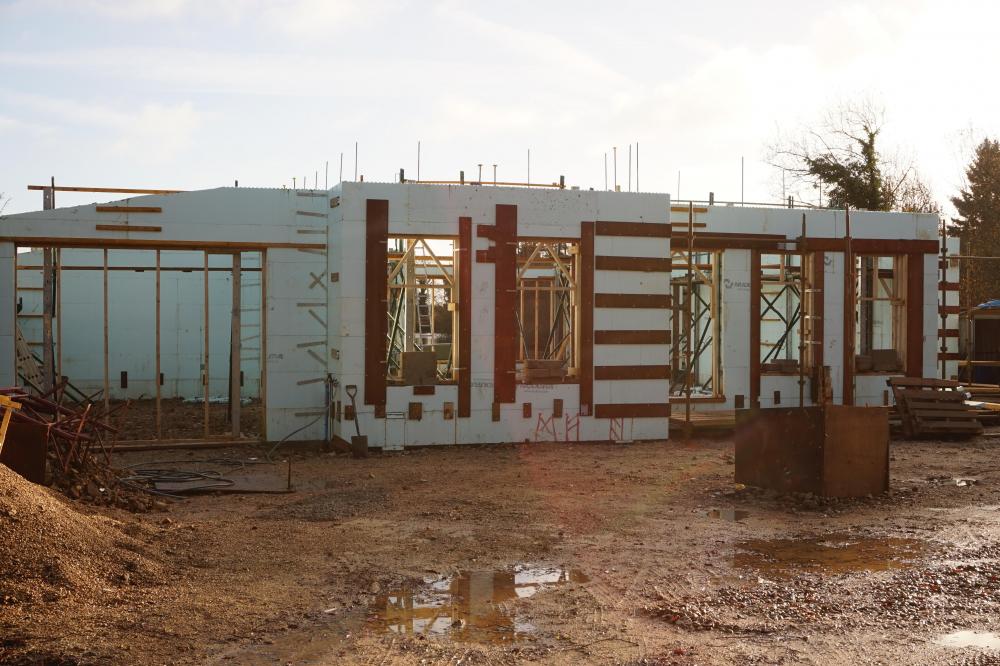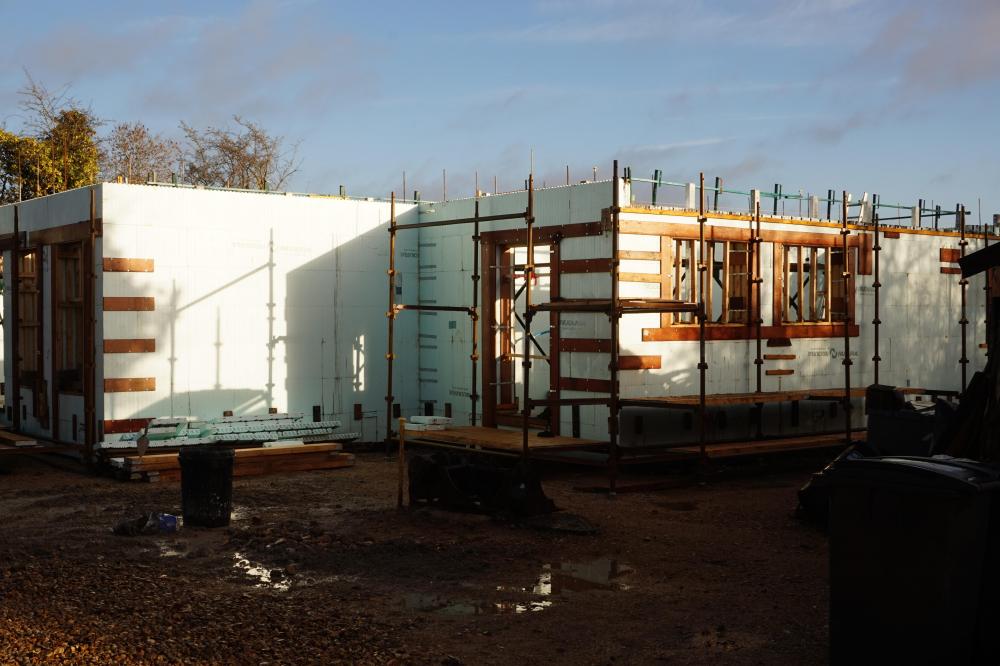 so we're up to lintel height
so in icf you don't actually install a lintel but cast them in situ, lots of reinforcement bar added to the inside of the blocks so when you add the concrete it all makes a monolithic concrete structure. 
Plenty of steel over these openings 
tbh it was a thorough pain in the arse, lots of steel a skinny gap and fingers like sausages does not make an easy job.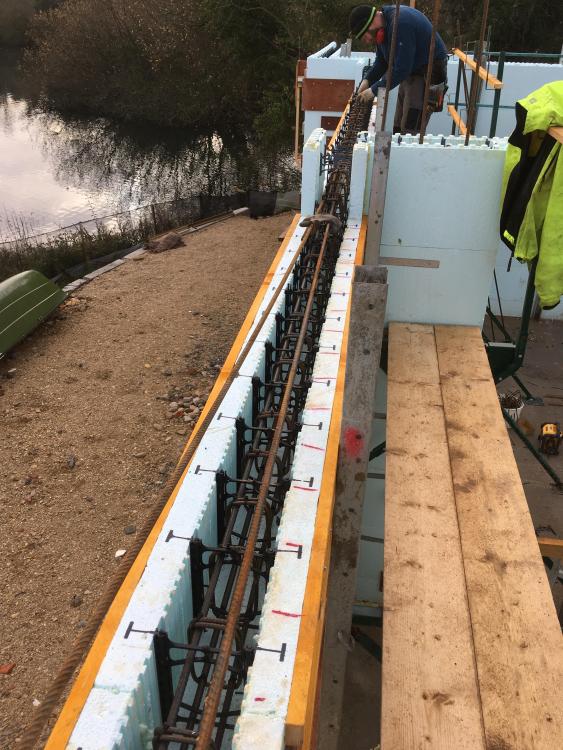 So reo in,corners braced-its time to install the bracing system that hold the walls all plum before you install the concrete 
now some of you may think you should have put the bracing up a long time ago, and you would be correct
but the way my icf provider hires the bracing out meant I would be paying for it for all the time it was on site, so I decided to not bother having it on site until I actually needed it, with all the bracing it was once again looking more like a civil engineering project than a house.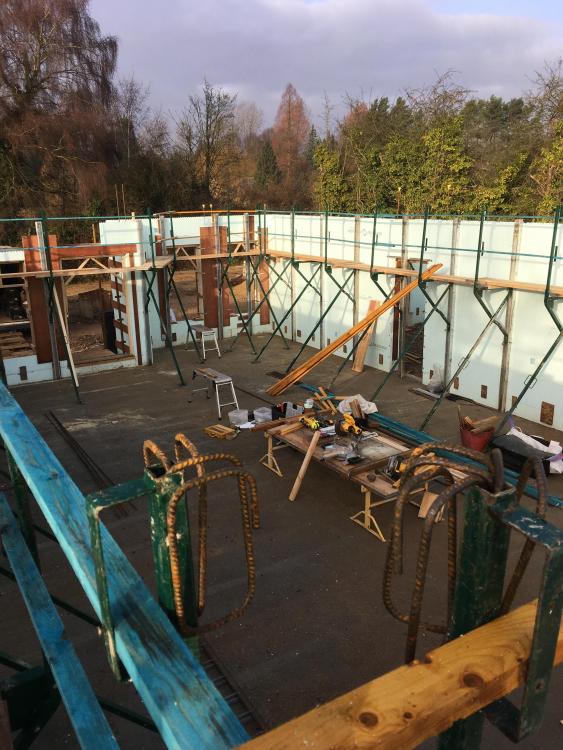 7.30 one morning the concrete pump turned up and for the next 12 hours all hell broke loose
i had arranged everything perfectly, extra tea bags plenty of milk it was going to be a breeze 
ol yea bucko don't get cocky, I had 3 lads coming to help all with a set job. And at 8.30 on a Sunday night I got a text from from 1 of the lads saying he had a poorly tummy, oh boo hoo to###r
so we are now down to 3 of us in total and hence why all hell broke loose, we ran around for12 hours solid I managed a cup of cold tea halfway through the day and 1 slice of toast, we ended up troweling the top of the walls with head torches on and a floodlight. 
Anyway it's all in first lift done,no major disasters, one tiny bit of wall that has a bulge in it that I can fix with a mornings fettling. 
Things I would recommend if doing icf, add lots of bracing every where, if it looks dodgy add a chunk of timber
the big orange pipe thing is called a MUD SNAKE it fits to the end of the concrete pump hose and allows you to place concrete so much more accurately than with the big rubber hose, it also allows you to squeeze the end and stop the dribbling concrete from running out when you pass over an area that doesn't need concrete in, hire one it's the best £30 you will ever spend. 
Dogs, if you have a stupid dog try to prevent him getting his head stuck in an icf off cut.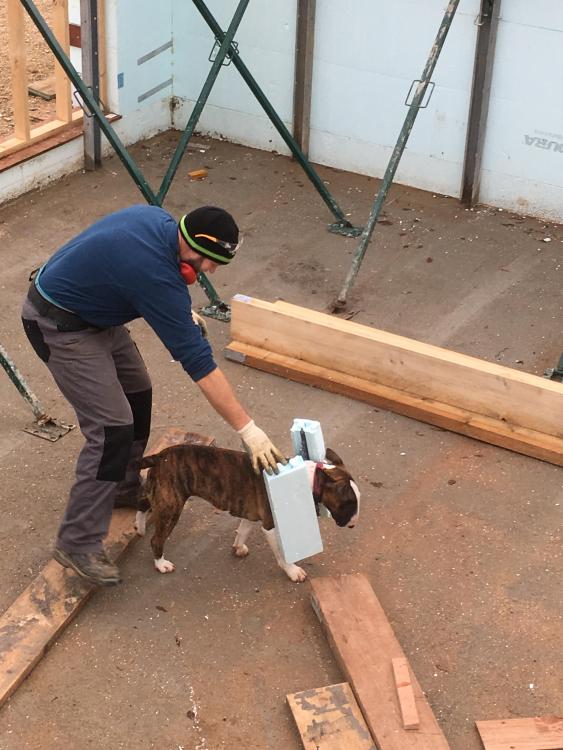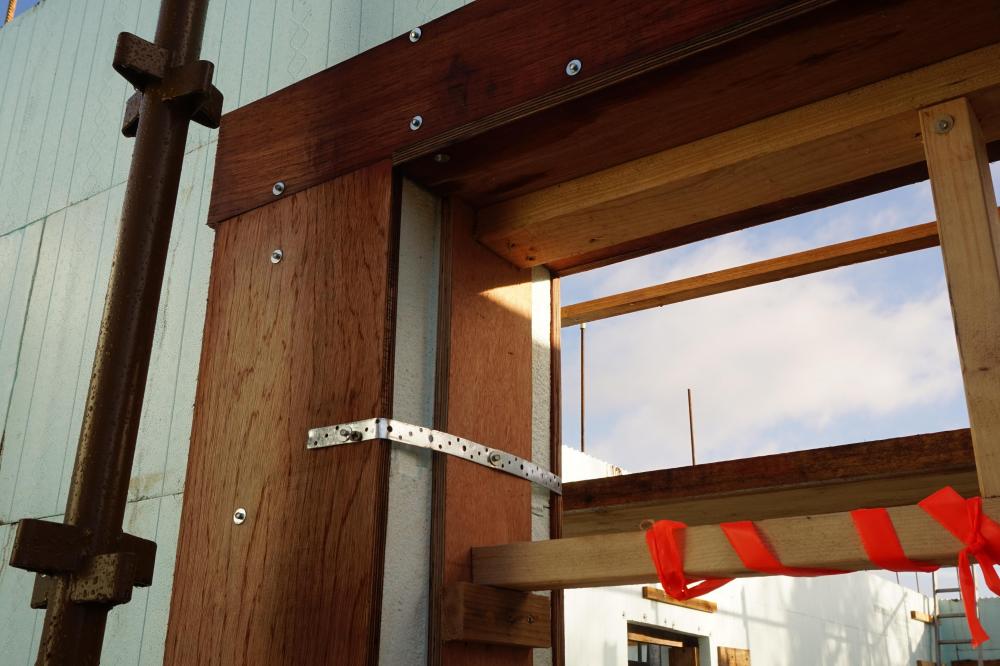 6